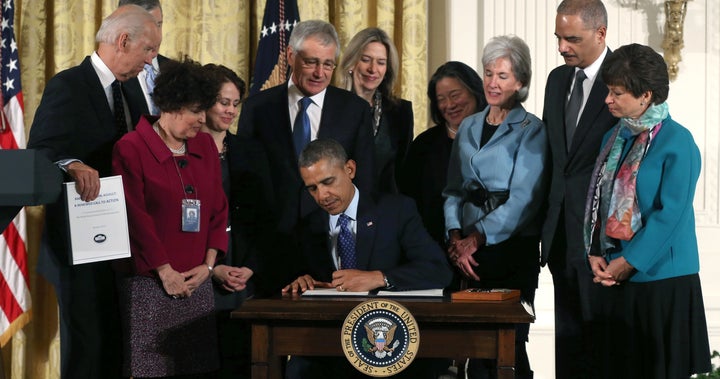 The number of higher education institutions and K-12 schools under review by the U.S. Department of Education over how they've handled sexual assault cases has continued to grow, as the agency responsible for the investigations prepares for a modest budget increase.
As of Dec. 30, the Education Department's Office for Civil Rights had 194 Title IX investigations open at 159 colleges and universities examining allegations the schools mishandled sexual assault cases. In addition, OCR is investigating 68 cases involving sexual violence at 63 K-12 schools and school districts.
In light of a growing backlog of Title IX investigations, the Education Department pressed for more funding from Congress last year to hire more staff members. An Education Department report in 2015 noted that in the past 20 years, the number of discrimination and Title IX complaints had doubled, while its full-time staff shrunk by a third.
The latest congressional spending agreement, passed in December, included an increase for OCR's budget from about $100 million to $107 million. That's short from President Barack Obama's proposal to increase OCR's funding in 2016 to $131 million, which the Education Department had said would allow it to hire at least 200 more full-time employees.
"While the budget allocation is less than what President Obama requested, this money will help ensure OCR can continue to respond to discrimination complaints in an effective and timely manner through additional enforcement staff," Education Department spokesperson Dorie Nolt said in a statement.
Education Department officials wouldn't say how many additional employees may be hired, but noted they're tasked with enforcing regulations against discrimination based on race, national origin, disability and age -- in addition to sex.
Colleges have born the brunt of scrutiny over responsibilities under Title IX to address sexual violence, as activists, lawmakers and the White House have kept up pressure regarding campus rape. The number of colleges and universities under Title IX investigations has grown from 55 in May 2014, to 85 in October 2014, 124 in July 2015, and now to 159 colleges.
Read the list of higher education institutions under Title IX investigations:
Schools that receive any federal funding, including student financial aid, are obligated to respond to reports of sexual assault and harassment under the gender equity law Title IX.
Read the list of K-12 elementary and secondary schools under Title IX investigations:
Popular in the Community