WASHINGTON -- In the days leading up to Wednesday's Senate vote on gun legislation amendments, the talking point that has taken off most amongst conservatives as a reason to oppose the background check compromise is that it would lead to a national database of gun owners.
This myth has spread despite the fact that the deal worked out by Sens. Joe Manchin (D-W.Va.) and Pat Toomey (R-Pa.) explicitly bars a federal registry. On Wednesday, supporters aggressively worked to hit back.
"Claims that this legislation would create a gun registry are nothing more than shameful scare tactics," said Sen. Harry Reid (D-Nev.) on the Senate floor on Wednesday morning. "The opponents of the will of the American people should not spread misinformation or sow seeds of fear about this critical anti-violence legislation. But that's what they're doing."
The concern over a federal gun registry has spread quickly. Sen. Dean Heller (R-Nev.) was widely considered by Democrats to be one of the Republicans most likely to support the Manchin-Toomey deal. But on Tuesday, he came out against it, saying he believed the bill "could lead to the creation of a national gun registry and puts additional burdens on law-abiding citizens."
Sen. Ted Cruz (R-Texas) acknowledged on Wednesday that the legislation doesn't actually create a registry, but he said he believes it could encourage future efforts to do so.
"The currently pending legislation does not purport to create a national gun registry," he said at a press conference, "but the Department of Justice has said explicitly that when you require background checks for private firearms transactions, the only way to make that effective is through a national gun registry."
"Death panels died and gave birth to gun registry," quipped a Senate Democratic aide, referring to the most pernicious and persistent myth during the health care debate.
Reid's office also put out a video on Wednesday ahead of the vote, calling Republican lawmakers including Sens. Roy Blunt (R-Mo.), Charles Grassley (R-Iowa), Mike Lee (R-Utah) and Roger Wicker (R-Miss.) for spreading the misinformation. It also includes quotes by Manchin and Toomey debunking them. Watch:
The federal gun registry talking point has been particularly frustrating for Manchin and Toomey, who put language in their amendment explicitly barring the creation of a national database. Additionally, officials who try to create one would face a felony charge carrying a prison sentence of up to 15 years.
On the Senate floor Wednesday morning, Manchin attempted to debunk arguments promoted by the National Rifle Association and others against his amendment, again bringing up the federal gun registry. Sounding exasperated, he said he's "talked about it so many times" and again pointed to the section of the bill that would bar the database. A federal gun registry is also already barred under current law.
Sen. Susan Collins (R-Maine), one of just three Republicans who is supporting the compromise, also tried to fight the talking point on the Senate floor.
"It was critical to my support of the Manchin-Toomey amendment that it explicitly bans the federal government from creating a national firearms registry," she said. "I am completely and unalterably opposed to creating a national registry of gun owners that would be maintained in Washington by the federal government. The bill imposes serious criminal penalties on any individual who misuses or illegally retains firearms records."
Still, the offensive effort may not be enough to boost the amendment to victory. Heading into the vote, which is set for Wednesday late afternoon, there were not enough backers to reach the 60-vote threshold. Sen. Heidi Heitkamp (D-N.D.) became the first Democrat to announce her opposition to the compromise just hours before.
UPDATE: 4:20 p.m. -- Sen. Chuck Schumer (D-N.Y.), who has been one of the leads on gun control legislation, challenged Cruz on the Senate floor on Wednesday on the issue of a federal gun registry.
"Has my colleague in the last 17 years detected any move out of Washington for national registration?" asked Schumer.
Cruz acknowledged that the Manchin-Toomey bill does not include a registry, but he said he believes it would open the door to one.
"In my opinion, adopting mandatory federal government background checks for purely private transactions between law-abiding citizens, puts us inexorably on the path to a push for a federal registry."
When Schumer pressed him and asked if he had detected any movement yet, Cruz replied, "It is not currently proposed, but if the bill that is being considered would be adopted, it would put us on that path. And I think that path would be profoundly unwise and would be inconsistent with the Second Amendment right to keep and bear arms."
While Cruz was speaking, someone off-camera laughed. It was unclear if they were laughing at Cruz.
Mike McAuliff contributed reporting.
Before You Go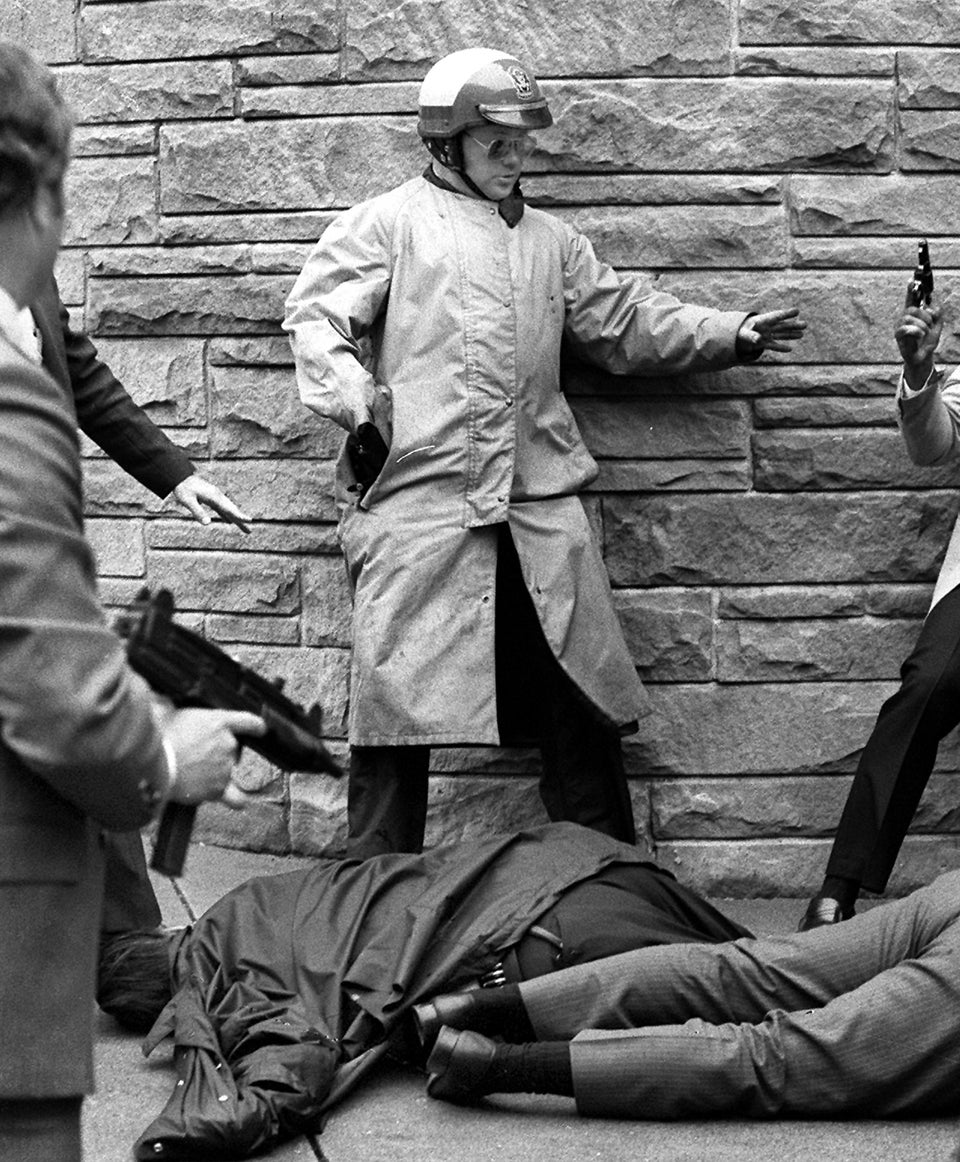 Pivotal Moments In The Federal Gun Control Debate
Popular in the Community