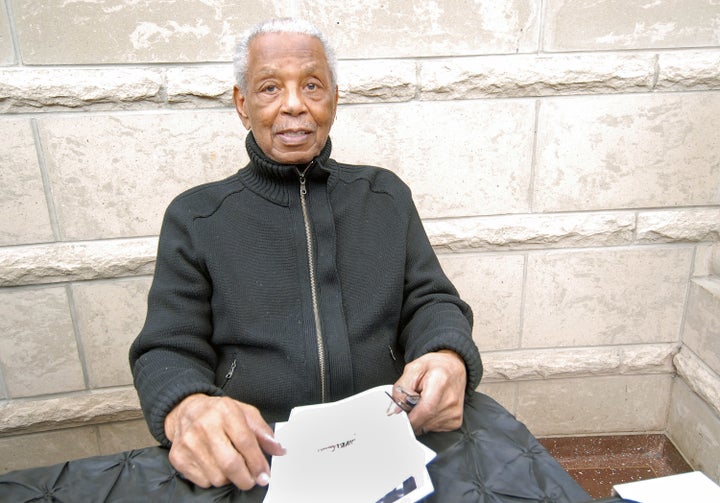 A divided appeals court on Tuesday largely rejected a challenge to a set of voting requirements that will quite likely make it harder for poor, black Ohioans to have their ballots counted this election cycle.
But the ruling likely won't be remembered for how the majority ruled, but for how a long-serving federal judge, first appointed to the bench by President Lyndon B. Johnson, took his colleagues to task for not treating the Ohio voting requirements as a naked effort to suppress the black vote.
"By denying the most vulnerable the right to vote, the Majority shuts minorities out of our political process," wrote U.S. Circuit Judge Damon Keith in a remarkable 38-page dissent in the case, Northeast Coalition for the Homeless v. Husted. "I am deeply saddened and distraught by the court's deliberate decision to reverse the progress of history," he added.
On a 2-to-1 vote, the U.S. Court of Appeals for the 6th Circuit tossed claims that the restrictions ― which impose a series of technical rules on those casting provisional and absentee ballots ― violate the Constitution and the Voting Rights Act of 1965.
At issue in the case were two Republican-backed laws that required county election officials to invalidate provisional and absentee ballots that did not correctly list a voter's address or date of birth. The laws also limited poll-worker assistance to voters and shortened the time after Election Day that citizens casting provisional ballots have to certify their identity.
But the 6th Circuit on Tuesday reversed that ruling in significant respects, noting that the lower court judge used the wrong legal standard when deciding the case.
The utter brutality of white supremacy in its efforts to disenfranchise persons of color is the foundation for the tragedy that is the Majority's effort to roll back the progress of history.

U.S. Senior Circuit Judge Damon Keith
Keith, who became a federal judge in 1967 and 10 years later was nominated to the 6th Circuit by President Jimmy Carter, protested that the majority's reasoning "takes us several steps back" in the struggle toward "a society free of racial discrimination" ― the kind the Constitution's guarantee of equal protection and federal civil rights laws sought to advance.
"The utter brutality of white supremacy in its efforts to disenfranchise persons of color is the foundation for the tragedy that is the Majority's effort to roll back the progress of history," Keith wrote.
Perhaps the most striking part of Keith's dissenting opinion was an 11-page section where he sought to place the 6th Circuit's conclusions "in full light of their historical context" ― one he knows well as the circuit's longest-serving judge and a jurist steeped in civil-rights tradition.
"I will not forget. I cannot forget ― indeed America cannot forget ― the pain, suffering, and sorrow of those who died for equal protection and for this precious right to vote," wrote the 94-year-old Keith. "I add the following publicly available historical statements to humanize the struggle for the right to be equal participants in the democratic process."
What followed is likely unprecedented in a published judicial opinion: Keith included a picture gallery of those who died fighting for equal rights, who in a footnote he acknowledged were but "a mere fraction of the martyrs of the struggle for equality."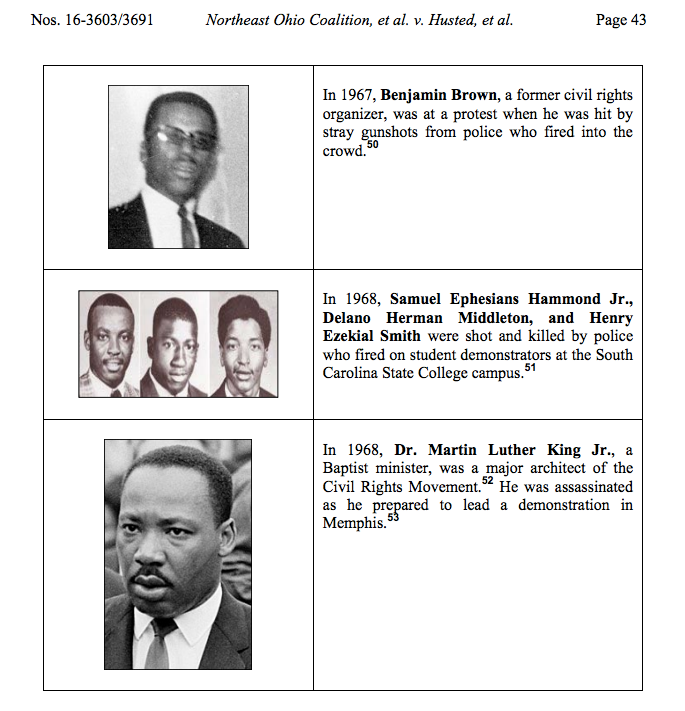 But from there the judge jumped a few decades forward to the election and re-election of President Barack Obama ― which he called an "important historical occurrence that cannot be separated from efforts to abridge minorities' right to vote."
The suggestion there is inescapable, if not stunning for a federal judge to make: that the electoral victory of the nation's first black president somehow goes hand-in-hand with Republican efforts to disenfranchise African Americans.
Keith's conclusion, which followed about 20 pages of legal analysis, is worth reprinting in full, if only to illustrate his dismay with the state of voting rights even in the age of Obama.
The birth of this Nation was founded upon the radical principle that we, as a people, would govern ourselves. And voting is the ultimate expression of self-government. Instead of making it easier for all persons, unrestrained and unfettered, to exercise this fundamental right to vote, legislators are making it harder. States are audaciously nullifying a right for which our ancestors relentlessly fought and—in some instances—even tragically died. From that struggle came the Equal Protection Clause of the Fourteenth Amendment, and later, the Voting Rights Act. It is this court's responsibility to enforce both the Constitution and the statute, and thereby safeguard this precious right to vote. In my opinion, the Majority has failed to do just that. The Majority takes the position that unless a rule affects non-minorities, it does not run afoul of the Equal Protection Clause of the Fourteenth Amendment. This baffling position distorts the Equal Protection Clause so much so that the clause becomes unrecognizable, unenforceable, and fundamentally, unequal. For years, states have been (both stealthily and overtly) erecting hurdles to the right to vote. And the votes of those who are actually able to surmount those hurdles are often diluted through Gerrymandering. These states' actions of implementing rules and redrawing districts in an effort to restrict minorities' access to the ballots is another reminder that history repeats itself. It is yet another reminder that many people hold the misguided belief that only the privileged majority should be granted access to political power and adequate representation.

With every gain in equality, there is often an equally robust and reactive retrenchment. We must never forget that constant dialectical tension. For every action, there is a reaction. The Majority's decision is a fateful reminder that we can never fool ourselves into believing that we have arrived as a nation. Our decision today, and more decisions like this one, will undoubtedly shape the future of this Nation because deciding who gets to vote inevitably affects who will become our leaders—a determination that is grounded in the principles long cherished and long pursued by our Founding Fathers. This is exactly why so many are actively seeking to etch away at the right to vote in assembly halls across this nation. These efforts are hardly insignificant or negligible. They are, for their proponents, necessary and highly deliberate. It is my hope that when future generations look back on these decisions, they conclude that we were on the right side of history. But today I fear that we were not.
The 6th Circuit majority ― U.S. Circuit Judges Danny Boggs and John Rogers, both of whom are white and were appointed by Republicans ― could barely muster a response.
"We deeply respect the dissent's recounting of important parts of the racial history of our country and the struggle for voting rights, and we agree that this history may always be appropriately borne in mind," the judges said.
REAL LIFE. REAL NEWS. REAL VOICES.
Help us tell more of the stories that matter from voices that too often remain unheard.