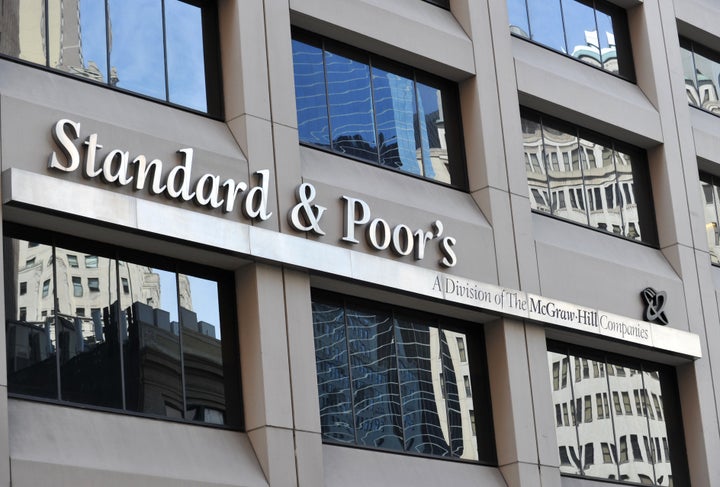 (Jonathan Stempel) - A federal judge has said credit ratings are not always protected opinion under the First Amendment, a defeat for credit rating agencies in a lawsuit brought by investors who lost money on mortgage-backed securities.
The November 12 decision was a little-noticed setback for McGraw-Hill Cos' Standard & Poor's, Moody's Corp's Moody's Investors Service and Fimalac SA's Fitch Ratings, which have long invoked First Amendment free speech protection to defend against lawsuits over their ratings.
These agencies had argued that the Constitution protected them from claims they issued inflated ratings on more than $5 billion of securities issued in 2006 and 2007, and backed by loans from former Thornburg Mortgage Inc and other lenders.
But the judge said the ratings were shared with too small a group of investors to deserve the broad protection sought.
"The court rejects the rating agency defendants' arguments that the First Amendment provides any protection to them under the facts of this case," U.S. District Judge James Browning in Albuquerque, New Mexico, wrote in a 273-page opinion.
Browning nonetheless dismissed claims accusing Moody's and Fitch, but not S&P, of misrepresentations, saying the investors did not adequately allege that the two agencies did not believe their ratings, or knowingly concealed their inaccuracy.
He also said federal law preempts some arguments that the investors used to recover under New Mexico securities law.
The judge said the investors may file an amended complaint, which had sought class-action status. If the state law claims went forward, it could provide an avenue for investors to go after the agencies in other states.
Browning had denied the agencies' motion to dismiss the complaint on September 30, without giving reasons.
S&P, in a statement, called the First Amendment ruling "inconsistent" with other court rulings. Fitch spokesman Daniel Noonan said that agency is pleased that claims against it were dismissed. Moody's and lawyers for the investors declined to comment or had no immediate comment.
Credit Suisse Group AG and Royal Bank of Scotland Group Plc are among the other defendants in the case.
Rating agencies have been widely faulted by investors, regulators and Congress for contributing to the global credit and financial crises that began in 2007 by issuing high ratings on debt that did not deserve it.
Thornburg made "jumbo" home loans, larger than $417,000, to borrowers considered good credit risks, but collapsed after margin calls and a plunge in the value of mortgages it held.
The Santa Fe, New Mexico-based lender filed for bankruptcy on May 1, 2009, and is now called TMST Inc.
Investors led by two pension funds, the Maryland-National Capital Park & Planning Commission Employees' Retirement System, and the Midwest Operating Engineers Pension Trust Fund in Illinois, claimed the agencies issued false and misleading investment-grade ratings for Thornburg securities, and were paid "substantial" sums that compromised their independence.
But Browning said the ratings were distributed only to a "limited group" of investors, not the public at large.
He also said that unlike publicly traded companies, the trusts from which the securities were issued were not "public figures" entitled to more protections.
"The court rejects the rating agency defendants' argument that the First Amendment protections regarding provably false opinions apply to their credit ratings," Browning wrote.
Rating agencies have largely been successful in raising the First Amendment defense.
For example, in September, a federal judge threw out a lawsuit by then-Ohio Attorney General Richard Cordray on behalf of pension funds, and said ratings were "predictive opinions."
In contrast, a Manhattan federal judge, in a 2009 ruling involving Morgan Stanley, said the defense does not apply when ratings were provided to a "select group of investors" in a private placement.
S&P has asked the U.S. Securities and Exchange Commission not to file threatened civil charges over its ratings for a 2007 offering, Delphinus CDO 2007-1.
The case is Genesee County Employees' Retirement System et al v. Thornburg Mortgage Securities Trust 2006-3 et al, U.S. District Court, District of New Mexico, No. 09-00300.
(Reporting by Jonathan Stempel in New York; Editing by Tim Dobbyn)
Popular in the Community