A federal judge on Tuesday halted executions for two men scheduled to be killed later this week, both of whom are recovering from the coronavirus.
The two men, Corey Johnson and Dustin Higgs, argued that lung damage from COVID-19 would make the government's execution protocol — a lethal injection of pentobarbital ― a torturous process that would violate constitutional protections against cruel and unusual punishment.
U.S. District Judge Tanya Chutkan in Washington, D.C., granted their request for a preliminary injunction.
"The court is deeply concerned that the government intends to execute two prisoners who are suffering from COVID-19 infection, particularly given that the disease impacts individuals in drastically different ways and can have particularly devastating long-term effects, even for those with mild symptoms," Chutkan wrote in her memorandum opinion.
Chutkan added that executing Johnson and Higgs, who are still recovering from COVID-19, in a facility with an active coronavirus outbreak, puts the individuals participating in and witnessing the executions at risk of infection.
"This is irresponsible at best, particularly when a temporary injunction will reduce these risks," she said. "The public interest is not served by executing individuals in this manner."
The government is appealing the decision. If the government prevails, Johnson will be killed on Thursday and Higgs on Friday.
Autopsy reports on people who have been executed with a lethal injection of pentobarbital show that the drug often causes pulmonary edema, a condition where fluid enters the lungs while the person is still conscious. This can create a painful sensation similar to drowning or suffocating. Several medical experts have warned that the government's execution process is likely to be even more painful for people recovering from COVID-19 because the coronavirus often damages the lungs.
"To a reasonable degree of medical certainty, these prisoners will experience sensations of drowning and suffocation sooner than a person without COVID-related lung damage."
Flash pulmonary edema occurs "very rapidly (i.e. within seconds or minutes)" in those executed by lethal injection with pentobarbital, Gail A. Van Norman, a medical expert consulted by the plaintiffs, wrote in a supplemental expert declaration last month. It is associated with "excruciating symptoms of drowning and suffocation, including shortness of breath, air hunger, anxiety, terror and panic," she wrote.
"For prisoners experiencing COVID-19 lung damage at the time of their execution, flash pulmonary edema will occur even earlier in the execution process, and before brain levels of pentobarbital have peaked," Van Norman wrote. "To a reasonable degree of medical certainty, these prisoners will experience sensations of drowning and suffocation sooner than a person without COVID-related lung damage and, therefore, their conscious experience of the symptoms of pulmonary edema will be prolonged."
The government claims there is no evidence that Johnson or Higgs would experience a more painful execution than individuals who have not been infected with COVID-19. But definitively proving that lethal doses of pentobarbital will cause excruciating pain to COVID-19 patients is difficult, as it would be "unethical" to run a test proving as much, Van Norman said in a teleconference evidentiary hearing last week.
In her opinion on Tuesday, Chutkan described Van Norman as "highly credible" and cast doubt on some of the government's claims.
Experts testifying for the government downplayed the severity of Johnson's and Higgs' illness, despite medical records and X-rays showing both were experiencing coronavirus-related symptoms. Higgs' lungs, for example, were so hyperinflated that they could not fit on a single lung plate for an X-ray.
"Having heard and reviewed the expert testimony, the court finds that Plaintiffs are likely to succeed on the merits of their as-applied Eighth Amendment challenge," Chutkan wrote, referring to the constitutional prohibition on cruel and unusual punishment.
"Specifically, they have demonstrated that as a result of their COVID-19 infection, they have suffered significant lung damage such that they will experience the effects of flash pulmonary edema one to two seconds after injection and before the pentobarbital has the opportunity to reach the brain. This will subject Plaintiffs to a sensation of drowning akin to waterboarding," she continued.
The legality of using pentobarbital in any execution is the subject of an ongoing lawsuit. Several of the plaintiffs were executed in 2020 before their legal fight had concluded.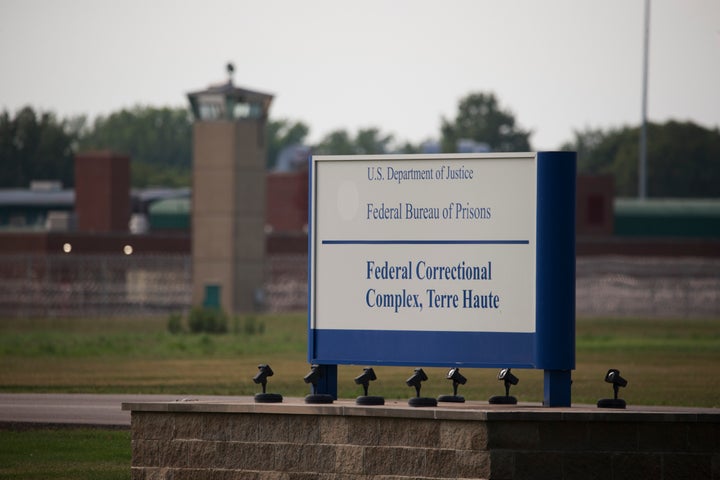 The government is trying to execute another person, Lisa Montgomery, on Tuesday night, although her execution is temporarily stayed. The government has appealed, and the Bureau of Prisons has said it is still preparing to carry out the execution.
The final push for federal executions come as President Donald Trump faces impeachment proceedings for inciting violent rioters to storm the Capitol last week. If the killings go forward, they will take place days before the inauguration of President-Elect Joe Biden, who says he will work to end the death penalty.
"It is remarkable that with all this chaos going on with the Trump administration, that they are still so eager to move forward with three so-called executions," Higgs wrote in an email to GQ's Wesley Lowery.
Anti-death penalty activist Sister Helen Prejean and ACLU staff attorney Denny LeBoeuf called on Department of Justice lawyers earlier this week to "stand down from these killings."
"Just walk away from them. Do your other work, but not this. Don't add your writing, your legal research, your skillful paralegal efforts to the job of killing the remaining three human beings scheduled to die at the hands of the federal government. Do something else next week," Prejean and LeBoeuf wrote in an open letter.
Melissa Jeltsen contributed reporting.
Popular in the Community