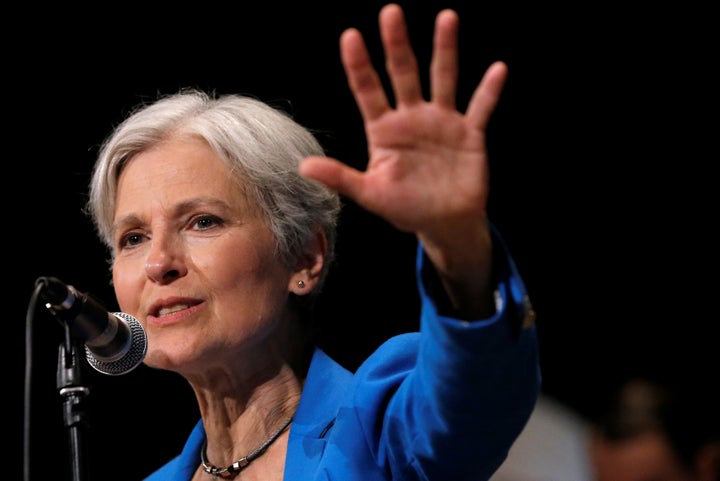 U.S. District Judge Mark Goldsmith on Wednesday night halted a Michigan election recount launched by Green Party nominee Jill Stein that had been underway since Monday.
Stein's campaign condemned the judgment and promised to challenge the Michigan Court of Appeals decision Goldsmith effectively upheld with his ruling.
"We are not backing down from this fight ― a fight to protect the hard-fought, hard-won civil and voting rights of all Americans. Our campaign will seek immediate relief in Michigan's Supreme Court to ensure the recount that is already underway in all Michigan counties continues," Hayley Horowitz and Jessica Clarke, the Stein campaign's lead lawyers in Michigan, said in a statement.
"With so many irregularities in Michigan ― including more than 75,000 under-votes, many in urban areas, and widespread carelessness, and perhaps interference, with preserving ballots ― there is a real possibility the rights of voters in Michigan may have been suppressed during this election," they continued.
John Bursch, attorney for Michigan's Republican Attorney General Bill Schuette, who had challenged Stein's case for a recount, praised Goldsmith's decision.
"This ruling is a huge victory for Michigan taxpayers and the rule of law," Bursch said in a statement.
All signs suggest that Stein's Michigan recount effort, which has already endured multiple judicial challenges, is nearing an end.
Goldsmith's Wednesday decision undoes an order he issued early Monday morning requiring the state to proceed with a recount by noon that day and jettison a planned two-day waiting period. Goldsmith made that judgment with the intention of enabling the state to complete the recount by Dec. 13, the deadline needed to allow for sufficient time before the Electoral College meets on Dec. 19.
Goldsmith insisted at the time that any state court decision to halt the recount on the merits of the recount claim itself would require an additional ruling by him to proceed. On Tuesday, the U.S. Court of Appeals for the 6th Circuit upheld Goldsmith's ruling.
But in Goldsmith's Monday ruling, he only weighed in on the timing of the recount, not the merits of the case for it. And moments after the 6th Circuit's decision on Tuesday, a panel of judges on the Michigan Court of Appeals ruled that Stein was not an "aggrieved party" with standing to call for a recount, since her fourth-place finish was too distant for a new tally to redress the effects of any alleged electoral tampering.
The Michigan Court of Appeals' decision did not take effect immediately, however, since the 6th Circuit had upheld Goldsmith's order that his court needed to rule on any additional cessation of the recount.
As a result, the case went back to Goldsmith on Wednesday. The federal judge, who had not previously deliberated on the merits of the case, effectively agreed with the opinion of the Michigan Court of Appeals that Stein is not an "aggrieved party."
He also rejected Stein's additional argument that there is a constitutional right to demand an election recount without an extremely tight margin or substantial evidence of election tampering or fraud.
"There is no case law recognizing an independent federal right to a recount that either this Court or the parties have come across, in the absence of actual deprivation of voting rights," Goldsmith wrote.
He acknowledged the concerns about the vulnerability of electronic voting technologies to hacking or tampering, but said that there needed to be more evidence that such interference had occurred in order for there to be grounds for a recount.
"The vulnerability of our system of voting poses the threat of a potentially devastating attack on the integrity of our election system. But invoking a court's aid to remedy that problem in the manner Plaintiffs have chosen — seeking a recount as an audit of the election to test whether the vulnerability led to actual compromise of the voting system — has never been endorsed by any court, and would require, at a minimum, evidence of significant fraud or mistake — and not speculative fear of them," he concluded. "Such evidence has not been presented here."
Support HuffPost
The Stakes Have Never Been Higher
Popular in the Community