WASHINGTON -- U.S. policymakers need to grab this "defining moment" and dramatically change the way America's overcrowded federal prisons operate, according to a report released by a bipartisan task force on Tuesday.
The cost of the Federal Bureau of Prisons has skyrocketed 687 percent over the past 35 years, from an inflation-adjusted $950 million to nearly $7.5 billion, the report says. It makes several recommendations for dealing with this crisis, which it says is mainly caused by the huge numbers of drug offenders who serve very lengthy sentences that do little to increase public safety.
The task force concluded that the rising prison population can't be properly addressed without reconsidering the use of mandatory minimum sentences for nonviolent drug crimes, some of which would be reduced under reform proposals now before Congress. Half of those incarcerated in federal prisons were convicted of such crimes, compared to only 16 percent of those in state prisons. Those incarcerated for violent offenses account for just 7 percent of the federal prison population.
Broadly, the report calls on the U.S. Department of Justice to bring only the most serious cases and reserve prison time for the most serious offenses. If all of its recommendations were enacted, the task force said the federal prison population would decrease by 60,000 -- nearly one-third of the current total -- by 2024. The Bureau of Prisons would save over $5 billion.
The Charles Colson Task Force on Federal Corrections was formed by congressional mandate in early 2014 to examine problems in the federal prison system. It was named in honor of President Richard Nixon's self-described "hatchet man," who was convicted of obstruction of justice in connection with the Watergate scandal and became a prison reform advocate following a short stint behind bars. The appropriations bill provision that set up the task force was pushed by then-Rep. Frank Wolf (R-Va.) and Rep. Chaka Fattah (D-Pa.) -- the latter of whom may end up in federal custody himself if found guilty of pending corruption charges.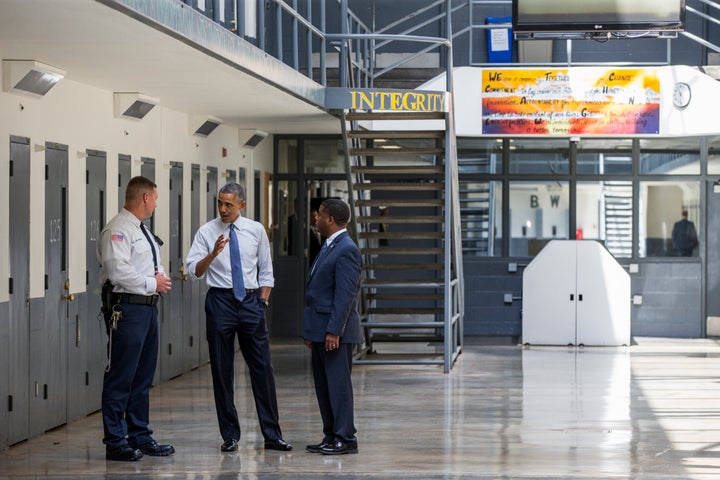 The Colson report finds that the country is "awash in ... people whose drug offenses or other nonviolent crimes drew excessive penalties that have filled prisons, squandered human potential, and sent correctional costs skyrocketing while producing only modest public safety benefits." Incarceration, it says, is "a highly punitive, costly, and potentially harmful intervention that should be used sparingly and judiciously."
Two key conclusions were reached by the task force: (1) that terms of incarceration are "often substantially greater than necessary to meet the goals of sentencing" and (2) that mandatory minimum penalties have been "a primary contributor to this imbalance."
Also this week, President Barack Obama announced that his administration was restricting the use of solitary confinement within federal prisons, including banning solitary confinement for juveniles. But that ban will affect very few people -- there are only around two dozen juveniles in the entire federal prison system. In fiscal year 2015, 13 of them were reportedly placed in solitary custody, according to The Washington Post.
The Colson report indicates there's much, much more to be done. It calls on Congress and the Bureau of Prisons to make dramatic changes to reduce incarceration and orient the system toward rehabilitation. For example, the federal system should "reserve prison beds for those convicted of the most serious federal crimes." That would be a significant departure from recent history, criminal justice experts said. 
"In the federal system, it's pretty much 'Go directly to jail.' No probation, no diversion, no drug courts, really no innovation. It's just prison and lots of it," said Molly Gill of the nonprofit advocacy group Families Against Mandatory Minimums.
Gill called it "remarkable" that the report says sentencing and rehabilitation should be individualized.
"If there's anything our federal and sentencing system doesn't do right now, it's individualize. That's what mandatory minimums are all about. ... You get a one-size-fits-all punishment," she said.
At a press conference on Tuesday, former Rep. Alan Mollohan (D-W.Va.), who co-chaired the task force along with former Rep. J.C. Watts (R-Okla.), similarly described the federal system as relying on a "one-size-fits-all sentencing model that does not serve the interest of public safety." 
I was very taken aback by the sense of hopelessness that comes across in these situations.

Laurie Robinson, a member of the Colson task force
Laurie Robinson, a George Mason University professor who sat on the Colson task force -- and also co-chaired the White House Task Force on 21st Century Policing (set up after the Ferguson protests) -- recalled what she saw when she met with prisoners as part of the Colson investigation. 
"I feel like I'm a little bit jaded ... but I will tell you, I was very taken aback by the sense of hopelessness that comes across in these situations," said Robinson, who served in the Justice Department during the Clinton and Obama administrations. "I've been working in criminal justice for well over 35 years, and I've been to many correctional facilities. But it really struck me, sitting around with these offenders in this federal penitentiary in Atlanta, that all but one were in for drug crimes."
During the visit to the federal prison in Atlanta, a Gothic-looking building that was erected in 1902, the reports says members of the task force "observed several fragile, elderly, and infirmed people and others in very poor health" who were serving time for drug crimes "committed literally decades ago." Robinson said one individual had to be helped into his chair.
The report argues that keeping such people in prison serves little purpose. After decades in prison, elderly individuals "represent little threat to public safety," it says, and the "societal benefit of incarceration has long since been achieved." Crime, the report adds, "is a young person's endeavor."
Yet only 100 individuals were granted compassionate release from federal prison in fiscal year 2015, despite an effort to increase use of that mechanism, according to the report.
The report acknowledges steps that the legislative, judicial and executive branches have taken to improve federal prisons, but says the work "has just begun." 
REAL LIFE. REAL NEWS. REAL VOICES.
Help us tell more of the stories that matter from voices that too often remain unheard.