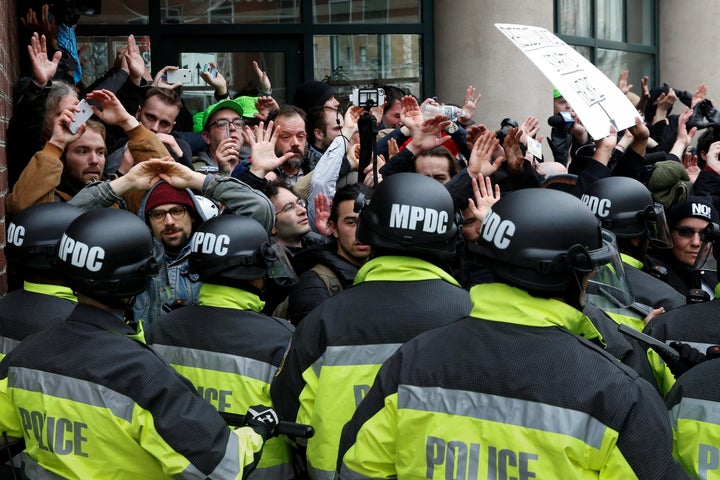 WASHINGTON ― Sixteen months after police swept up hundreds of people in mass arrests on the day of President Donald Trump's inauguration, federal prosecutors in the nation's capital are trying to secure their first guilty verdicts against four defendants who participated in an anti-capitalism march that resulted in property damage in downtown D.C.
Three of the four people they're trying to convict actually damaged property, prosecutors contend. Each is facing five felony destruction-of-property charges, as well as one felony rioting charge, because the government argues they were part of a broader rioting conspiracy and can be held responsible for the broader damage.
The second J20 trial ― a reference to Jan. 20, 2017 ― comes five months after a D.C. jury acquitted six other Inauguration Day defendants on all charges following a lengthy trial. Prosecutors admitted from the beginning of the first trial that there was no evidence any of those defendants personally damaged any property, but told jurors they should be found guilty because they were part of a rioting conspiracy. Jurors disagreed.
A few weeks later, in January of this year, the Justice Department dropped felony charges against 129 defendants but said it would press forward with 59 other cases. Another 20 individuals have pleaded guilty, mostly to misdemeanor charges.
The new trial unfolding in D.C. Superior Court this week involves defendants Michael Basillas, Seth Cadman, Anthony Felice and Casey Webber. All but Webber, the government alleges, actually took part in the destruction.
Using the same language about a "sea of black masks" that she used in the first trial, Assistant U.S. Attorney Jennifer Kerkhoff's opening statement walked jurors through the property damage that occurred during the protest march and how it affected ordinary people.
She talked about the Starbucks worker who watched other workers dive for cover as glass windows "rained down upon them." She spoke of the BP gas station employee who stacked cases of water against the door because the employee thought rioters would try to break inside. She talked about the limo driver who watched as his windows were smashed, the sandwich shop owner whose store was damaged, the hotel worker who hurried guests inside to prevent any injuries. She mimed the way protesters tossed newspaper vending boxes into the street and smashed windows. She said the defendants made the choice to participate in the destruction that day.
"This trial is not about protest or disagreement or dissent," Kerkhoff said, noting that protests can be powerful and beautiful and bring about change. But this wasn't a protest, she said. "You can't hide ― like a mask ― behind a protest."
Present in the courtroom for Wednesday's opening arguments were Jessie Liu, the Trump-named U.S. attorney for the District of Columbia, and Chelsea Manning, the WikiLeaks source whose lengthy prison sentence was commuted by President Barack Obama and who is now running for U.S. Senate in Maryland.
The U.S. Attorney's Office in Washington is unique in that it's an office headed by a presidential nominee that prosecutes crimes that would elsewhere be handled by local prosecutors. In the first trial, defense attorneys said the government's actions against those who disrupted Inauguration Day were politically motivated. Defense attorneys may try similar tactics this time around and may also try to align their clients' actions with the broader opposition to Trump.
Rich Gallena, who represents Basillas, said his client took to the streets of Washington to exercise his First Amendment rights and stand up for minorities, immigrants and American workers. Only a small percentage of the group smashed windows, the lawyer said, and the photos that the government says show his client throwing a brick and attacking windows at a Starbucks outlet and a hotel are "grainy" and "blurred." He pointed out how much time and effort the government had spent on the case.
"They are desperate to pin that damage on someone, anyone," Gallena said. But the evidence isn't there, he added.
Cadman's attorney, Seth Schrager, spoke of his own participation in protests against the Vietnam War and said the extensive amount of video that prosecutors would use in the case wouldn't prove anything against his client. Kerkhoff said video shows Cadman chucking an object at a Bank of America location.
Matthew Rist, representing Felice, called the trial a case of "guilt by association" and described what he said was excessive force against his client, who is also charged with resisting arrest. Kerkhoff said that Felice lit flares and tried to break a window and that he'd also nearly escaped the police "kettle" maneuver that ensnared the group. Rist said police gave Felice "a good baptism" of pepper spray after he was thrown to the ground and posed no threat to them.
Webber's attorney, April Downs, started by listing all the things that her client didn't do. He didn't hit a window or toss a trash can. He didn't have any hammers or rocks. The only reason he was on trial, she said, was that he received messages about the planning of the event ahead of time that contained information the government didn't like.
Ryan Reilly is HuffPost's senior justice reporter, covering the Justice Department, federal law enforcement, criminal justice and legal affairs. Have a tip? Reach him at ryan.reilly@huffpost.com or on Signal at 202-527-9261.
CORRECTION: The U.S. attorney for the District of Columbia is Jessie, not Jessica, Liu.
Popular in the Community