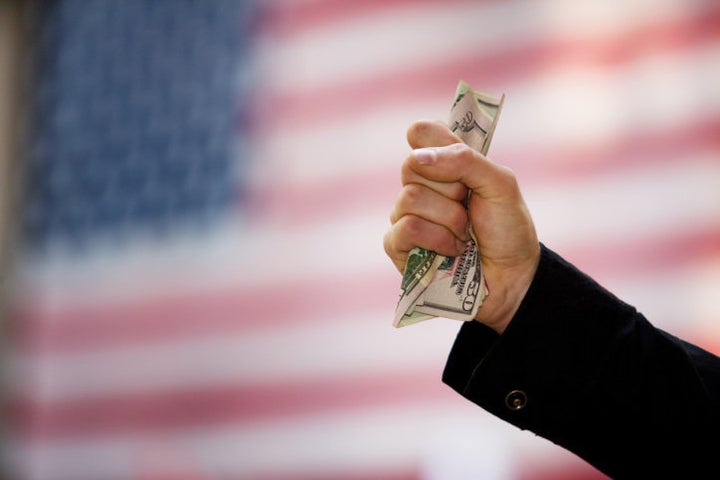 The Federal Reserve warned Congress in a recent report that protecting small businesses from the kind of "harmful" credit card practices it prohibits from being used on consumers would lead to a reduction of credit and higher borrowing costs for businesses -- a similar argument advanced by the banks the Fed regulates.
The report comes at a time when Congress is debating how to stimulate moribund bank lending levels to small businesses, which have been hit particularly hard by the credit crunch, financial crisis and subsequent recession.
"[S]mall business credit remains severely constricted," according to a May report issued by the Congressional Oversight Panel, the bailout watchdog. Lending "plummeted during the 2008 financial crisis and remained sharply restricted throughout 2009." With Wall Street banks cutting lending and smaller banks "strained by their exposure to commercial real estate and other liabilities," many small businesses "have had to shut their doors, and some of the survivors are still struggling to find adequate financing."
The report also slammed the Obama administration's efforts to revive small business lending.
Because loans and lines of credit have been so hard to get, many small businesses have had to resort to using credit cards to help finance their operations. The Fed noted in its Friday report that in 2009 small business applications for lines of credit were rejected about two-thirds of the time, while applications for bank loans were rejected at a 50 percent clip. Applications for business credit cards, however, had a rejection rate of just 26 percent.
A little over a third of small businesses used business credit cards in 1998, according to the Fed. That rate now stands at about 64 percent.
The increased use of credit cards by small businesses has elicited calls that they, too, should fall under similar protections currently enjoyed by consumers.
But the Truth in Lending Act, a 1968 law known as TILA that protects consumers by requiring lenders to disclose the terms and costs of credit, generally applies only to consumer credit products. Credit cards issued to small businesses typically aren't covered, as businesses are thought to be more sophisticated borrowers than consumers. Thus, small businesses aren't afforded the same protections as consumers.
A new law passed last year amended TILA, increasing the amount of protection for consumers who use credit cards. Among the changes were new rules governing increases in interest rates and how lenders levy penalty fees and other charges. It also called for a study of how small businesses use credit cards.
President Barack Obama and consumer advocates hailed the new law as a significant victory for borrowers over rapacious lenders. Banks responded by making it harder for consumers to borrow, slashing credit card lines and jacking up interest rates.
Some have called for small businesses to benefit from similar borrower protections. The National Small Business Association backed a recent amendment to the Senate's financial reform bill that would have applied TILA's "sensible protections" to bigger loans, enabling small businesses to benefit from the same kind of protection as consumers, the small-business advocacy group wrote in an April letter to Senator Jeff Merkley, an Oregon Democrat.
But the Fed doesn't think that TILA should apply to small business credit cards, even though it admits the law would protect them from "harmful" practices and compel better disclosure.
"Applying many of TILA's substantive credit card protections to small business credit cards would protect small businesses from practices that the Congress and the Board have found to be harmful in the context of consumer credit cards," the Fed noted in its report. It then lists protections like forbidding lenders from requiring payments on due dates before 5 p.m. and "restrictions on applying increased rates to existing balances and on allocating payments in a manner that maximizes interest charges," the latter of which would help small businesses limit or reduce interest charges.
Also, the Fed noted that it believes that "standardizing and improving disclosures for small business credit cards would benefit small businesses by enhancing their ability to compare the cost of the credit card plans available to them." The cost associated with better disclosures may be "limited," it noted in its 55-page report.
Of course, protecting borrowers from the kind of lending practices Congress outlawed in its 2009 credit card law will lead to decreased profits for the nation's biggest banks, according to the banks' filings with the Securities and Exchange Commission.
JPMorgan Chase noted in its filings that the Credit Card Accountability, Responsibility, and Disclosure Act of 2009, which limits unfair rate hikes and hidden fees, will cost the nation's second-biggest bank by assets as much as $750 million a year.
So banks cut lines of credit and increased interest rates for consumer cards. The Fed urged that could happen to small business cards if some of these protections were extended to small businesses.
Congress should recognize "the potential for adverse effects on the cost and availability of small business credit cards," the Fed noted in its report. The protections "could have negative consequences for small businesses," the Fed warned.
"Restricting the ability of card issuers to adjust interest rates may lead to higher initial interest rates, which would harm those firms that borrow on small business credit cards.
"In addition, if credit card issuers were to reduce credit limits in response to the imposition of TILA's substantive requirements, even those businesses that use credit cards for transactions and cash management would be harmed," the Fed cautioned.
"Based on this review, it is not apparent...that the potential benefits of applying substantive restrictions similar to those in TILA to small business cards outweigh the potential risk of increased cost and reduced credit card availability for small businesses," the Fed said in its report.
The American Bankers Association said in a statement that the Fed report "affirms the industry's long-held belief."
The powerful banking lobby concluded its statement by quoting the Fed's line that the potential benefits of added borrower protections are outweighed by the potential risk of reduced and higher-priced credit.
Calling all HuffPost superfans!
Sign up for membership to become a founding member and help shape HuffPost's next chapter