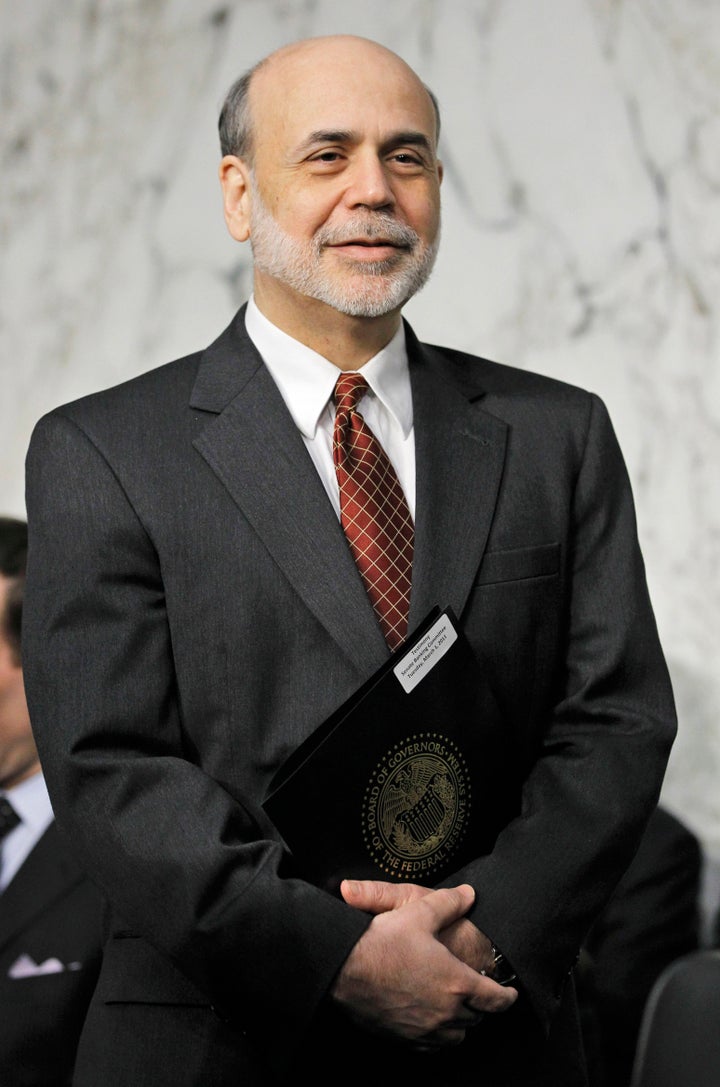 Ben Bernanke, a small, bearded man with a seemingly godlike power over the economy, has spent much of his tenure as Federal Reserve chairman cloaked in secrecy.
Even as the Fed gave cheap emergency loans to banks worldwide during the financial crisis, and as it undertook two massive rounds of asset purchases, swelling its trillion-dollar balance sheet to a record size while keeping Wall Street banks flush with cash, Bernanke's public appearances have been relatively controlled. He has testified before Congress, delivered densely worded speeches, given an interview on "60 Minutes" and spoken to other individual media outlets in controlled settings.
But on Wednesday, he'll be directly grilled by the folks some regard as the toughest questioners of all, in the central bank's first ever press conference after a committee meeting. He will submit to a pack of reporters jockeying with one another for a shot at provoking news from the chairman. It's the Fed's most significant bid ever for transparency and accountability, and the consequences of a mistake could be dire.
"This is a high stakes gamble for chairman Bernanke. The Fed has always had this allure or mystique about it, that it had this bottomless arsenal of weapons it could use," said Michael Robinson, senior vice president of Levick Strategic Communications, who formerly was the spokesman for the Securities and Exchange Commission.
"By going public, you expose yourself," he added. "You expose yourself to questions from reporters that you aren't going to be able to control, that you aren't going to be able to deflect."
A word or phrase from the Fed chairman -- or even a gesture -- has the power to move financial markets. When Bernanke hinted in August that the Fed would commence a new round of monetary easing, investors immediately responded by shifting into risky assets. The statements from the Fed's main policy-making body, which will conclude a meeting before Bernanke speaks on Wednesday, are rigorously scrutinized by financial players, who read into subtle choices of diction and syntax.
A carefully managed PR strategy, marked by outright secrecy, has long been an inherent feature of the Fed. The central bank "decided the largest questions of the political economy, including who shall prosper and who shall fail," wrote William Greider in his 1987 tome Secrets of the Temple, "yet their role remained opaque and mysterious."
But the Fed has come under intense criticism in recent months, taking heat from politicians, financial professionals and commentators ranging from Paul Krugman to Sarah Palin. Two months from the scheduled end of the Fed's asset-purchase program, the broader economy remains weak, and reporters will likely ask the chairman to explain what the so-called quantitative easing program has accomplished, and whether further accommodation is in the cards.
"The times have changed. With all this power, there just has to be more disclosure, more openness," said Ernie Patrikis, a partner at the law firm White & Case and a former chief operating officer of the New York branch of the Fed. "Bernanke, he goes and talks on '60 Minutes.' He talks to college students. That's not the press."
Elected officials give regular press conferences. News outlets gleefully report their gaffes, but typically the fallout from such missteps is confined to the official's reputation. Not so with Bernanke.
"In DC we're used to politicians saying whatever they want," said Robert Volmer, president of the PR firm Crosby-Volmer, which has clients in government and finance. "But if Bernanke says the wrong thing, it could affect global markets."
Every detail of his public presentation will matter. Above all, he'll need to seem confident, even as he fields what's likely to be aggressive questioning, image consultants say.
"It's unfortunate that you'd be judged on posture, or looks, or tone," said Gerard Carney, head of U.S. financial communications for the PR firm Fleishman-Hillard, who formerly was the spokesman for the Financial Accounting Standards Board. "But that goes with the job."
Bernanke, in his off moments, has become something of a meme. Photographs of his face caught in unusual expressions appear across the Internet, edited to humorously critique Fed policy. He's even the topic of conversation in a video that went viral last year where two creatures discuss monetary policy.
As for his attire, it's best to stay simple and conservative at the press conference, said Michael Christian, an image consultant at Manhattan Makeovers, who has written books under the name William Cane. Christian suggested a white shirt and a navy suit, which he said convey credibility. Bernanke's tie, further, should have diagonal stripes, the better to appeal to people from all social stations and help the chairman reach a broad audience, Christian said.
But other consultants took a different view. If Bernanke eases up a little -- say, wears a blue shirt instead of a white one -- that might help him seem more approachable.
"There's two schools of thought on what he should wear," said Marva Goldsmith, chief image officer of Marva Goldsmith and Associates. "If he wears something very corporate, then the mood that he sets is all business. I'm sure it would appeal to bankers and the like."
"If he lightens it up and becomes a little more approachable -- a light blue shirt and a dark suit -- then he has more of an appeal to the common person looking at the press conference," she added.
But the most important aspect of his image might not be the wardrobe.
"I think the focus should be on his face, not on what he's wearing. It's not like it's the royal wedding on Friday," said Lynne Glassman, a DC-based image consultant. "The hair that he has is already groomed well. His beard -- I usually don't like beards -- but it's always well groomed."
"He does smile from time to time," she added, "and that's lovely."
WATCH Bernanke on "60 Minutes" last year:
Related
Popular in the Community