Federal Reserve Chair Janet Yellen announced Monday that she will leave the U.S. central bank when her term ends in February.
Earlier this month, President Donald Trump named Jerome Powell, a Republican Fed governor who worked closely with Yellen, as the next Fed chair. Powell is now up for Senate confirmation, which he is widely expected to receive.
Although Yellen's term as chair would end once Powell takes office in February, she had the opportunity to stay on as a Fed governor until Jan. 31, 2024.
"As I prepare to leave the Board, I am gratified that the financial system is much stronger than a decade ago, better able to withstand future bouts of instability and continue supporting the economic aspirations of American family and businesses," she wrote in the letter. "I am also gratified by the substantial improvement in the economy since the crisis."
The White House responded to Yellen's announcement by praising her tenure.
"The president has great respect for Chair Yellen and her service as Chair of the Federal Reserve. He wishes her well in her future endeavors," White House Press Secretary Sarah Huckabee Sanders said in a statement.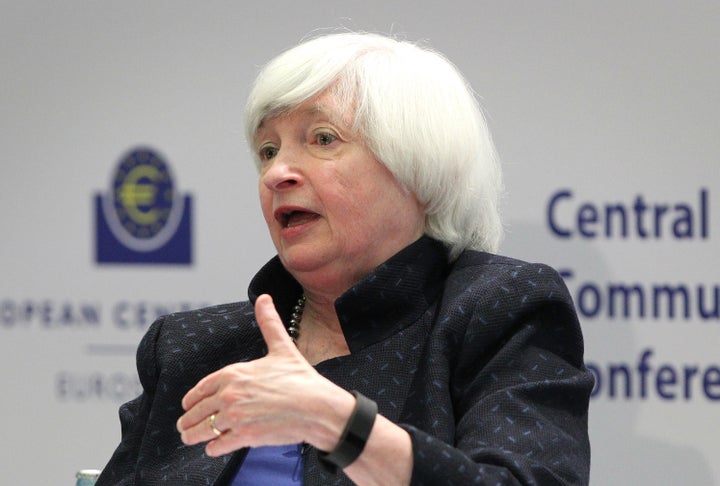 President Barack Obama appointed Yellen as chair of the Federal Reserve in October 2013, as then-Fed chair Ben Bernanke's second 4-year term came to an end. The Senate went on to confirm Yellen, making her the first woman to lead the United States' powerful central bank when she took office in February 2014.
Obama had originally hoped to name his former economic adviser Lawrence Summers to the top post. But he bowed to pressure from women's groups and other progressive activists to name Yellen instead.
Summers had once suggested that women might have intrinsically less aptitude for math and science. He also elicited the ire of left-leaning activists for his support of 1990s-era financial deregulation and failure to anticipate the financial crisis of 2008.
When Obama appointed Yellen, she was serving as vice chair of the Federal Reserve Board of Governors. Prior to that she had served as president of the regional Federal Reserve Bank of San Francisco, and was a longtime economist at the University of California, Berkeley.
Yellen is generally credited with enabling the current run of economic growth by maintaining low interest rates well into the recovery from the Great Recession. In December 2015, Yellen raised the central bank's federal funds rate, a benchmark that influences borrowing costs throughout the economy, marking the first such hike since the 2008 financial crisis.
Yellen drew praise from progressives for resisting pressure to raise rates earlier and raising it further only gradually thereafter.
"The single most important thing that she has done since 2014 is restrain the pace of the tightening of monetary policy and allow the economy to continue producing more jobs," said Andrew Levin, a Dartmouth College economist, who spent two decades at the Fed, including as a special adviser to Chair Bernanke and then-Vice Chair Yellen. "We have had 10 million new jobs under her tenure ― and that number might have been half as big or zero under a different Fed chair."
Yellen was also willing to use her perch as Fed chair to expound on the Fed's role in reducing economic inequality, including the wide disparity in opportunities available to workers of color as compared to white workers.
The Fed Up campaign, a coalition of progressive groups that pushes the Fed to prioritize full employment, urged President Trump to re-appoint Yellen.
The organization lamented Yellen's decision to leave the central bank.
"Janet Yellen's retirement is a loss for working people across the country," said Jordan Haedtler, Fed Up campaign manager, in a statement. "Janet Yellen did more than most of her predecessors to achieve the Fed's objectives of maximum employment and stable prices."
"Yellen showed remarkable leadership and spoke out about economic inequality, racial disparities in the economy, the role of women in the workplace, and the need for more diversity at the Fed," Haedtler added.
Despite some initial skepticism, Yellen even won over many Wall Street insiders, who benefit from higher rates, but value steady economic growth above all.
At one point during the 2016 presidential election, Trump went after Yellen for keeping rates low, which he claimed she did to benefit the incumbent Democratic Party ― and by default, Trump's opponent, Hillary Clinton.
Since taking office he has changed his tun and claimed that he was seriously considering appointing her to a second term.
When Trump ultimately named Powell to the post, he praised Yellen as a "a wonderful woman, who's done a terrific job."
At the time, some analysts deemed Trump's decision sexist, since he was replacing her with Powell, who unlike Yellen, has less experience at the Fed and no advanced degree in economics.
"Denying Yellen reappointment fits the trend in this administration of marginalizing the views of women, people of color, and working families in favor of white men with ties to Wall Street," Fed Up said in its Monday statement.
Calling all HuffPost superfans!
Sign up for membership to become a founding member and help shape HuffPost's next chapter
BEFORE YOU GO
PHOTO GALLERY
Trump Travels Through Asia