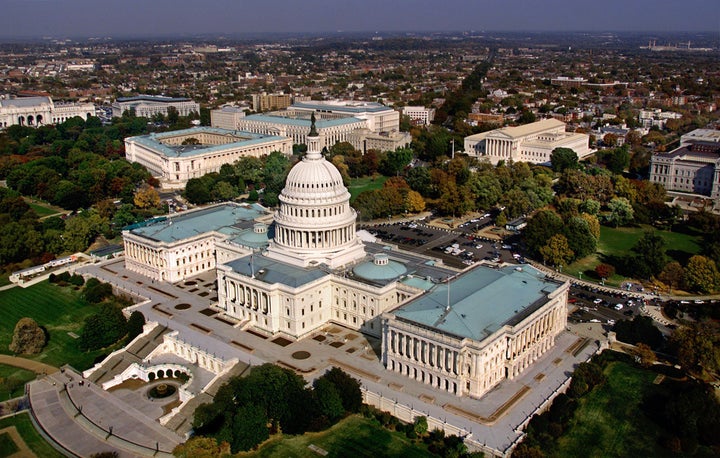 WASHINGTON -- Conventional wisdom says American unions are wheezing. But at the largest union representing federal workers, there has been nothing but steady growth during recent years and months.
From 2007 through 2010, the American Federation of Government Employees saw its number of active, dues-paying members swell from 216,000 to more than 268,000, according to figures provided by the union. What's more, officials there say they've witnessed a significant spike in workers' interest in unionizing over the last few months as the salaries and benefits of public-sector employees have come under heavy fire from the right.
AFGE president John Gage says the union added 1,300 dues-paying members in April alone and has typically been seeing gains of about 600 per month recently. The AFGE doesn't have the full collective-bargaining rights of most private-sector unions -- federal workers cannot strike or bargain directly over pay -- but in its limited capacity the union represents workers throughout the federal sector.
Many of the union members added in April, Gage points out, came from the Department of Defense, a workforce whose conservative leanings traditionally don't jibe with the more liberal politics of labor unions.
"It's a very steady growth rate, especially when you look at other unions that are getting creamed on membership," Gage said.
Of course, the rise in union membership may stem in part from the growth in the federal workforce itself. (Although that growth varies depending on what metrics are used, most would agree that more than 100,000 federal jobs have been added under the Obama administration.)
AFGE officials say federal workers are telling the union they are growing more and more concerned with their job security and future retirement as Republican leaders have vowed to shrink the size of the federal government and shown little mercy when it comes to possible federal job losses.
In a nod to belt-tightening, President Obama's budget included a two-year pay freeze for federal civilian employees. And some Republicans have said two years isn't enough. In February, House Speaker John Boehner (R-Oh.) said that if the government needs to shed federal jobs to trim the budget, then "so be it." And since then, the Republican governors of Wisconsin and Ohio have launched highly contentious campaigns aimed at rolling back the collective bargaining right of their public sector workers.
Last month, Vice-President Joe Biden hosted bi-partisan deficit discussions that included the possibility of increasing personal contributions to federal employees' defined benefit pension plans.
All that considered, Gage says he sees a difference now when he hosts AFGE-sponsored lunches and makes his pitch to groups of federal workers on why they should unionize.
"I go out and make my little speeches, and the hands shoot up as soon as I'm done," he says. "They all want to know: What's the inside dope on retirement [cuts]? How bad is it really going to be?"
The union's more notable drives from recent months include workers from the Office of Management and Budget and the Transportation Security Administration. The OMB employees recently filed a petition for a union election, and the TSA employees are now voting in a runoff election between the AFGE and the National Treasury Employees Union to determine which will be their exclusive union.
Workers at both agencies have their own long-simmering issues with management. OMB workers would like more of a voice in workplace organization, and TSA agents take issue with the pay-raise and disciplinary systems. But Peter Winch, AFGE's deputy director of field services and education, says the union's recruiters are receiving "a more receptive audience these days," partly due to the attacks on public-sector employees. Their rising membership numbers, he adds, are part of "an upward trend that's accelerated in the last five months."
"[Workers] are noticing these proposals," Winch says of federal budget trimming. "What they're talking about is the paycheck you get every two weeks. People take it personally."
According to Gage, the union has set a goal of reaching 300,000 dues-paying members by August 2012.

Popular in the Community