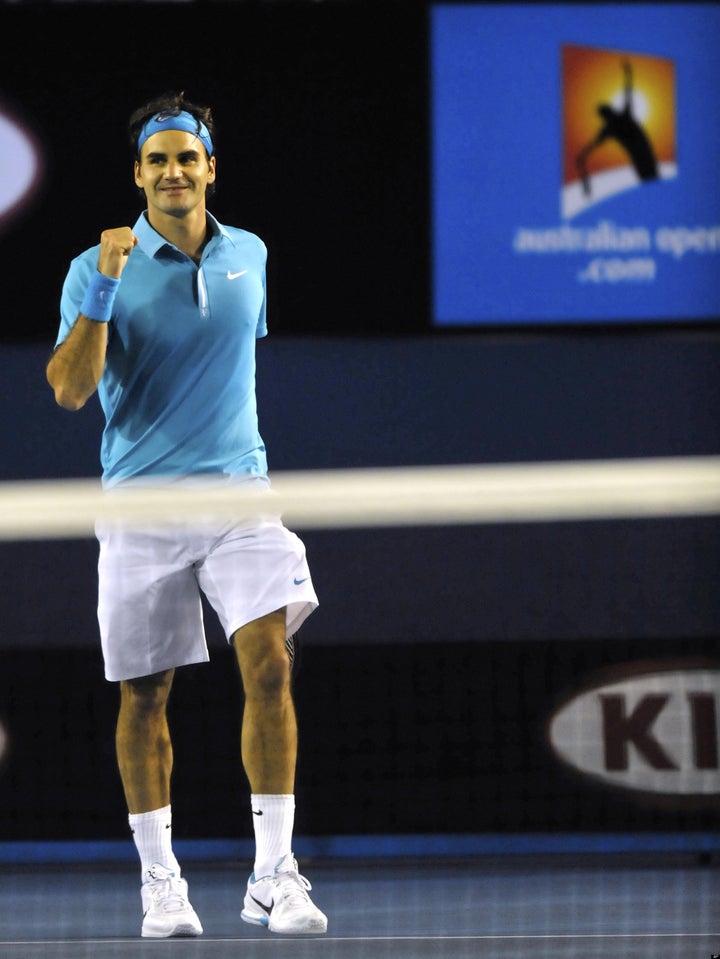 The tennis season got off to a smashing start this past weekend when its two top players, Roger Federer and Serena Williams, won the Australian Open singles titles. The win means both have a shot at the 'Grand Slam of Tennis,' -- winning all four Major tournaments (Australian, French, Wimbledon and the US Open) in the same year.
As the year progresses and if both champions win the French Open, the possibility of winning all four would be THE story in tennis and should be one of the biggest stories in sports this year.
Only a few players have accomplished winning the Grand Slam in tennis. Don Budge did it in 1938 and Rod Laver accomplished the feat twice in 1962 and 1969. Margaret Court won all four Majors in the same year in 1970, as did Maureen Connolly in 1953 and Steffi Graf in 1988.
In Sunday's Australian Open men's final, Federer dominated Andy Murray 6-3, 6-4, 7-6 (11) to win his 16th Grand Slam singles championship. Federer surpassed Pete Sampras's record 14 Grand Slam singles titles when he won Wimbledon last year. He lost the US Open final this past September and the talk quickly turned to whether Federer could be the dominant player he once was. Many thought he would be too distracted with the birth of his twin daughters and perhaps not hungry enough to continue racking up the Grand Slam victories. But 'down under,' he quickly silenced those who questioned his superiority in the sport by winning the title there and getting rid of Murray in straight sets. (Murray had beaten Federer in six of their previous meetings.) And adding an exclamation point to talk that Federer's dominance was waning, Federer said he thinks he has played some of the best tennis of his life over the last few weeks!
On Saturday in the women's final, Serena prevailed in three sets against Justine Henin, 6-4, 3-6, 6-2, to win her 12th Grand Slam title. Serena tied Billie Jean King's 12 Major titles but has the daunting task of winning 15 more if she wants to beat the record 26 Major titles that Margaret Court won. It's not going to happen, but I had to mention it to recognize Court's extraordinary achievement. Serena is the most fierce and intense competitor in women's sports and as long as she stays healthy and interested in competing, she has the strength and power to dominate the women's game. She and her sister Venus also won the doubles title in Australia making that 11 Major Doubles titles they have won together.
Roger Federer and Serena Williams' career statistics keep getting more incredible and should be more appreciated by mainstream sports media.
In the golfing world, shame on Scott McCarron for accusing Phil Mickelson of 'cheating' this weekend by using the Ping-Eye 2 wedges with square grooves. These wedges were made before April 1, 1990 and approved for play in a Ping lawsuit that was settled 20 years ago. The USGA has a new rule this year that irons must have V-shaped grooves. It is an effort to put a greater premium on accuracy as square grooves generate greater spin.
As a result of the lawsuit, it is perfectly legal to use the Ping-Eye 2 wedges. What was McCarron thinking? He was way too quick to publicly call someone a 'cheater.' Those are fighting words!
Other players are using the Ping-Eye 2 wedges as well. Mickelson was indeed slandered and may have his legal team looking into it. Kudos to the PGA Tour for quickly releasing a statement which explained why the Ping-Eye 2 wedges with square grooves were approved to play and stating how 'inappropriate at best' any public comments or criticism characterizing their use as a violation are. In a time when golf has enough negativity focused on its star player, the last thing the Tour needs is for one of its own to publicly and falsely accuse another of cheating!


Visit Ann's web site to order DVD copies of her cable interviews with legends in sports and entertainment or to order an autographed copy of her book, A Passion for Golf, Celebrity Musings about the Game.

REAL LIFE. REAL NEWS. REAL VOICES.
Help us tell more of the stories that matter from voices that too often remain unheard.