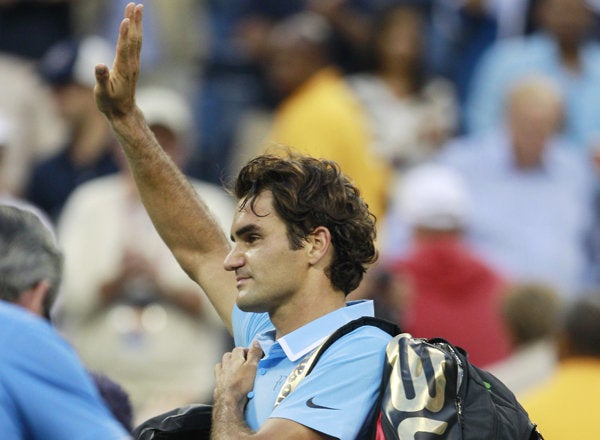 NEW YORK (AP)--Novak Djokovic prevented an eighth Grand Slam championship match between Rafael Nadal and Roger Federer--and the first at the U.S. Open--by saving two match points and coming back to stun Federer 5-7, 6-1, 5-7, 6-2, 7-5 in Saturday's semifinals.
"One of those matches," Djokovic said, "you'll always remember in your career."
It means that the third-seeded Djokovic will be standing between No. 1 Nadal and a career Grand Slam in the final Sunday. Nadal owns eight major titles but had never been past the semifinals at the U.S. Open before beating No. 12 Mikhail Youzhny 6-2, 6-3, 6-4 earlier Saturday.
Federer had reached six consecutive U.S. Open finals, winning five trophies from 2004-08, but he repeatedly let leads slip away this time. Federer took the first set against Djokovic, then the third. And even after Djokovic forced a fifth set, Federer twice was a single point from winning.
With the crowd in Arthur Ashe Stadium trying to will Federer to victory-- probably because of the tantalizing prospect of a final between him and Nadal-- the owner of a record 16 Grand Slam titles couldn't seize his chances.
"They all pretty much feel the same: You feel so empty at the end, I guess, because you tried everything," said Federer, who hadn't dropped a set all tournament before Saturday, but was hurt by 66 unforced errors, 28 more than Djokovic.
"You feel like you left something out there if you lose a match having had match point," Federer added. "It wasn't a final, so I'm not as disappointed if it would have been a final."
This setback comes after losses in the quarterfinals of both the French Open and Wimbledon, and Federer closes the 2010 Grand Slam season having played in one major final--the first year since 2003 that he hasn't reached at least two.
Nadal, meanwhile, will be bidding Sunday to become the first man since Rod Laver in 1969 to win the French Open, Wimbledon and the U.S. Open in the same season. The 24-year-old Spaniard also can become the seventh man in tennis history to own at least one championship from each Grand Slam tournament.
"I won't watch," Federer said, "but I hope he wins."
Saturday's play was to conclude later under the lights, with defending champion Kim Clijsters taking a 20-match winning streak at the U.S. Open into the women's final against Wimbledon runner-up Vera Zvonareva.
Federer's 3-hour, 44-minute loss to Djokovic was far more entertaining than the day's first semifinal.
Nadal dominated with his serve again, holding 13 of 14 times Saturday, making him 89 of 91 for the tournament.
"After a lot of work," said Nadal, who hasn't dropped a set these two weeks, "I am here in the final."
He lost in the semifinals in New York each of the past two years. In 2008, he lost to Andy Murray, and now says he was wiped out mentally after a long, if successful, summer that included a gold medal at the Beijing Olympics. In 2009, he lost to eventual champion Juan Martin del Potro, while dealing with achy knees and a torn abdominal muscle.
"Well, it's another step, I think, in my career, so for sure it's a very important victory for me," Nadal said. "To be in the final of the last Grand Slam of the year is something new, because I always arrived here with problems."
Not this year. He took three weeks off after Wimbledon--skipping Spain's Davis Cup quarterfinal--to rest and get treatment on the knees that bothered him so much of last season and the beginning of this season.
"Tough to say who is better than Rafa," Youzhny said. "I mean, he's No. 1 and he played really good tennis."
On a day when the wind that has plagued the tournament finally eased up, Djokovic managed to be barely enough better than Federer.
Djokovic is always rather demonstrative, and Saturday was no different. After losing one point, he whacked himself in the head a few times with his racket. After another, he pounded his leg with the racket. And after several others, he would put his hands on his hips and shake his head.
But Djokovic never gave up, even after getting broken at love in the next-to-last game of the first set, then losing serve in the last game of the third. Instead, he kept coming up ways to fluster Federer. Djokovic is generally regarded as one of the game's best returners, which forced Federer to go for more, and that in turn led to problems.
After putting in an average of 61 percent of first serves in the tournament, Federer only was at 53 percent Saturday. Djokovic broke serve twice in the second set--en route to handing Federer his first 6-1 loss of a set at the U.S. Open since a 2001 defeat against Andre Agassi--and twice more in the fourth.
Djokovic also showed off tremendous defensive skills, sliding into shots the way he would with red clay underfoot, his sneakers squeaking loudly with each step.
He saved the match points while trailing 5-4 in the fifth set and serving. He erased the first with a swinging forehand volley winner to cap an 11-stroke point, and the second with a forehand winner, then wound up holding for 5-all. The only service break of the fifth set would come in the following game, when Federer missed forehands on the last two points to allow Djokovic to go ahead 6-5.
Djokovic then served out the victory--although only after saving one last break point. Federer let that slip by pushing a forehand long, then set up Djokovic's first match point with a forehand into the net.
The last point went 22 strokes, with Djokovic displaying some of the tremendous defense he used all match, until Federer sent a backhand wide.
Djokovic held his arms up, and looked up at his guest box, where his parents -- both wearing T-shirts emblazoned with likenesses of their son--were jumping and hugging. Djokovic stared ahead, his jaw agape, as though even he couldn't quite believe what he accomplished.
"It's really hard to describe the feeling I have right now," Djokovic said in an on-court interview. "I was a point from losing this match, and now I managed to come back."
Djokovic had lost to Federer at each of the previous three U.S. Opens, in the 2007 final and the 2008-09 semifinals. That was part of why everyone was expecting to see the 22nd career meeting between Federer and Nadal. They would have been the first pair of men to meet in the finals of all four Grand Slam tournaments.
Instead, Sunday's final will have, coincidentally, the 22nd career meeting between Djokovic and Nadal, one of whom will become a U.S. Open champion for the first time.
"To be honest, I was just closing my eyes and hitting forehands as fast as I can on match point. If it goes in, it goes in. If it goes out, just another loss to Federer in the U.S. Open," Djokovic said. "I managed to come back. I was very lucky."
Calling all HuffPost superfans!
Sign up for membership to become a founding member and help shape HuffPost's next chapter