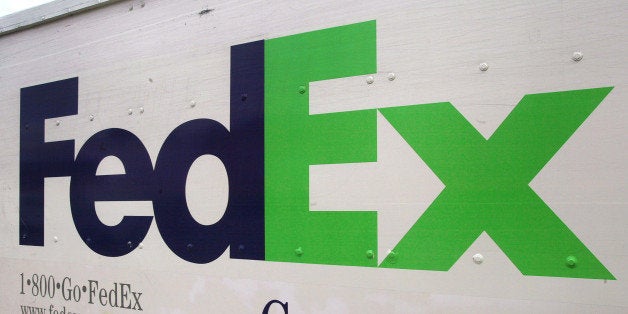 In a decision that one judge wrote "substantially unravels FedEx's business model," a panel of federal judges ruled Wednesday that FedEx Ground and FedEx Home Delivery drivers are employees of the company, rather than the "independent contractors" that FedEx characterizes them as.
The decision by the panel for the 9th U.S. Circuit Court of Appeals determined that FedEx Ground had misclassified 2,300 drivers in California and Oregon as contractors, opening the company up to hundreds of millions of dollars in wage claims. The ruling reversed a decision by a lower court that had stopped the plaintiffs' lawsuits from moving forward.
In concurring with his colleagues, Judge Stephen S. Trott used a quote attributed to President Abraham Lincoln to argue that employees are still employees even if a company wants to call them contractors.
"Abraham Lincoln reportedly asked, 'If you call a dog's tail a leg, how many legs does a dog have?'" wrote Trott, an appointee of President Ronald Reagan. "His answer was, 'Four. Calling a dog's tail a leg does not make it a leg.'" (Exactly what Lincoln said, it should be noted, is a matter of dispute.)
Over the years, FedEx has been sued by workers dozens of times over its independent contractor model, though many of those lawsuits have been dismissed or held on appeal.
"We expect that the 9th Circuit's ruling will have a cascade effect on all other appeals pending around the country, and it really heralds the end of FedEx's way of doing business," said Beth Ross, an attorney who led the plaintiffs' case.
In a statement, FedEx Ground said it would ask for a review of the ruling by the entire 9th Circuit. The company also said it had legally strengthened its contractor model in 2011, and argued that Wednesday's ruling doesn't apply to its current labor model.
"We fundamentally disagree with these rulings, which run counter to more than 100 state and federal findings -- including the U.S. Court of Appeals for the D.C. Circuit -- upholding our contractual relationships with thousands of independent businesses," said Cary Blancett, FedEx Ground's senior vice president and general counsel.
FedEx is largely credited with having pioneered the "independent contractor" work model in the logistics industry. Under this system, workers function as self-employed drivers with their own routes, covering the costs of their own trucks, gasoline, uniforms and so forth.
While corporations claim the contractor system gives drivers flexibility and strong incentives as "small businesses," critics say it's simply a way to shift the costs of employment onto workers and avoid payroll taxes and workers'-compensation costs.
The basic question in lawsuits involving the independent contractor model is whether or not a company like FedEx still maintains control over the work itself. In Wednesday's ruling, the judges asserted that it does.
"Although our decision substantially unravels FedEx's business model," Trott wrote in his decision, "FedEx was not entitled to 'write around' the principles and mandates of California Labor Law."
As HuffPost reported earlier this year, this model has been widely adopted by other trucking and courier companies, many of whose drivers work long hours for low pay and little job security. One worker who drives for the delivery company Lasership, which is a major Amazon contractor, described the arrangement this way: "It's like they want us to be employees, but they don't want to pay for it."
In its statement, FedEx Ground said that due to recent lawsuits and regulations, the company had "taken a number of steps in recent years to enhance its operating agreements with the independent businesses that contract with the company."
Related
Popular in the Community