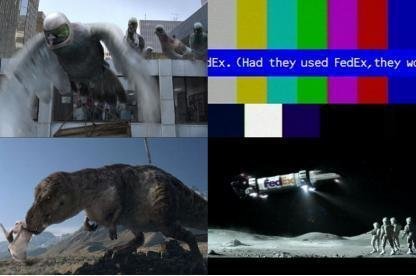 Perennial Super Bowl advertiser Federal Express has pulled out of the upcoming event for the first time in 12 years, citing the economy. In an entry on the company's blog, Director of Advertising Steve Pacheco explained the company's rationale:
As a country, we are in unprecedented economic waters. And as a responsible employer of more than 290,000 employees and contractors worldwide, there is a time to justify such an ad spend and a time to step back.

As FedEx employees, we, like millions of people at other companies, are being asked to do more with less. Our most vital asset is the thousands of FedEx team members who truly enable the world to work, absolutely, positively, every day. In the ultimate medium when where the message is king, being in the game simply sends the wrong message both to employees and other FedEx constituents. A Super Bowl ad buy is not where we should put dollars at this time although, in the past, the value of doing so for FedEx has been indisputable.
FedEx, which uses ad agency BBDO New York, has been a Super Bowl advertiser since 1989 with classic spots, which Pacheco runs down in his blog:
To name a few, giant carrier pigeons wreaked havoc and tossed cars in our CGI city, the Stanley Cup wound up in Bolivia, we learned that the cherished Castaway package contained a survival kit, blank color bars surprised all when we learned the network did not use FedEx one year and the EMMY award-winning "Stick," featuring the FedEx cave men, showed us that FedEx rocked the prehistoric age.
Pacheco said FedEx looks forward to advertising in the Super Bowl again soon, but until that time comes, check out some of their ads throughout the years below:
Carrier Pigeons, 2008 (Super Bowl XLII)
:
Moon Office, 2007 (Super Bowl XLI)
:
Stick/Caveman, 2006 (Super Bowl XL)
:
Ten Things, 2005 (Super Bowl XXXIX)
:
Alien, 2004 (Super Bowl XXXVIII)
:
Marooned, 2003 (Super Bowl XXXVII)
:
The Wizard of Oz, 2001 (Super Bowl XXXIV)
:
Calling all HuffPost superfans!
Sign up for membership to become a founding member and help shape HuffPost's next chapter