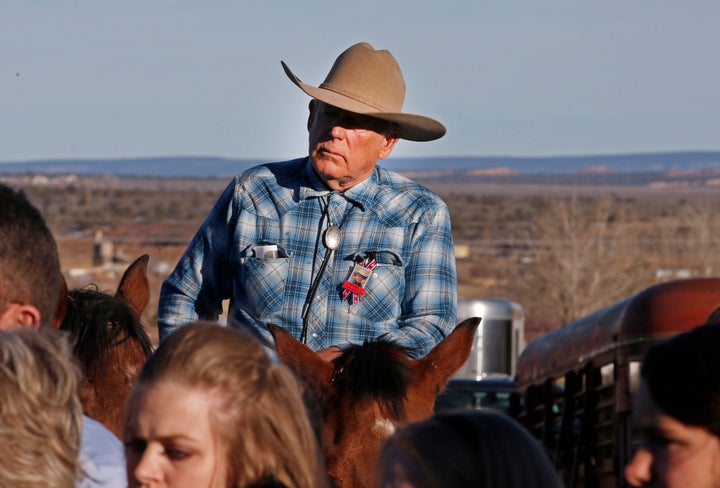 WASHINGTON -- Cliven Bundy, the Nevada rancher in custody over charges stemming from his involvement in a 2014 armed standoff, is terrible at cattle ranching, according to a court document filed by federal authorities on Tuesday.
"While Bundy claims he is a cattle rancher, his ranching operation -- to the extent it can be called that -- is unconventional if not bizarre," wrote the U.S. attorneys for the districts of Nevada and Oregon in a memorandum arguing for Bundy's continued detention before trial.
That standoff started after Bundy refused to pay federal grazing fees. The Bureau of Land Management rounded up 400 head of cattle it claimed Bundy kept unlawfully on public land but was forced to release them after armed militants gathered to protest the action.
The government is now questioning Bundy's ranching skills. The feds claim Bundy allows his cows, which numbered over 1,000 at the time of the standoff, to run wild with "little, if any, human interaction" until they are "sold or slaughtered for his own consumption." Bundy does not vaccinate or adequately feed the cows and doesn't know where all of them are, the document says. 
"Bereft of human interaction, his cattle that manage to survive are wild, mean and ornery," the feds write. They go on to describe the cows "getting stuck in mud, wandering onto golf courses, straying onto the freeway... [and] foraging aimlessly and wildly, roaming in small groups over hundreds of thousands of acres of federal lands that exist for the use of the general public."
When reached by The Huffington Post, Noel Grefenson, the court-appointed attorney for Bundy, declined to comment on the government's claims about Bundy's ranching practices. On Tuesday, Grefenson said his client was only "a 69-year-old man sitting here in custody with high blood pressure."
PHOTO GALLERY
The Cliven Bundy Conflict
Calling all HuffPost superfans!
Sign up for membership to become a founding member and help shape HuffPost's next chapter