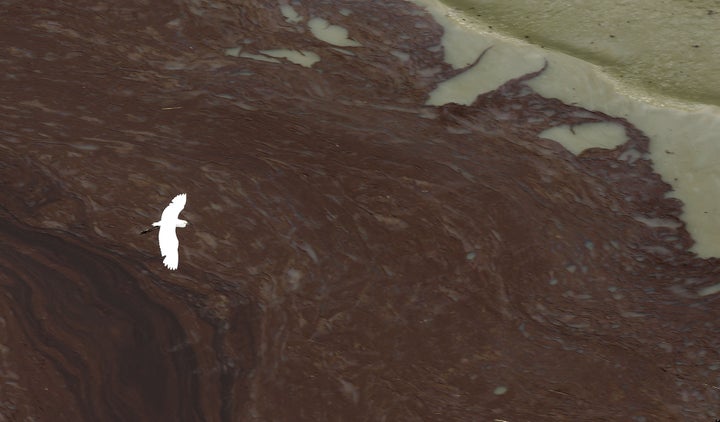 [This story and headline have been updated to reflect the fact that a 1910 oil well blowout in California, on land, is said to have spilled 9 million barrels of oil See below.]

BP's disastrous oil well explosion sent over 4 million barrels of oil spewing into the Gulf of Mexico, the Coast Guard announced Monday, dramatically increasing the most recent federal estimate.
That's more than 170 million gallons, and makes it the worst accidental offshore oil spill in history -- outpacing the 1979 Ixtoc spill, also in the Gulf of Mexico, which lasted for a year.
A federal scientific task force, finally allowed access to the wellhead just prior to it being capped on July 15, took elaborate pressure readings and other measurements to reach its conclusions.
Federal officials now estimate that 53,000 barrels of oil per day were gushing from the well immediately preceding its closure, and that even more was coming out earlier. The well exploded on April 20, killing 11 workers.
Scientists now estimate that a total of 4.9 million barrels were released from the well, with about 800,000 barrels of that successfully recaptured by BP once the first containment cap was installed.
The Obama administration and BP originally estimated the spill at 5,000 barrels a day, and clung to that figure for weeks despite protestations by scientists and environmental groups, and even after a video clip of the spewing pipe exposed that as a wild underestimate.
It wasn't until late May that the Interior Department described 12,000 to 19,000 barrels as a "preliminary best estimate" of the flow. That number then increased again two weeks later, to 20,000 to 40,000 barrels a day, and then a few days after that to 35,000 to 65,000 barrels a day.
Up until Monday, "over 2 million barrels" had emerged as a consensus estimate.
The new estimates are from the National Incident Command's Flow Rate Technical Group, led by United States Geological Survey Director Marcia McNutt, and a team of Department of Energy scientists and engineers.
The groups relied heavily on newly available pressure readings from the new containment cap, the Unified Command wrote in a press release. The finding were also "based on a combination of analyses of high resolution videos taken by ROVs, measurements and modeling of reservoir and well properties, acoustic technologies, and measurements of oil collected by the oil production ship together with pressure measurements inside the containment cap."
The worst offshore oil spill of all time was intentional: Between 5 and 10 million barrels of oil are thought to have been spilled into the Persian Gulf in 1991 by Iraqi troops who opened the valves on oil rigs and pipelines.
UPDATE: A reader points out that the Lakeview Gusher of 1910, which was on land rather than at sea, is thought to have spilled 9 million barrels of oil, only 4 million of which were recovered. The blown-out well, about 100 miles north of Los Angeles, reportedly created an 8-mile river of oil. See, for instance, this story in the Bakersfield Californian newspaper.
*************************
Related
Popular in the Community