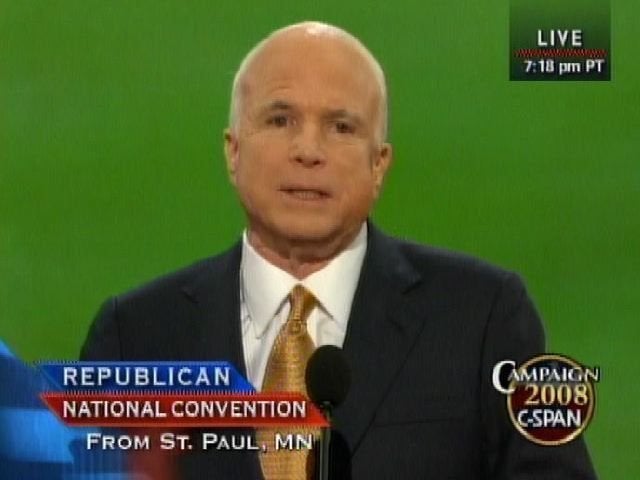 One item that I've discussed a great deal here has been that of the failing bank (Silver State Bank) that John McCain's son -- Andrew McCain -- ran as a member of the bank's board of directors and its audit committee. (See previous stories below)
Well, we have an update. The bank has finally failed, and seized by federal regulators on Friday night, making it the 11th bank to fail in the U.S. this year.
In light of the attention being paid to the takeovers of Fannie Mae and Freddie Mac, and the two political conventions, the media seems to be overlooking this very important story on how the son of the Republican presidential nominee -- and one of the campaign's biggest fundraisers -- suddenly and mysteriously resigned from Silver State Bank in July, citing only "personal reasons," refusing to discuss the issue with the media (or even return their calls). Sadly, America is in the thick of the biggest national financial crisis since the savings and loan meltdown of the 1980s and McCain was at the epicenter of the 11th bank failure this year. Yet, silence.
The failure is expected to cost the FDIC deposit insurance fund between $450 million and $550 million...[and] estimated there was about $20 million in uninsured deposits.
But nothing from the McCain camp. Maybe they fear the obvious comparison.
Recall that John McCain was at the center of the S&L scandal when he tried to keep federal regulators from investigating the bank of then top donors and Cindy McCain's business partner -- Charles Keating. That scandal -- forever known as The Keating Five -- would emerge as the biggest black mark on McCain's political career resulting in a rebuke by the Senate Ethics Committee.
As they say, the apple doesn't fall far from the tree...Is it too much to ask the media to do its job?
REAL LIFE. REAL NEWS. REAL VOICES.
Help us tell more of the stories that matter from voices that too often remain unheard.