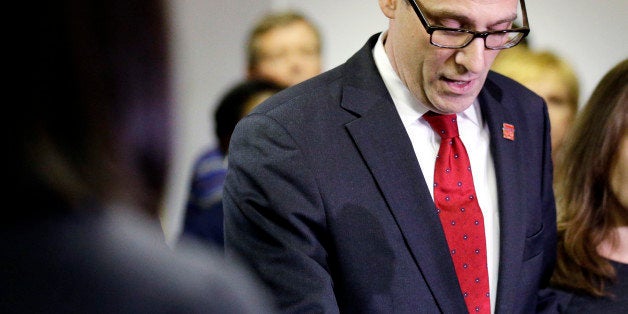 CHICAGO, April 16 (Reuters) - The acting head of the Chicago Teachers Union said on Thursday that a federal probe of the city's public schools chief executive points to a larger pattern of apparent conflicts of interest at the debt-troubled district.
Federal authorities are investigating Chicago Public Schools CEO Barbara Byrd-Bennett and a $20.5 million no-bid contract the district awarded to SUPES Academy, a training facility for principals that had formerly employed her, local media reports said without naming their sources.
CPS, the nation's third-largest school district with about 400,000 students, confirmed on Wednesday that federal authorities were investigating suspected misconduct and had requested interviews with employees, but gave no details. A spokesman for SUPES Academy said investigators had obtained records and that it was cooperating.
Chicago Teachers Union Acting President Jesse Sharkey told reporters the union has been concerned in recent years that top CPS officials had private interests that conflicted with their public roles.
"There's a culture of conflicts of interest that is extremely destabilizing and hurts the public trust," said Sharkey, whose union is in contract negotiations with CPS.
He cited the example of a board member who has investments in companies that sell educational software to the district.
The district faces a prospective $1.1 billion deficit.
Byrd-Bennett has not been accused of wrongdoing.
Sharkey said that if Byrd-Bennett steps down, the district would have its fifth CEO in four years.
"That's a level of instability that frankly is damaging," Sharkey said.
Mayor Rahm Emanuel appointed Byrd-Bennett in October 2012, after the first teachers' strike in 25 years. The contract with SUPES began in 2013.
The CTU had supported Jesus Garcia, an unsuccessful opponent to Emanuel, in the April 7 run-off election.
SUPES is paid to train principals and administrators. But principals disliked the program, which had initially been mandatory, required eight Saturdays a year on top of busy work weeks, and offered little of value, according to Clarice Berry, president of the Chicago Principals and Administrators Association.
After principals complained, Byrd-Bennett allowed them to opt out if they chose, but some feared retaliation if they did, Berry said.
"We see it as a colossal waste of money," said Berry.
A representative for CPS did not return a request for comment on Thursday.
SUPES spokesman Dennis Culloton defended the academy's work, saying "it stands behind the countless hours of training it has provided to Chicago Public Schools principals." (Editing by Eric Walsh)
Calling all HuffPost superfans!
Sign up for membership to become a founding member and help shape HuffPost's next chapter