The Federal Trade Commission sued DeVry Education Group on Wednesday, alleging the for-profit college operator deceived tens of thousands of prospective students with bogus claims about their career prospects.
Regulators alleged the company's main school, DeVry University, had misled students since at least 2008 when it claimed in widespread national advertisements that 90 percent of the school's graduates who had been actively seeking jobs landed positions in their fields within six months of graduating.
The actual percentage was "significantly smaller," the FTC said. The agency further alleged that the company couldn't substantiate its claim.
The FTC also said the school had deceived prospective students since 2013, when it claimed in advertisements that its graduates had earnings at least 15 percent higher one year after leaving school than graduates from all other colleges in the U.S.
DeVry said it intends to contest the lawsuit, which it claimed was without legal basis. The company "looks forward to demonstrating the accuracy and credibility of our students' career success," CEO Daniel Hamburger said.
For current and former DeVry students who took on federal student loans, the lawsuit could make it easier for them to petition the Department of Education to cancel their debt. That's because federal law allows student debtors to apply for debt cancellations in cases where their school misled them into taking on loans.
"When prospective students are weighing whether to attend a particular university, they often base their decision on an institution's claims and literature, including its marketing materials, to assess whether that school will help them further their career goals," FTC Chairwoman Edith Ramirez said.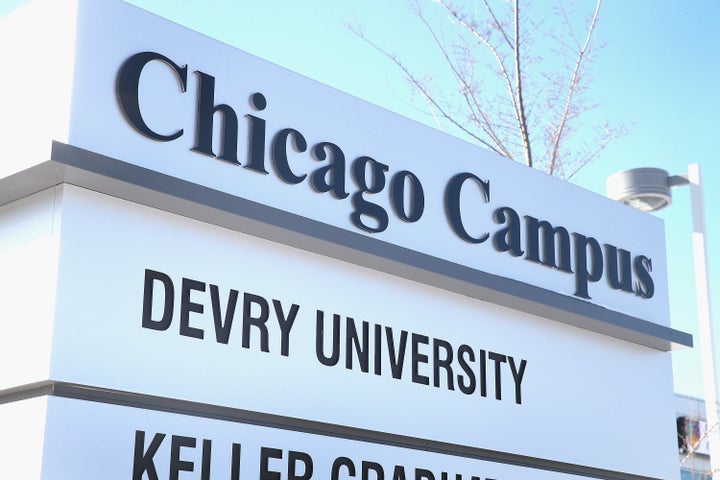 The Education Department in December said it would cancel $27.8 million in federal student loans owed by some 1,300 former Corinthian Colleges Inc. students after the department concluded those students were defrauded into taking on the debt.
In its complaint, the FTC said DeVry University annually enrolled 29,000 to 49,000 new students from 2008 to 2014, meaning that as many as 300,000 students were duped into enrolling with false promises. Hundreds of thousands of Americans cumulatively took on about $5.3 billion in federal student loans to attend DeVry University beginning in the 2008-09 academic year through June 30 of last year, Education Department data show.
DeVry allegedly inflated its job placement rates by counting graduates who continued in the same job they had prior to enrolling, according to the lawsuit. The school also is accused of counting unpaid volunteers, a mail carrier, yard salesman, Cheesecake Factory server, retail sales associate, and a driver delivering rain gutters as graduates who were employed in the fields they studied.
The lawsuit is the latest action by authorities targeting allegedly dodgy for-profit colleges. The industry benefited from tremendous enrollment growth as a result of the Great Recession but has since experienced plummeting stock prices and much lower enrollment as students subsequently defaulted on their loans and authorities stepped up their oversight and introduced new rules to protect students.
Last year, the Consumer Financial Protection Bureau sued Corinthian Colleges Inc. and in 2014 sued ITT Educational Services Inc. alleging similar misconduct as in the DeVry complaint. Both companies disputed the claims. Corinthian is no longer in business.
Numerous publicly traded for-profit college chains have disclosed that they are under investigation by state or federal authorities. Regulators are targeting colleges' claims about students' future career prospects.
Despite the lawsuit, the Education Department will still send taxpayers' dollars in the form of student loans and grants to DeVry for current and future students. The department said it has asked DeVry to stop making misleading claims.
Related
Popular in the Community