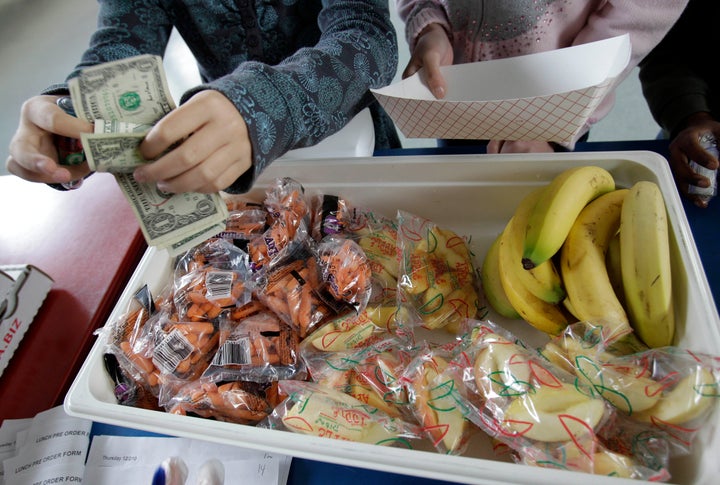 This summer, the Disney Channel aired a TV spot about hunger in America. Ten-year-old Payton of Twin Lake, Michigan, happened to be watching that day.
Her mother Angie remembered how Payton came up to her and said, "Mommy, I don't want to get gifts for my birthday, I want to give people food."
Angie and her husband Chris made a deal with their daughter: If Payton could raise $400, they would cover the remaining $400 to bring a Mobile Food Pantry to their community.
"That's when she got really gung-ho about it," Angie recalled. "She went out that day and got started."
Payton knocked on doors, wrote letters, and with the help of her parents, created a Facebook page to spread the word. After four weeks, she had beaten her parents' challenge by more than $200.
Payton's grandma Lisa confirmed that this is her granddaughter's typical way of interacting with the world -- "She's always looking for chances to give things to her sisters. She's always got that heart."
On a Saturday in late September, Payton and more than 30 of her friends and family greeted the truck from Feeding America West Michigan Food Bank when it pulled into the parking lot of Holton United Methodist Church. As they unloaded the truck's 10,000 pounds of tomatoes, watermelon, yogurt, bread and meat, the clouds that had briefly dribbled sleet on the volunteers began to clear. By 2 p.m., the sun was shining, and nearly 90 people had gathered to collect food.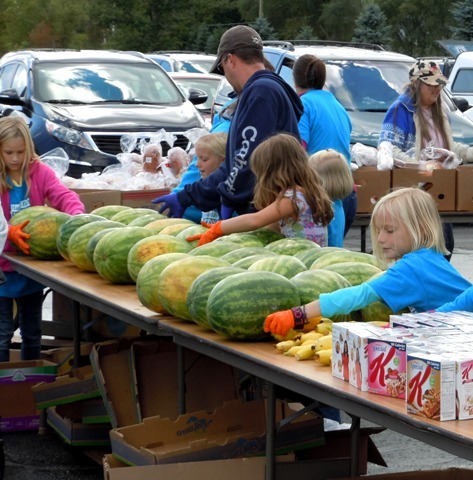 Wearing a pair of latex gloves and a bright blue T-shirt that read, "Little kids can do big things," Payton stocked tables with summer squash and bell peppers. Payton talked with her clients, many of them seniors, some younger couples with children, and tried to convince them to take more fruits and vegetables. Asked if coordinating a Mobile Food Pantry was hard work, Payton replied, "Mmhm, but it's fun."
Scott, a 52-year-old native of nearby Muskegon and a 27-year-old veteran of the National Guard, watched Payton at work as he stood in line. Despite being employed as a furniture fabricator for Herman Miller, Scott's financial situation is far from secure. "I go to court Monday to get evicted from my foreclosed house," he said matter-of-factly.
"Everybody has more wants than needs," Scott said. "Food is a need."
More than one in six people is food-insecure in Muskegon County, according to Feeding America's most recent study. While the job market in the county is improving, the unemployment rate sits at a dicey 9.1 percent.
These figures are part of a larger story, one in which, as the USDA reports, 17 million American children struggle to meet their nutritional needs and poverty holds at the two-decade high of 15 percent. Yet as USA Today, The Nation and the Washington Post pointed out recently, direct discussion of poverty and how to reduce it have been largely absent from the political discourse this election season.
One Mobile Food Pantry funded by a 10-year-old girl from Twin Lake won't lift Muskegon County out of economic difficulty, but it has gotten people talking. Payton's birthday present to her community is a singular example of what one person can accomplish with selfless vision and a dash of creativity. Children like Payton signal that a change may well be coming in our society's attitude toward the hungry -- a move away from grudging charity toward personal investment.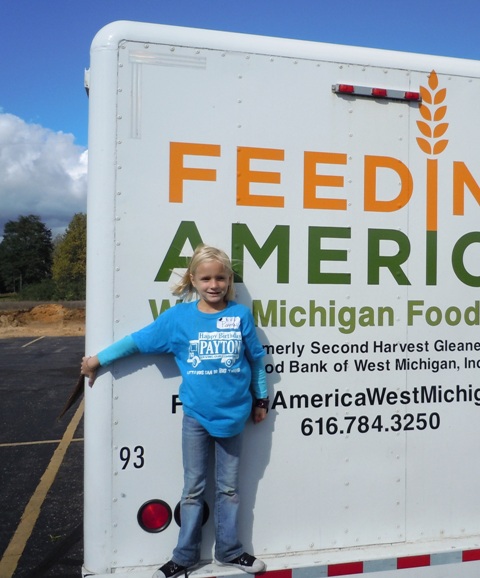 "It's so much fun to have the kids out here," said Judy Clark-Ochs, a long-time hunger relief worker in Muskegon County who was present that day. "Look at what it's doing to them. This is the next generation."

The Mobile Food Pantry program is administered by Feeding America West Michigan Food Bank. It is designed to put fresh and healthy food directly into the hands of those who need it. To learn more, visit feedingamericawestmichigan.org.
Related
Popular in the Community