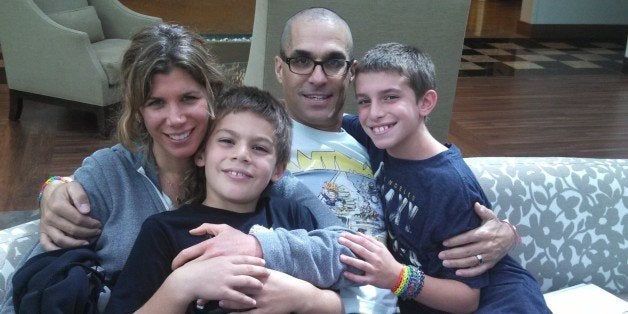 On August 11, 2015 I plan to be on the starting line of the PepsiCo TransRockies Ultramarathon event, a multi-day trail run that covers 56 miles and nearly 9,000 feet of elevation gains. This is a formidable challenge for most people, let alone for a Stage IV lung cancer survivor.
I was diagnosed in the fall of 2013. A surfing accident had resulted in a visit to the emergency room and a CT scan which revealed a brain tumor. I soon learned that the cancer had started in my lungs and metastasized to my brain and other organs. I was an active athlete who never smoked a day in my life so the diagnosis was a complete shock.
Life changed forever. Within days I went into brain surgery followed by four rounds of aggressive chemotherapy, but throughout all this, I knew that one thing was not changing: my passion for physical activities. Ten days after surgery I went on a 90-minute bike ride with my pals. This set the precedent and I continued exercising throughout chemotherapy. Exercise made me feel alive in a situation where each day was a question.
Living with cancer as an athlete prompted me to start Supportersize, a nonprofit organization dedicated to motivate, inspire and enable people who live with cancer to be physically active. Based out of Queens, New York, we organize one-day events, indoor training, at home training and more, all free for people who live with cancer and their families. We are able to establish a welcoming environment -- not judging, not competing, just sharing between people who come from all facets of life.
We are already making an impact: since we started in May 2014, we have run several events including a trail walk/run, stand-up paddle boarding, yoga in the park and indoor cycling during the winter. Our one day events each saw between 20-40 attendees and now we are planning personalized programs in home or at the gym and we expect to see "door to door" progress (in other words, a steady increase in participants). The feedback we have received from participants has been amazing.
"Yariv has created a place for anyone who had or has cancer to get out there and remember what they are fighting for," says Jody Lichenstein, a kidney cancer survivor and first-time Supportersize hiker. "There are many things I'll think I can't do with my kids, but to see other survivors out there, so strong and fit, was and is truly inspiring."
So why am I training and planning to participate in the TransRockies Ultramarathon? I want to inspire cancer patients and their families to go out and move. Get active. Do something that makes you feel whole. At Supportersize, we want to empower people to redefine themselves as fighters and conquerors.
We continue to seek and form partnerships and alliances with organizations and supporters who share our mission and passion. I am especially gratified to be recognized for my work with Supportersize and as an advocate for people who live cancer as part of the one hundred 2015. An awareness and fundraising initiative that celebrates hope in the cancer community, the one hundred was created by the Massachusetts General Hospital Cancer Center, which is particularly meaningful to me since this is where I am receiving treatment.
It's time to incorporate exercise as part of treating cancer. I'm stepping up to start this fight.
This blog post is part of a series produced by The Huffington Post and the one hundred, in conjunction with the Massachusetts General Hospital Cancer Center. Each year, the one hundred honors 100 Everyday Amazing individuals and groups -- caregivers, researchers, philanthropists, advocates and volunteers from around the globe -- who are celebrating hope and inspiring action in the cancer community. To see all other posts in the series, read here. For more information about the one hundred, read here. Do you know someone who's making a difference in the fight against cancer? Read here to nominate them for the one hundred.
Calling all HuffPost superfans!
Sign up for membership to become a founding member and help shape HuffPost's next chapter