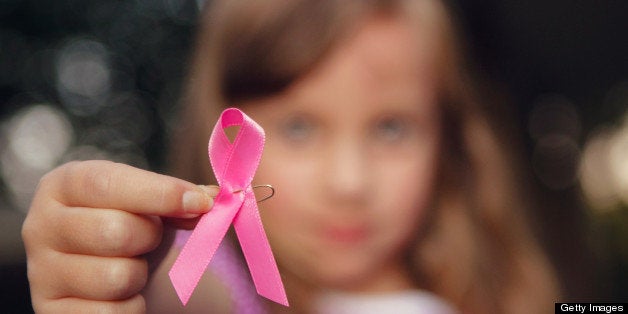 There are so many of us in this country who have similar stories about our breast cancer. I read Peggy Orenstein's article in The New York Times Magazine last week, "Our Feel-Good War on Breast Cancer." Peggy's article told the truth about breast cancer. It will help us change the conversation so we can focus on what matters. While it did paint a dim, but realistic, picture of the world of breast cancer, all is not lost. There is so much we can do to change that world. That is why the National Breast Cancer Coalition set a deadline -- Breast Cancer Deadline 2020® -- we will know how to end breast cancer by January 1, 2020. And, NBCC has a plan of action to get there.
Peggy's article also brought back memories. Up until her recurrence, our stories are quite similar. I was 39 when I was diagnosed, through a "baseline" mammogram. At the time, I was a practicing litigator, a partner in a law firm in Philadelphia. My world was about evidence, intensive research and looking at issues from all possible sides.
My cancer showed up as a spoke-like pattern, as had hers. I did have some lymph node involvement, and had to have chemotherapy. I did some research, chose a less aggressive treatment. But I never thought about whether my mammogram saved my life.
A little over three years after my diagnosis, I became part of the launch of the National Breast Cancer Coalition, and their approach to evidence-based analysis of breast cancer issues with a singular focus on ending the disease for everyone. It forced me to think about that mammogram. Because of my work with NBCC, I learned pretty quickly that the evidence just wasn't there. We have taken the stand for 20 years now that mammography screening has harms and limited benefits and that both should be explained and understood fully by healthy women before they make a personal choice whether to have a mammogram.
We have watched the world of breast cancer expand to become the tsunami of pink. We have seen it morph into a world where everyone is cautious, not wanting to shake up the status quo. We have heard from many researchers over the years about how the current systems discourage bold new ideas in favor of safe research and predictable results. A world where we are supposed to celebrate a new drug that does not add days to someone's life but carries with it significant toxicities and enormous cost. A world where most people want to put a happy face on the breast cancer experience. Progress? I think not.
It is important that we continue this conversation about the truth. That is why NBCC publishes progress reports, explaining the reality of breast cancer. It is why we educate and train women and men through our Center for NBCC Advocacy Training, offering information and skills to improve the public's understanding of breast cancer research, policy and science. It is why we set a deadline that has quickly become controversial and at the same time exciting and successful.
This weekend, 150 women and men will come to the nation's capital to spend three days working together to develop their skills as leaders for Breast Cancer Deadline 2020® at the Inaugural Advocate Leadership Summit. These leaders will then go to Capitol Hill on Tuesday for our Annual Lobby Day to pressure our nation's leaders to challenge the status quo and demonstrate leadership by supporting NBCC's legislative agenda for 2013.
In a few months, we will convene the Project LEAD® Institute, where scores of advocates will be trained in the science of breast cancer so that they may play a key role in decision making that affects breast cancer -- in research, public policy, the media and throughout their communities.
At the center of our work for Breast Cancer Deadline 2020® is the Artemis Project®, a collection of catalytic collaborations focused on breast cancer research areas that could have a significant impact on breast cancer prevention and saving lives. The Artemis Project® for a preventive breast cancer vaccine has been progressing since its launch in 2010, as teams of advocates and scientists work together to develop a vaccine for clinical trials within a five-year timeframe while changing the way research is done. The Artemis Project® for tumor dormancy will launch next month as a diverse group of stakeholders convenes to develop a plan that will address a key issue within the causes and prevention of metastasis.
We, advocates, are leading this charge. We are setting the agenda, bringing the scientists and policy makers together, implementing plans of action and moving forward to the end of breast cancer. This is all happening, albeit difficult to see through that tsunami of pink.
We could look at the issues Orenstein raises, and just feel bad. We could pound the table and demand change. Or we could follow NBCC and actually figure out how to change the world of breast cancer and then act to make it happen.
So, while I agree with Orenstein's description of the challenges we face in breast cancer and her articulation of the problems, I respond by saying, "Do not despair." In fact, rejoice. There is much that we can do. We just need you to be a part of it. Join us.
Popular in the Community