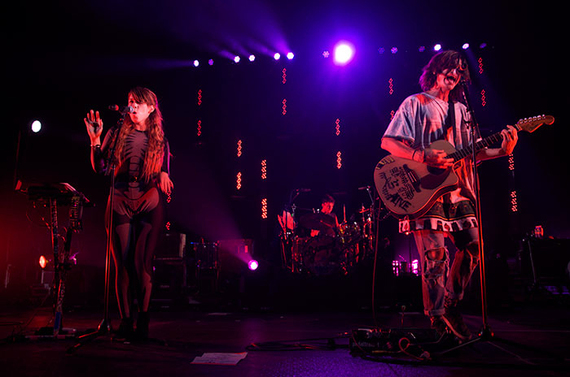 There's light at the end of the tunnel! As Warsaw climate talks turned into a disappointing repeat of Copenhagen, indie-rockers Grouplove engaged with thousands of college students on the 12th Campus Consciousness Tour (CCT) bringing a solutions-based message to environmental issues, supporting campus environmental campaigns and displaying real-world examples of how individuals and businesses can take positive action that leads to measurable change.
Originally I selfishly came up with the idea for CCT seven years ago as a way for my band Guster to work with the non-profit environmental group my wife and I founded, REVERB. Up until then, it was really only bigger bands like Dave Matthews Band and Jack Johnson that greened their tours with REVERB and activated their fans around environmental issues.
On that first Campus Consciousness Tour with Guster in 2006, we had no idea if college students would like mixing an environmental cause campaign with their biggest concert event of the year. It was pleasantly surprising to see the response first-hand from students -- not only did they tolerate all the environmental information and calls-to-action, but they immediately participated and were excited to talk about their efforts and ideas to make their campuses more sustainable.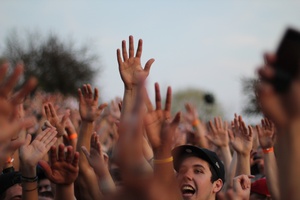 Even more encouraging, CCT has turned into a bi-annual college tour with newer artists picking up where Guster left off: Grammy-winners FUN. and Ben Harper, hip-hop stars Drake and Whiz Khalifa, country rocker Brantley Gilbert, indie-rockers Passion Pit and R&B act Janelle Monae.
This fall's Campus Consciousness Tour headlined by Grouplove, focused on student consumer power and fostering innovation among undergrads everywhere to address the environmental issues they will be inheriting when they graduate.
As part of the campaign to empower students to create new environmental solutions, REVERB launched the "Campus Consciousness Challenge," a $10,000 grant to fund an undergrad's greatest green idea. The Challenge is open now until February 17th. We've gotten some really interesting proposals already -- yet another positive sign that college students give a damn and are aiming to make real changes to how we as a society operate.
To help deepen our usual tour greening efforts, the Campus Consciousness Tour's production infrastructure, including sound, stage and lighting equipment, was transported by UPS from show to show. UPS has had sustainable systems in place for years and it was great to have them carry our stuff in a more earth-friendly manner.
An all-day affair at each school, REVERB set up a Consciousness Village to support campus environmental groups and engage students to take action with interactive games, photo walls and displays. REVERB also collaborated with the Rainforest Alliance, along with tour sponsor Lipton, to feature their Rainforest Alliance Certified Lipton Tea.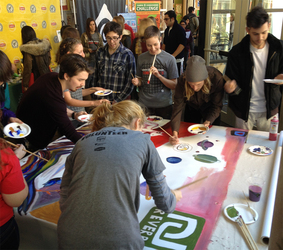 Grouplove was amazing to work with and actively participated in the daily environmental activities with students. They helped create a daytime activity that we dubbed "Art For Activism" in which members of the band joined students who took the Rainforest Alliance "Follow the Frog" pledge to collaborate on an original painting based on the theme of sustainability. "Follow the Frog" encourages consumers to look for the Rainforest Alliance seal of sustainability when shopping for products.
One of the CCT stops this fall was at Tufts University where I had the pleasure to meet a number of students who were members of the relatively new Entrepreneurial Leadership Program. I couldn't believe what these barely-adults were up to: one was already running a 40-employee non-profit, another developing software to help autistic children, and yet another who invented a showerhead that helps you take shorter showers. Nothing like this existed at Tufts when I was a student... none of my friends were aspiring to be the next Mark Zuckerberg -- probably because Mark was only in 2nd grade when my peers started college.
Despite the recent failings at the Warsaw Climate Conference, I actually do feel hopeful and encouraged about the future of our planet. Based on what I've seen from students across the country through the past seven years of Campus Consciousness Tours, the next generation of engineers, social activists, parents, and entrepreneurs are hitting the ground running with a passion to truly make the world a better place and are keenly aware that change needs to happen now.
We are already looking forward to this spring's CCT featuring indie-pop duo, Capital Cities!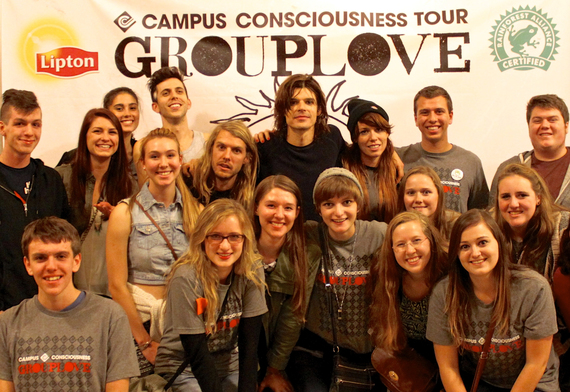 REAL LIFE. REAL NEWS. REAL VOICES.
Help us tell more of the stories that matter from voices that too often remain unheard.