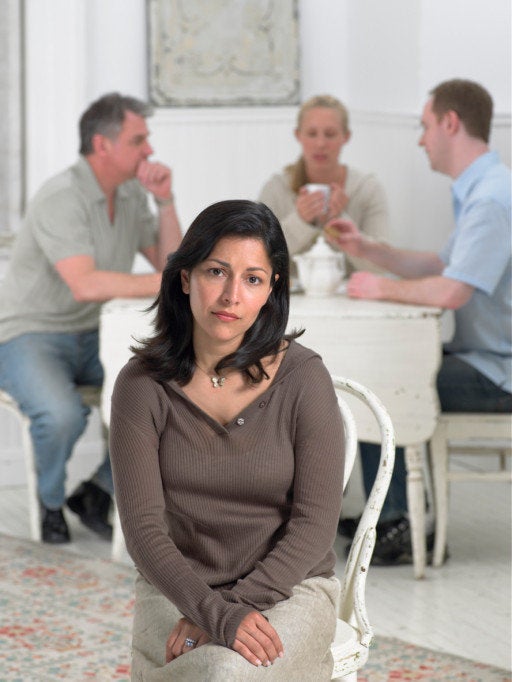 Feeling Invisible

I'm 54, and part of the largest single demographic group in the history of the world. Our buying power is huge, and we are a political powerhouse. Invisible? Hardly. But as I entered my 50s, I sometimes felt as though I was being pushed aside, ignored and not young or interesting enough to have a voice in the world, as I once did. Luckily, I got a grip, and realized that we have to ignore the noise, embrace our age, not be afraid of it, accept that change is happening, and figure out the best way to address those changes, forging ahead with health and vitality.
In addition to the many comments shared on The Huffington Post, I asked people on Facebook and Twitter to offer their thoughts on this question:
Has society made you feel invisible now that you're over 50?
The answer from most of those who commented was a resounding and very loud "No!" Here are just a few of the many responses, which I am reprinting with their permission:
Carla Youngblood Armstrong: No and I haven't really given much thought to society's role as it relates to my feelings about age. I use my thoughts and feelings to 'see' myself clearly at 52 and society just has to except how I see me. My personality is too big to be invisible and it has nothing to do with age and everything to do with who I am.
Carole Matthis Starks: Age is only a number. It's how you view yourself through 'life changes' that makes the difference. Staying positive with a good attitude is key to conquering negativity in the world. You are only invisible if you allow it. Personally, I have been more vocal and express my opinion more now in my 50's than when I was younger.
Melody George: No one can make me feel invisible, but me. If anything, I've become more visible, with more confidence, control, spending power, and knowledge than I ever had in my 20's, 30's or 40's.
Julie Maloney: Not at all. Not one little bit. Not an inch or an ounce
I applaud them (and all the other women who weighed in) because it took me a little longer to get to that positive and confident state of mind. Before I started researching and writing "The Best of Everything After 50," I was confused and overwhelmed by the many media messages shouting at me from all sides that younger is better, sexier, more desirable, and, that older is another word for invisible. I was ready to pull the proverbial blanket over my head, and run for the hills. But, I didn't. Instead, I turned my thinking (and attitude) around, got really mad, and wrote a book.
It's often an uphill battle, however. Articles regularly pop up talking about how we (men and women over 50) are ignored by marketers, advertisers, the movie industry, politicians and the media in general, often convincing us that we are, in fact, invisible. But, this is not in the best interests of the marketers since we (especially those of us in the 50-65 age range, often referred to as "alpha boomers") spend more money on just about everything, than just about anybody else. And, not only do we have our own money, we have our own minds, too.
A recent article in the New York Post -- "Don't Trust Anyone Over 50" -- made the case that advertisers simply do not want to be associated with aging, even though they know how powerful a demographic we are.
Here's a snippet from the article:
While the 18-34 demographic remains the most coveted among advertisers -- get a consumer young, goes the thinking, and you get them for life -- it is actually the 55- to 64-year old demo, the so-called "alpha boomers," that are the most dominant.

Consider: Alpha boomers are the fastest-growing demographic in the nation. They make up half the population and spend more money on goods and services -- nearly $2 trillion -- than any other age group. They buy more technology and gadgets -- 40% of the market -- than any other demo. They drive elections, accounting for the biggest voting blocs in both 2008 and 2010. Alpha boomers have the second-highest median household income, at $69,000, trailing only the 35-44 age group, whose median earnings are $75,000 annually. They own the most second homes in the nation. They largely share the same tastes in online usage as the 18-34s, ranking Facebook and YouTube among their favorite sites, and they buy at least one product online per month. They own more iPads and smartphones than any other demo and record and watch more programming on their DVRs than anyone else. They are less loyal to brands than Gen Xers.

They are almost completely ignored by advertisers.
Based on everything I've heard from women around the world since I started writing for The Huffington Post (and other media), speaking to groups, and during radio and television interviews about the book, there's only one good response to those who continue to disrespect us in this fundamental way: Ignore us at your own risk. We will buy what we want to buy, and it may very well be something other than what you're selling.
That'll give them something to think about.
Staying connected is a powerful tool. "Friend" me on Facebook and "Tweet" me on Twitter (@BGrufferman). To receive an alert when my articles are posted, please click the "fan" button on the top of this page. If you'd like more tips on living your best life after 50, please visit my website: www.bestofeverythingafter50.com. For more information about "The Best of Everything After 50: The Experts' Guide to Style, Sex, Health, Money and More," click here. Interested in having me help you start a "The Best of Everything After 50" Book Club? Please contact me at Barbara@bestofeverythingafter50.com