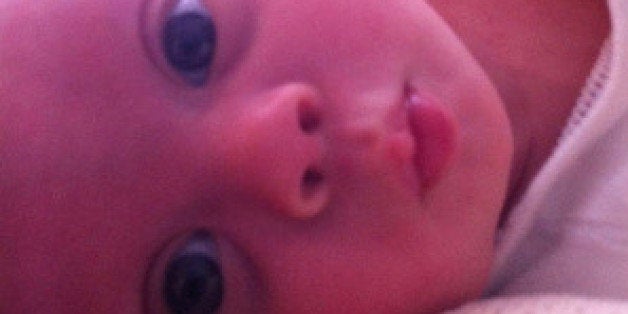 Since Father's Day, I have been thinking about what it is to be a parent. My partner Dan is an incredible dad -- loving, patient, supportive and involved. He has endless time and energy for his wee boys, and my son, Yves, absolutely adores him. Dan learned his paternal awesomeness from his equally cool father, who is champing at the bit to build our sons a small dynasty, and a cubby house to boot. Indeed, my boys have incredible grandparents on both sides of our family, and kick-ass great-grandies too. And, in Dan I have found a strong partner, someone who supports me and returns my love (with interest) every day. Why, then, am I still terrified for the future? What horror keeps me awake at night and renders me a veritable slave in its stranglehold every single day? Being a mother, that's what.
In the words of Elizabeth Stone, having a child "is to decide forever to have your heart go walking around outside your body." Gulp. Who in their right mind would do such a thing?! It has certainly become obvious to me since having kids that I will never enjoy a day of peace for the rest of my natural life. Not because Yves never shuts up (truly, he doesn't), nor because Remy, our other son, demands permanent and unobstructed access to my boobs. No, these things I expected when I became a parent. (That, and sleep-deprived dementia). What I didn't expect, and what has knocked me sideways, particularly in the wake of Remy's arrival, is the unending fear I feel for my children. I fear losing them, I fear failing them, I fear them feeling hurt or sad or confused or angry or let-down or average or unheard or denied or alone or smothered... God help me, but the list goes on. Having these little lives so intertwined with my own is suffocatingly beautiful.
Sometimes I lie awake in my bed, feeling waves of panic at the thought of being separated from my family. At times like these I have to remind myself that this is the great gamble and purpose in life -- to risk love. Not a person I know has had a smooth run; we all suffer and hurt along the way. And ultimately, we must acknowledge that at some stage of the game, we will be parted from those we love. This cannot be helped. Yet, we are all guilty, at times, of wandering through life as if it will never end, busying ourselves with trivial tasks and indulgent purchases. Having a partner and children has given me a healthy fear, and with that fear, an ongoing challenge: to balance the mundane needs of daily life with an active acknowledgement of its brutal brevity. Sure, along the way we gotta pay the bills, do the dishes and remember to change our undies, but we ought to try not to lose sleep over the small stuff. We are here for a good time, not a long time, right?