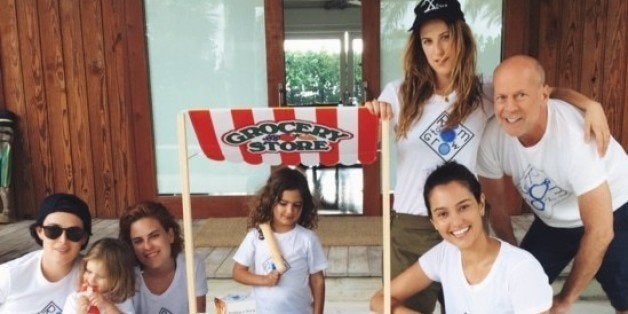 When my family and I were moving from the West Coast and planting roots in the east, I started looking for an organization where I could establish my own roots. Room to Grow just magically appeared before me and struck such a deep chord — I couldn't jump on board fast enough.
I've always been big about donating my children's belongings to a charitable organization once they'd outgrown them. All of these charities I've donated to in the past are doing extraordinary work and deserving of help from volunteers, donations, and sponsors. I recall shedding a few tears each time I'd pack up my children's clothes, realizing how quickly they were growing. But once I dropped off their belongings and signed a donation form, I would leave knowing that a child less fortunate than my own would greatly benefit from our items. My heart felt full.
Since becoming a part of Room to Grow, I've stopped by their offices in Manhattan on numerous occasions. On one trip, I witnessed the social worker, Eunice, working closely with the mother of a roughly three-month old baby girl. The social worker was helping her choose some warm clothes for the baby, as winter was in full swing. One of the items she selected was a pink down jacket from North Face. You could tell just by the look on her face how grateful this mother was to be receiving this jacket. As I looked on I soon realized that the jacket was in fact my youngest daughter Evelyn's that I had donated a few weeks prior — the one she used during her very first winter here in New York. Well, you could only imagine how sentimental this moment was for me and how it will be etched in my memory forever. Of course I never needed to know where our items would end up — it didn't matter but to actually witness someone being given an article of clothing directly, which we had donated was very special. I knew at that moment I had found a place where my time and energy should be spent.
The provision of baby items is thoughtfully distributed to the families at Room to Grow. Their clinical social workers collaborate together with parents to select age-appropriate books, toys, clothes, and equipment, every three months for a total of three years.
It's one thing when you can volunteer your time and witness first-hand the positive effects that Room to Grow has on families. But it's also heart-warming to have been welcomed into this organization with open arms. What Room to Grow's staff does on their end is so commendable and I have the utmost respect for the team. And that's just what it feels like — being a part of a team.
Room to Grow has been around for 18 years, yet their energy is fresh and infectious, even in their day-to-day hustle. They've welcomed this newcomer's ideas and helped realize and fine-tune them. What an impactful experience this has been for me from all angles.
Their spring benefit is fast approaching and I was humbled when they asked me to hold the title of their Honorary Chair this year. What an absolute honor it is, to say the least. I've taken great pride in this role and am trying to help where and when I can. I want to see the cycle of intergenerational poverty broken and to see babies flourish.
 
When I was pregnant, my first-time-mom jitters were through the roof. On the other hand, I had the opportunity to read and educate myself on what would be ahead of me. Knowing that there are expecting mothers who are struggling to make ends meet is distressing. Imagine that on top of being pregnant and dealing with all that entails, having to worry about how to provide for your growing family? Thankfully there's Room to Grow, which offers support and knowledge to families on many fronts, which they may not have been able to get elsewhere.
This post is produced by The Huffington Post and Room to Grow, in conjunction with Room to Grow's Annual Spring Benefit (Thursday, April 14th in New York City.) Room to Grow is dedicated to enriching the lives of babies born into poverty, and the post aims to highlight their program which provides parent education and materials support to families in need. For more information about Room to Grow, visit www.roomtogrow.org.
Calling all HuffPost superfans!
Sign up for membership to become a founding member and help shape HuffPost's next chapter