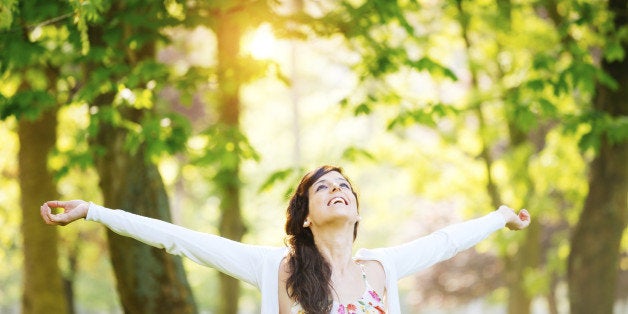 Many of us are feeling confusing emotions as the world shifts into an entirely new paradigm of this new age. While teaching my morning yoga class I suddenly found myself sitting with warmth and tears filling my eyes. These were the beautiful kind of tears -- tears of gratitude for the angels that connect us all, and the guidance that reminds us to accept the high vibration of energy flowing from our hearts. These tears were an acceptance of vulnerability and grace as many of us experience a time of change. The heartfelt emotions were a reaction to the bright light that was shining in the room through the large open window.
Many of us are feeling an increased level of spirituality in the midst of seeming chaos, and recognizing we may have to lose even our sense of self in order to find ourselves in our own greater truth. We are seeing that that by allowing God's infinite touch to arrange our lives as old ways to dissolve, we can move into light without fear. We are beginning to allow divine grace to manifest so our lives can be guided into a healthier and more meaningful way.
When old patterns of behavior are no longer serving our highest truth, we are faced with a choice, and many people are going through a spiritual dilemma. Do we hold tightly to our old comfort zone in fear of losing the life we have become accustomed to, and failing to meet up with what is expected of us by our family of by society? Or do we allow for the possibility that there are angels at work, recognize God's infinite touch, and simply watch the pieces come together into a new paradigm that will uplift our grace and humanity? And if so, are we attached to a preconceived idea of what that should be? And how do we know when we are on our God given path of evolution when our very soul sometimes feels lost?
There is no operating manual written for this transition into the Aquarian age and we are feeling drawn to go within their own hearts to find their own sense of divinity. We are called to breathe and relax into sensitivity, simply allowing truth to lead us into our potential as light beings. When we surrender our ego and flow with trust, God can lead the way through our hearts.
I urge you all to tap into that magical fountain of light that streams forth into your space. You are enough. You are bountiful and beautiful. There is such a magnificent opportunity to give all all sadness, guilt, fear and insecurity to God right now. We are entering a lighter period, and we are being guided through the changes with a touch of the angels.
Once we enter the lightness of the angelic, we will feel a sense of ease. We can allow our tears of gratitude to fall, softening our hearts and opening our armor. There is strength in vulnerability. And when we allow the guidance that comes through our hearts, there will be less drama in our relationships and an opening for the miraculous to be part of our daily lives in a way that is beyond our comprehension. Patience pays. Trust allows. Miracles are on their way.
Please connect with Karena on facebook where she offers free weekly meditations for all. It is time for living a life full of Prosperity, Love and Miracles.
Popular in the Community