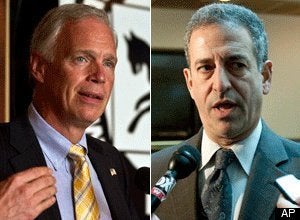 New polls released yesterday in Wisconsin, Kentucky and New Hampshire highlight three U.S. Senate contests that have been regarded as marginally competitive but are now leaning to the Republicans. The most consequential is Wisconsin, where a handful of new polls now show incumbent Senator Russ Feingold trailing Republican challenger Ron Johnson.
A new automated Rasmussen survey released yesterday shows Johnson leading Feingold by 12 points (54% to 42%). Two weeks ago, the CNN/Time poll, the only live interviewer survey conducted in the state since July, showed Johnson leading by 6 (51% to 45%), but an automated poll two weeks ago conducted by Daily Kos and the Democratic firm PPP had Johnson up 11 (52% to 41%).
The trend in Johnson's favor since the summer is hard to miss. Our trend line estimate now puts Johnson ahead by nearly 10 points (52.9% to 43.1%).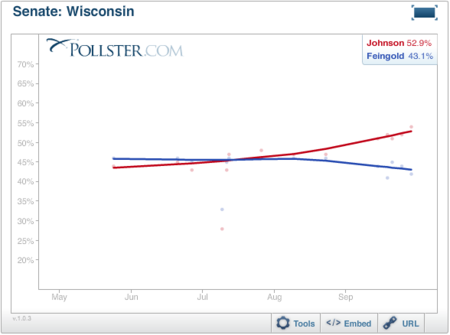 In a twist, the more recent live interviewer polls in New Hampshire show the Democrat doing worse than the automated surveys. A new WMUR/University of New Hampshire survey now shows Republican Kelly Ayotte leading Democrat Paul Hodes by 15 (50% to 35%), one point narrower than an American Research Group (ARG) survey completed on Sunday (46% to 32%). Most of the previous automated polling showed slightly narrower margins, but our trend lines look flat, and show Ayotte holding a nearly 10 point lead (48.3 to 38.7%).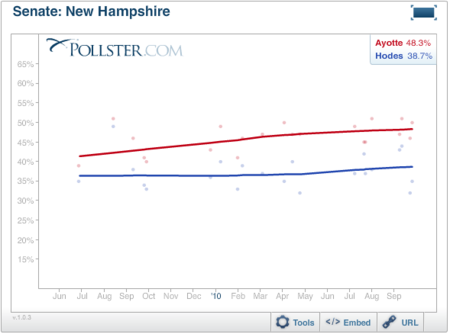 Surveys paint a less consistent picture in Kentucky, where yesterday's new Rasmussen poll shows Tea Party Republican Rand Paul leading Democrat Jack Conway by 11 points (49% to 38%). However, two surveys last week, one from SurveyUSA and another sponsored by the Democratic Senatorial Campaign Committee (DSCC) both showed Paul leading by just 2 and 3 points respectively. Our trend estimate splits the difference and puts Paul ahead by nearly eight (48.2% to 40.5%)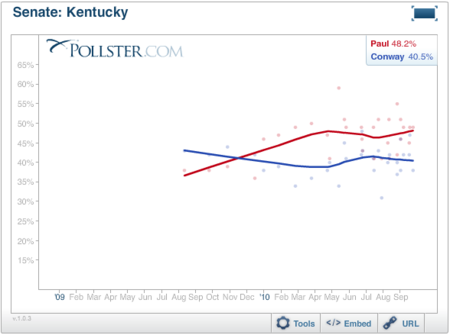 Also just out this morning, results from the latest Quinnipiac University poll on the Florida Governor's race, which shows Republican Rick Scott leading Democrat Alex Sink by six points (49% to 43%). Recent surveys by other pollsters have shown margins ranging between the Quinnipiac result and a 7-point Sink lead (47% to 40%) measured a week ago by Mason-Dixon. Our trend estimate gives Scott a two-point margin (48.7% to 46.7%), so despite the Quinnipiac result we still rate Florida a toss-up -- one of the closest Governor races in the nation.
Finally, yesterday in the new Pollster section of the Huffington Post, I took a closer look at yet another Alaska poll obtained after yesterday's update that shows the wide range of support for Senator Lisa Murkowski depending on how pollsters ask the vote question.
Also new and noteworthy in the Pollster section:
Michael McDonald finds some good news for New Yorkers and bad news for Texans in recent data on the coming congressional reapportionment.
Brian Schaffner shares data on risk-averse voters and considers a potential silver lining for endangered incumbents.
Popular in the Community