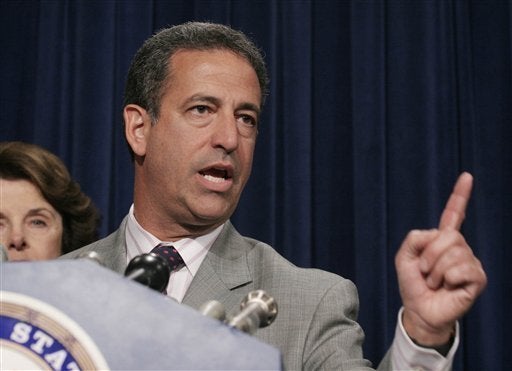 As one of Congress' foremost progressive figures, Sen. Russ Feingold is a coveted endorsement for any of the Democratic presidential nominees. But if those seeking the White House are waiting for his call, they shouldn't hold their breath -- especially if they're John Edwards.
In an interview with the Huffington Post on Thursday, Feingold restated his hesitance to endorse either Sen. Barack Obama or Hillary Clinton. Both, he said, would make great presidents. The same praise was not, however, heaped upon Feingold's former Senate colleague Edwards, whose political sincerity the Wisconsin Democrat questioned.
"I don't understand how somebody could vote, five or six critical votes, one way in the Senate and then make your campaign the opposite positions," Feingold said, expanding on comments he made a week ago to the Appleton (Wisconsin) Post-Crescent. "That doesn't give me confidence that if the person became president that they would continue the kind of policies that they are using in the Democratic primary. I'm more likely to believe what they did in the Senate."
Asked to explain what precisely he found problematic, Feingold offered that Edwards had "taken in" voters by switching positions on several key issues.
"You have to consider what the audience is, and obviously these are very popular positions to take when you are in a primary where you are trying to get the progressive vote. But wait a minute -- there were opportunities to vote against the bankruptcy bill, there was an opportunity to vote against the China [trade] deal. Those are the moments where you sort of find out where somebody is. So I think, people are being taken in a little bit that now he is taking these positions."
The Edwards campaign did not return a request for comment.
Feingold, who was briefly considered a possible presidential nominee, is known for a willingness to buck party trends and cast a progressive stripe. He forged landmark campaign finance legislation with Sen. John McCain, was the only senator to vote against the Patriot Act, and has been among the most vocal figures pressing to roll back the Bush administration's warrantless surveillance policies.
The latter issue seems poised to play a major role in the 2008 election, as former White House chief strategist Karl Rove insisted that a vote against FISA could haunt the Democratic candidates in a general election. Feingold fundamentally rejected the notion, arguing, in fact, that it was an electoral strength.
"The case is fairly straightforward to make to people," said Feingold. "We just want to make sure procedures are in place so that if you are doing absolutely nothing wrong, the government can't run around and hear everything you have to say and want to say to your kids and everything you put in an email. That's a winning argument... But if you hide and act like you are afraid of Karl Rove than they'll win the day. And unfortunately on these issues they seem to win the day almost every time by using this kind of fear."
So who does Feingold believe would be best equipped to handle this kind of exploitation of fear? He's not budging.
"There are all kinds of issues weighing on my mind," said the senator. "I'm trying to figure out who is most ready to be president in a very difficult world. I'm looking for somebody who can carry real change and a real feeling of unity in the country. I see some of these qualities in Senator Clinton and some in Senator Obama. And I simply don't feel that I am compelled to make a decision."
Popular in the Community