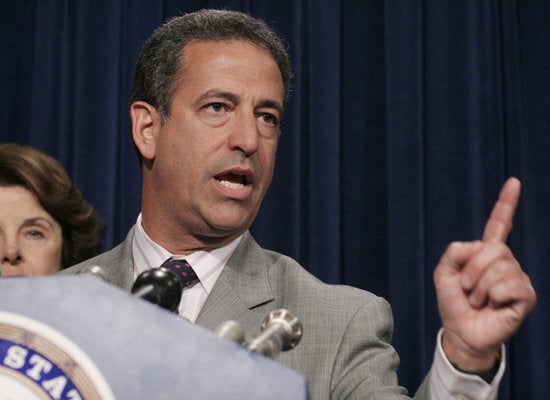 Senator Russ Feingold, one of the harshest critics of the Bush administration's national security policies, says he cannot bring himself to support President Obama's apparent decision not to investigate or prosecute illegalities from those years.
"Part of what troubles me are the lawyers -- we should see their law school degrees -- who consciously wrote these memos justifying and explaining full well those outrageous arguments," the Wisconsin Democrat said on Tuesday in reference to the Bush-era torture memos released last week. "I cannot join the president, or his spokesman, or [chief of staff] Rahm Emanuel, who said we aren't going [to prosecute these people]. I can't. I just disagree with them."
Later, the Senator took a swipe at some of the rationalizations for avoiding prosecution that have been voiced by Washington lawmakers and pundits.
"If you want to see just how outrageous this is, I refer you to the remarks made by Peggy Noonan this Sunday," he said, referring to the longtime conservative columnist's appearance on ABC's This Week. "I frankly have never heard anything quite as disturbing as her remark that was something to the affect of: 'well sometimes you just have to move on.'"
"Some things in life need to be mysterious," Noonan said on Sunday about the release of the torture memos. "Sometimes you need to just keep walking. ... It's hard for me to look at a great nation issuing these documents and sending them out to the world and thinking, oh, much good will come of that."
Feingold's remarks, delivered before the Religious Action Center convention, represent some of the most forceful pushback against the line coming out of the White House to date. Emanuel and senior adviser David Axelrod have suggested that prosecution of Bush officials is likely off the table due to the political sensitivities that would accompany such retroactive action. On Tuesday morning, however, the New York Times reported that White House "aides did not rule out legal sanctions for the Bush lawyers who developed the legal basis for the use of the techniques."
A member of the Senate Intelligence Committee and a long-time critic of torture, Feingold viewed investigations and, perhaps, prosecutions as a key tool to restoring America's moral standing.
"It is truly horrifying and unforgivable that anybody operating under the auspices of the United States of America had involvement in any of this," he said. "So I'm not even completely ready to [cede the argument] that people who devised these techniques should be off the hook. I understand the argument. I also remember when people said that they were just following orders. So that troubles me and I am thinking about it."
UPDATE: Feingold responds to Obama's statement that he is open to prosecutions of some Bush officials:
"I am pleased that the president made clear that he has not ruled out investigations or prosecutions of those who authorized torture, or provided the legal justification for it. Horrible abuses were committed in the name of the American people, and we cannot look the other way, or just 'move on.' The final decision will be up to the attorney general and the president, but I urge the Justice Department to take this matter very seriously."
Popular in the Community