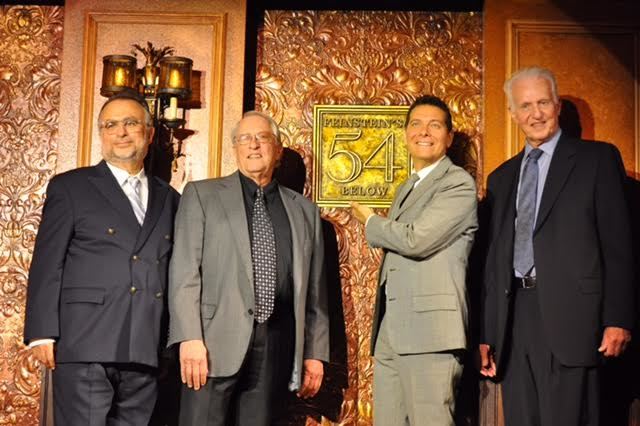 One minute you're packed into a raucous New York nightclub with an under-30 crowd, cheering on the annual Joe Iconis Christmas Extravaganza. It's a freewheeling bacchanal of madcap songs and twisted comedy by one of Broadway's brightest young composers--a musical toga party gone wild.  
Less than 24 hours later you're back in the same spot with an older, upscale audience, paying rapt attention--and hefty wine tabs--as Michael Feinstein, the Ambassador of the Great American songbook, kicks off his first show at the club now bearing his name. You can hear a pin drop as he sings a tender "Lullaby of Broadway."
Such were the radically different scenes at Feinstein's/54 Below a little over a year ago, as the 150-seat basement supper club in Manhattan's theater district rolled out a new creative alliance and marketing strategy on back to back nights--aiming to boost its bottom line by attracting young and older audiences alike with a mix of modern Broadway and classic American songs.
As the venue begins its second year under a new joint banner, Feinstein and the club's owners think they've found a winning formula. 
"I couldn't be happier about our honeymoon year," said Feinstein. "We've brought in many of the people who loved to see my shows at the Regency Hotel on the Upper East Side, but it's also been a growth experience for me to discover so much wonderful new Broadway talent here. For me, it's like being a kid in a candy store."
These good feelings were not always a sure thing.
Less than a year after it opened in 2012, the club next door to the legendary Studio 54 was thought to be on the verge of closing, due to mounting financial difficulties. And the story of how it dodged that bullet says much about the power of celebrity and inventive programming to help a venue like Feinstein's/54 Below survive…along with a growing number of weddings, anniversaries, bar mitzvahs, corporate parties, record launches, theater fundraisers and other private events.
"In the last year, we've turned an important corner," said Richard Frankel, a veteran Broadway producer who launched the club along with his producing partners Tom Viertel, Marc Routh and Steven Baruch. "We believe our new creative partnership with Michael and the world he represents and the club's existing strength in the Broadway community is working out just as we had hoped."
From the night it opened, Feinstein's/54 Below has featured marqee names like Patti LuPone, Barbara Cook and Chita Rivera, plus newer stars like Matthew Morrison, Annaleigh Ashford, Laura Benanti and Jason Robert Brown.
But just as important, it's presented a cornucopia of original programming, including concert stagings of new musicals, revivals of older shows, cult classics and themed nights, like "The Songs of Christopher Guest" and the annual Iconis blowout. Much of the credit goes to Broadway wunderkind Jennifer Tepper, the club's 30-year-old Creative and Programming Director, whom Frankel calls "a genius."
"The owners wanted the club to be Broadway's living room, a creative spot that didn't really exist before," said Tepper. "And the idea was to open a club where, on any given night, you could hear new shows, forgotten but worthy musicals and diverse programming that showcases new writers and casts."
Last year Tepper and her staff presented a wide range of events including reunions of Broadway stars Alice Ripley and Emily Skinner, and Adam Pascal and Anthony Rapp, and the club debut of Jay Armstrong Johnson. This year they're presenting shows by Brian Stokes Mitchell, an all-female production of the musical 1776, and a revival of Broadway's first disco musical, "Rachael Lily Rosenbloom…and don't you ever forget it!" -- one of only seven musicals to close during previews.
If this sounds like a lot of shows, night after night, it is. And therein lay the financial challenge facing the club from the start. Top-name stars can fill the seats, but they don't appear every evening, and Feinstein's/54 Below is open for business year round, often with three different shows per night.
"We have to do 700 shows a year," said Frankel. "Hello? That's insane. Filling the place with performances that will draw an audience every night is a Sisyphean task."
The economics are daunting: With 150 seats, there's a limit to the amount you can pay for top-drawer entertainment. And unlike clubs affiliated with a hotel, Feinstein's/54 Below operates its own kitchen and bar. That puts added pressure on the bottom line.
In August, 2013, the owners sent investors a letter saying they needed additional funds "if we're to survive." In the letter, reported by Bloomberg News, they said their new venture "has been a financial challenge since day one."
The club got over that hurdle, but took other steps to achieve stability: Alesia Lawson, Director of Special Events, has a mandate to fill the calendar with as many private bookings as she can, and it's paid dividends. Each special event is one less slot for the club to support.
The number of private events grew 27% last year and it continues to increase, Lawson said. She conducts a rigorous outreach to build up the customer base and Feinstein's involvement is also a factor, Lawson said, noting that many of the well-heeled patrons he attracts are discovering the club for the first time, and return to schedule private parties.
Meanwhile, Feinstein's/54 Below has upped its culinary game with the addition of chef Lynn Bound from Danny Meyer's Union Square Hospitality Group. And when Michael Feinstein came on board he brought his business partner, John Iachetti, with him to be the club's General Manager. Iachetti also manages the singer's San Francisco venue, Feinstein's at the Nikko, and he managed Feinstein's former club at the Regency Hotel in Manhattan.
As the supper club battles for its share of the live music market, it "offers an oasis of opportunity," said producer and impresario Scott Siegel, who created the popular "Broadway by the Year" series at Town Hall and has booked, on average, about three new shows per month at the club.
"Nobody gets wealthy putting on a nightclub show," Siegel said. "But this allows me the opportunity to create new shows that give performers a chance to show their flag in New York City, in front of a full house."
Scott Coulter, an award-winning vocalist and national concert producer who created the popular "Turn the Beat Around" disco celebration at Feinstein's/54 Below, along with other shows, said the club has become a showbiz hub for performers and audiences. "The room has a real sense of community, home and family to it," he said. "And I feel this every time I walk into the space."
Indeed, community might be the final ingredient that helped the club turn a corner. Co-owner Tom Viertel said, "We've been very candid about the club financially, and four to five years ago, if this was a Broadway show, we would have closed. We were losing a fortune. But people were so passionate, and it became emotionally impossible to kiss it goodbye.
"There will always be a sense of fickleness out there," he conceded. "You have to be vigilant. But we feel upbeat moving into 2017."
Calling all HuffPost superfans!
Sign up for membership to become a founding member and help shape HuffPost's next chapter
This post was published on the now-closed HuffPost Contributor platform. Contributors control their own work and posted freely to our site. If you need to flag this entry as abusive,
send us an email
.