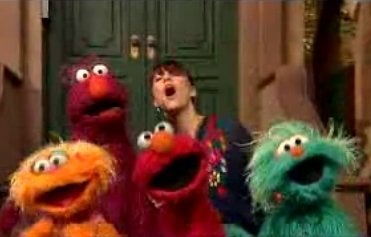 It's hard to tell what just got hipper: Feist or Sesame Street, thanks to the union of both in the opening episode of the show's 39th season. The Canadian indie-darling singer is featured performing a modified version of her hit song, "1-2-3-4," in which she sings about how much she loves counting ( "One, two, three, four, monsters walking 'cross the floor, I love counting, counting to the number four..."). The song — made catchy by a killer hook, famous by a killer video and ubiquitous by the iPod Nano — lends itself perfectly to Sesame Street, and Feist looks like a natural, bopping with ponytail swaying, dancing with monsters, chickens and penguins across the familiar set. (The video is familiar too — stylistically it echoes the original video, with its long tracking and overhead shots, multi-colored monsters in the same colors as her backup dancers, and even her little bow at the end.)
Feist will kick off a season of guest stars including Will Arnett (see here), Jessica Alba, David Beckham (hopefully wearing more than in his underwear ads), Brian Williams (back for round two), Neil Patrick Harris, Sandra Oh, Jack Black, Jenny McCarthy and Heidi Klum, plus pop culture spoofs like 30 Rocks, Pre-School Musical and Are You Smarter Than an Egg Layer? Gordon, Susan and Mr. Hooper would be proud.

Here's the original "1-2-3-4" video, for compare-and-contrast purposes:
REAL LIFE. REAL NEWS. REAL VOICES.
Help us tell more of the stories that matter from voices that too often remain unheard.