I was born in Nigeria in 1969 and lived through Fela's revolutionary years. I remember 1977 like it was yesterday. There were 3 major events that year in my life: the raid on Fela's compound, FESTAC 77 and my father's untimely death. Each changed the way I see the world significantly.
So coming to see FELA was like going home to Nigeria. It was a reminder of why after 35 years, Fela is still very significant and why when musician Youssou N'dour decided to run for President of Senegal - last year, I was concerned. Africa is not kind to its revolutionary musicians. We make them heros and then we attack and destroy them and their lives. Can I list another? Mama Africa singer Miriam Makeba lived in exile to speak the truth. Her passport was cancelled by the South African apathied government.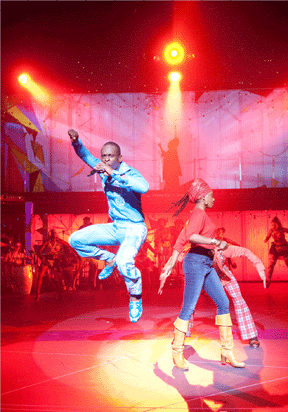 Sahr Ngaujah and Paulette Ivory, photo credit: Tristram Kenton
On July 9, opening night, I joined a packed house to see FELA, the play. Simply, it is fabulous, spectacular and a must see. For me, it is bitter sweet, but it brings such joy to my heart and soul to see him, Nigeria and the idea of revolution on Broadway in the midst and context of today's Occupy Wallstreet. The struggles continue. We are still at it - whether in Africa or the United States. Change is needed. I can hear Gill Scott Herron's voice: The revolution will not be televised. But I say, it must happen in my generation.
I had seen FELA the play when it opened on Broadway the first time; a former cast member lived around the corner from my business and she was the first person to insist I see it as a Nigerian. I smiled when she said I must see it. She just did not know my past: My father was a journalist - so Fela was one of the stories he wrote about as well as FESTAC, not to mention running a newspaper that was periodically attacking the government and pointing out its failures.
Fela's jailtime remind me of my father's sitting down with the police/army/government every time the government changed or an article criticizing the government came out. Or, the police gathering and seizing copies of his newspaper editions across the town when it came out so that it would not be read. It was the "Nigeria versus journalist" norm. Sadly, it still is true today. I also had another friend who saw it a week before I did and came to tell me about Nigeria, my country and about this man, Fela. Hmm, "let me tell you a story ...o". I hear the beats again and again. "No be so?" (means - Isn't it so?) My Nigerian pidgin English returns.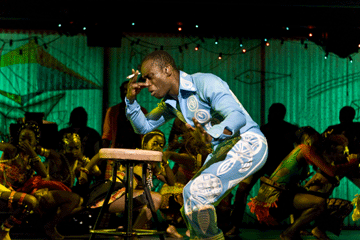 Sahr Ngaujah as Fela, photo credit: Tristram Kenton
I saw FELA briefly in Nigeria last year as I went to see my friend Issa at Eko Hotel where it was showing. Issa, the Brooklynite Lagosian was assisting the sound team in April in Lagos. We, two Brooklynites, sat and laughed about the fact that the crew had four Brooklynites working on the sound, and each lived about 5-8 blocks from my business. How ironic that we would meet in Lagos. The world gets ever so small.
I returned this year to see it yet again. Why? It is not a question. It is simple: I will never miss it. I even considered going to visit friends in London where I used to live when it was at the West End. This July, I took my Trinidadian friend Leslie who had lived in Ghana and South Africa, spent a week in Nigeria about six years ago for a Tourism conference and is heading to China in a month for a year. It was her first time. I will see it as many more times as I can. Why? It is beyond fabulous and it takes me home every time. It is FELA's music. Where is my ARIK Airlines ticket? I am ready to go tomorrow.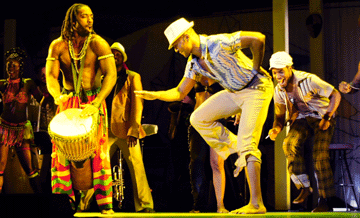 Dancers at Fela, photo credit: Raymond Hagans.
Each time I see it, I come in every time ready to dance. I am a child of Afrobeat. It is the music of my youth. It is my Nigerian music... Soul to Soul. So, "let me tell you a story....open and close." For Nigerians like me, FELA, the play and his life is our life story. We live and breathe revolution, pain and anguish for our country. We dream of a Nigeria where 150 million of us will live the good life here on earth and not "when we die" as Fela says in his music. We want our joy now - and we want to have the revolution and see its rewards - water, light, good roads and jobs. It is just that simple. Goodluck Jonathan, my Nigerian president, are you listening? Oga, Sir , your people need your help..ooo. We are tired of "everything scatter scatter". Can you feel me? Yeah! Yeah! Yeah!
Or would you prefer Fela's words:
WAKE UP AFRIKA OUR TIME IS NOW
TURN THIS COUNTRY UPSIDE DOWN
SHOW THE WORLD WE CAN TAKE FLIGHT
SHOW THEM ALL OUR CAUSE IS RIGHT
Sitting in the Hirschfield Theatre, and as the music begins and Sahr Ngaujah, the lead actor who play Fela enters, I feel my feet and body already tapping to the rhythms. I am home again in Nigeria. The spirit of Fela is in the air. It is amazing to see how many people try to sit stiffly as the music rages on. My African drum in my soul sways and moves. This is the land of my father - the music of my ancestors - it is the music of Nigeria and nothing else compares to it.
THIS STORY, I WAN TELL YOU, THIS STORY 'BOUT HOW THINGS ARE
THIS STORY, I WAN TELL YOU, THIS STORY 'BOUT HOW THINGS ARE
WOO WOO WOO WOO WOO
Can you feel it? Wait till you see the set, the digital images, newspaper headlines and clippings and how Fela, no...Sahr, interacts with you and the audience. It will blow your mind. Sahr Ngaujah is Fela. He embodies the man, his music and soul. Words cannot explain it. You simply must see this man work his magic. No one else can be Fela -it is uncanny, how much he has grabbed Fela's essence. Brilliant, Bill Jones and his team have outdone themselves and recreated the feeling of Kalakuta - The Shrine. I remember how as kids we were not allowed to go there but friends of ours took us there one day. It was the place to be. No be so?
Zombie no go go unless you tell him to go.
Zombie no go stop unless you tell him to stop.
Zombie no go turn unless you tell him to turn.
Zombie no go think unless you tell him to think.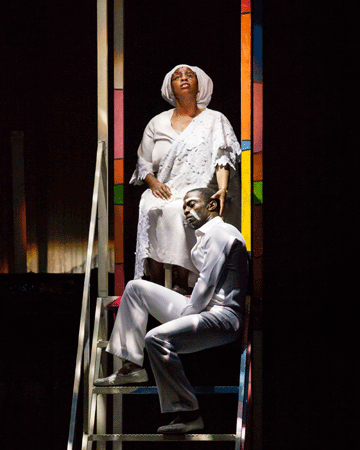 Adesola Osakalumi in FELA! photo credit: Sharen Bradford
I cannot complete this blog without paying my respect to the actress who plays Fela's mother - Fumilayo - her voice is OUT OF THIS WORLD. Simply, divine. The woman can sing. Melanie Marshall, you are divine. I did feel that the character of Sandra played by actress/singer Paulette Ivory had an overpowering voice and it was just too much in comparison to Sahr's Fela. She should be a bit lower, though she was brilliant.
The play has so much energy, dancing and music. Thank you to Antiballas - I am and have been a fan - you hold true to Fela's Afrobeat and anyone who gives me Afrobeat old school is "off the hook". And a special thanks to the cast for making African dance look so easy and "fly". We know it is not so.
Fela is a story of triumph and tragedy. It is the underlining connection and story of the women in his life: his wives, girlfriends, singers, dancers and mother. The tragedy is significant - and poignant as his mother gets killed by the army/police who throw her out of a window. This is brutal Nigeria: too real for words. This is the Nigeria, I do not miss and do not want to return to. Are you listening Boko Haram? That callous Nigeria belongs in the past.
THEY KILL MY MAMA
THEY KILL MY MAMA
SO I CARRY HER COFFIN
The play is back on Broadway for just 32 performances. It's not enough time, I wish the producers and the theatre will consider extending it. I will love to be there for each 32 performances, but alas, I cannot. So take my place each night and come with your dancing shoes. The clock is ticking, and make sure you do a number 12 and 6. The rhythm will get you. Maybe, a 3 and 9, instead. (You must see the play to get these references). My Nigerian self is wishing to see it yet again. It maybe long to some but I am thankful for the 2 plus hours - it is still not enough time to tell the story of FELA, just imagine - this is only a day in his life as he recounts parts of his life story to the audience. Ase..o.
Popular in the Community