When Felice Friedson brought Palestinian journalists to Israel's parliament for the first time, the powerful chairman of the Knesset Foreign Affairs and Defense Committee called it "unprecedented" and "courageous." When Felice chartered buses to bring Palestinian journalists to Tel Aviv and Jerusalem; and buses to bring Israeli journalists from Tel Aviv and Jerusalem to Ramallah as the Second Intifada was winding down, her colleagues said she was "jumpstarting professional cooperation" that lay dormant for half a decade.
I met the trim blond President and CEO of The Media Line news agency last year here in New York through the founder of CharityHelp International (CHI) founder Paul Stevers. I was impressed with her courage and asked her about her instincts to see what needs to be done and her tenacity to accomplish the somewhat surprising tasks she sets for herself, Felice responds without a second of hesitation, "It's a matter of reading the streets. It's all there... If you're willing to see it."
It was that ability to read the streets that gave Felice the boldness to predict total victory for Hamas in the 2006 election when most agencies would go no farther than to say the Gaza-based terror group would fare well. But Felice spent time in Ramallah and elsewhere, talking to women on the streets. She was so convinced by what she saw and heard, that she became unflappable in her forecast. Since then, Felice has devoted a great deal of time studying how women's issues and press freedom together serve as a barometer of the democratization of Middle Eastern countries.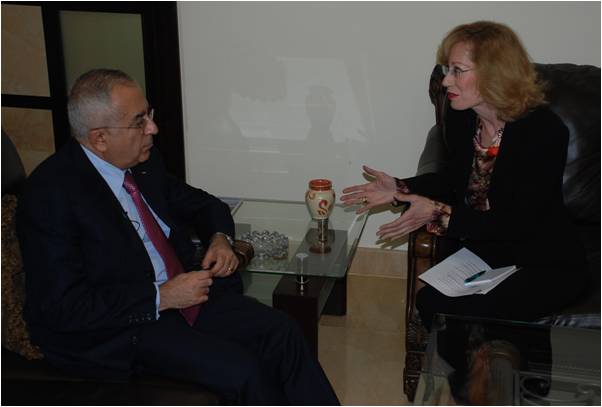 Felice Friedson interviews Palestinian Prime Minister Salam Faya'd.
"Reading the streets" has become both motto and motivation for Felice Friedson. She was a decade ahead of the curve in 2000 when she eschewed the conventional wisdoms and opted for a non-profit model for The Media Line. Even her timing raised eyebrows, as she dove headlong into the new venture while random violence was still commonplace. Felice and her partner-husband Michael witnessed three terrorist attacks from the windows of what was to become her office.
Yet, while the violence had a chilling effect on other start-ups -- on businesses in general and on the news industry in particular -- it had no such impact on Felice's vision or determination. Following a shooting in the streets below her office, Felice was inside a shot-up dress shop interviewing a still-shaking salesgirl who had just emerged from hiding in a closet while glaziers were still boarding up the shot-out panes of glass.
Following a suicide bomb on a busy Jerusalem street near The Media Line, Felice explained how police needed to keep crowds from gathering lest they the onlookers themselves form a tempting new target for a follow-up attack.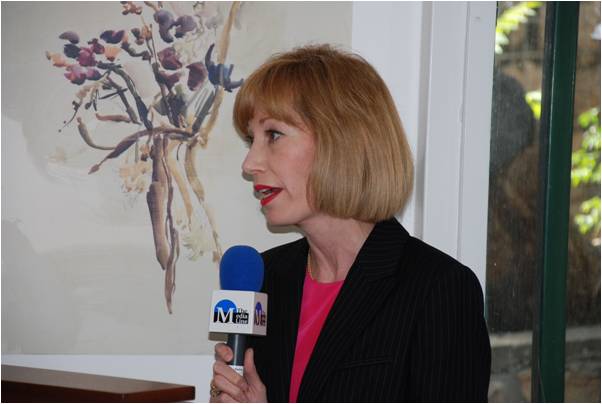 Felice Friedson, founder of The Mideast Press Club, welcomes participants to a session at the American Colony Hotel in Jerusalem.
As the violent period continued on, Felice noticed and was alarmed by the dearth of interaction between Israeli and Palestinian journalists. Although surprising to some, historically it was not the norm. That concern gave rise to an initiative that in many ways exemplifies both Felice's contribution to the region and the impact one person can have -- even amid the most impenetrable conflicts.
News reporting waxed nationalistic; and propaganda pieces were appearing where well-crafted news stories should have been. Felice created The Mideast Press Club "not because I was a 'peacenik,' but because I realized that newsmen cannot report accurately and completely when they don't have the access necessary to provide a complete account."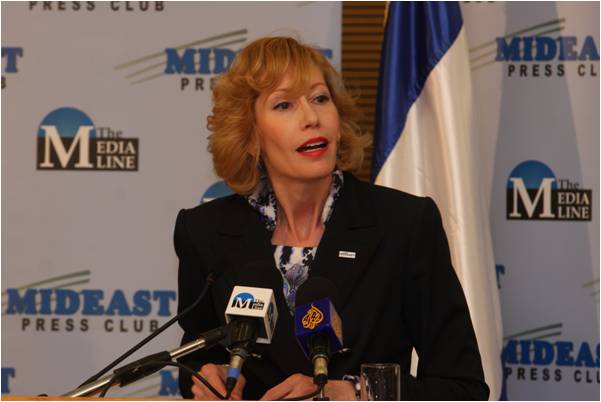 Felice Friedson, President & CEO of The Media Line news agency and founder of The Mideast Press Club convenes its special session at the Knesset (Photo: TML/Charvit).
With Felice determined to use her agency's good offices as an American entity to create avenues for Israeli and Palestinian journalists to resume communication and cooperation, mutual cooperation among professionals was deemed to be the fallback position.
Colleagues on either side needed to help their counterparts get to the source. The Mideast Press Club allowed that to happen. It wasn't long before Israeli and Palestinian journalists were swapping business cards and cell phone numbers over lunch at The American Colony Hotel.
Her formula worked, and for five years through a series of innovative events orchestrated by Felice cooperation grew. She modestly shares credit for its success, calling The Mideast Press Club "an American success story." It all culminated in the historic event of January 19, 2010, when Palestinian journalists were, for the first time, welcomed to the Knesset, Israel's parliament.
The event captured the imagination of viewers world-wide, many of whom could not recall seeing optimism broadcast from the Middle East in recent memory. In the United States, C-Span aired the proceedings several times over.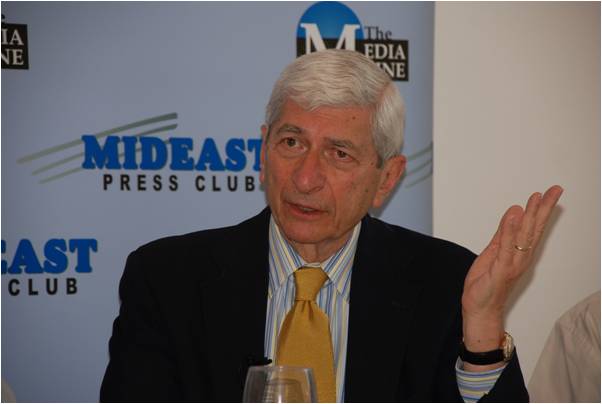 American journalism giant Marvin Kalb offers a Master Classto Israeli and Palestinian journalists in Jerusalem.
These realities bring another of Felice's concerns into focus: "Each success results in new tasking for The Media Line," she says. The words sound lamenting, but her tone is proud and challenging. "They say success comes with a price - and it does," she says before launching into a catalog of examples of public officials and institutions asking for help - often without compensation.
"The Middle East is an integral part of the American national debate; it is inextricably intertwined with domestic politics; and the demand for news of that region is sought more than any other," explains Felice. "We have our finger on the pulse of this region and it's our mandate to share it."
Last summer, the United Nations asked for and received Felice's help in fashioning a conference on Media and the Middle East." It fell to Felice to assist in fashioning plenary sessions and hand-picking the Israeli and Palestinian journalists who could contribute to the doubtless contentious deliberations while maintaining sufficient decorum to avoid references to the "Durban" debacles.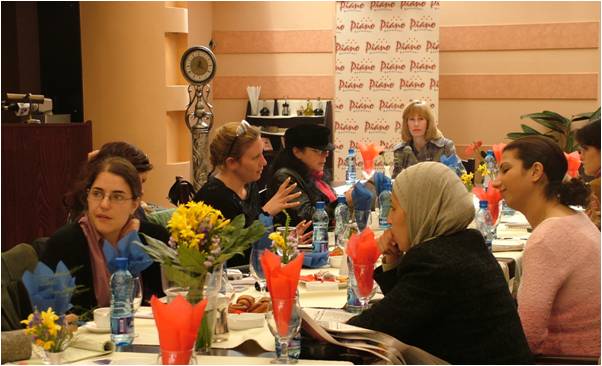 Palestinian and Israeli journalists fill the room at a session of The Mideast Press Club at the Piano Restaurant in Ramallah.
More recently, an American foreign-affairs organization received help from Felice in molding a balanced itinerary for a trip to the region that would result in an honest and equal look at the issues separating Israelis and Palestinians. In her unique role, Felice was able to set up meetings on both sides that were based on what the session would offer rather than on prominence-of-personality alone. Yet, the group received both in what was by popular consensus and outstanding opportunity to see beyond the headlines.
Juggling The Media Line's moral imperative with the realities of a soft economy and the maelstrom encompassing the news industries remains the challenge that requires most of Felice's time. She hopes that the recent high-profile events such as the Knesset session and the attention it received through multiple television broadcasts will excite potential donors who share her vision.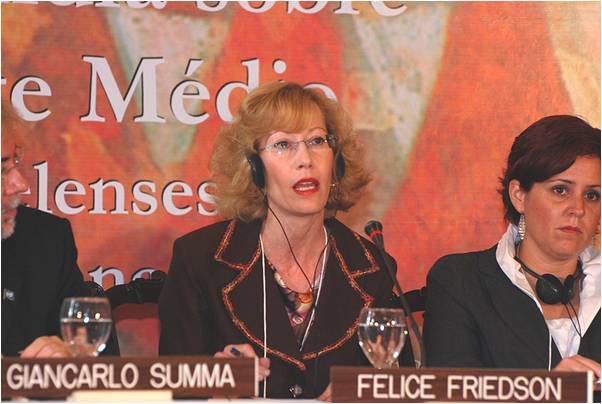 The Media Line founder at the Media and the Middle East Conference in Rio de Janiero last July under the auspices of the United Nations Department of Information (UNDPI).
"We're fortunate that there are many who do see how important The Media Line's contribution is," says Felice. "But I would rather be using the tremendous amount of time we spend on fundraising to develop our programs."
Felice Friedson rues what she sees as the erosion of journalistic standards that is accompanying the implosion of the newspaper industry and the shift into new media. "We're seeing front page news stories pegged on anonymous, off-the-record sources -often times with no identifiable name ever appearing in the story at all. The line between verified fact-checking and unsubstantiated opinion is becoming virtually non-existent," she says.
"It's not just an abstract exercise in theoretical journalism, she argues. "Because more than ever public policy is being driven by the news and information provided by journalism, those journalistic sources must be derived from the highest standards and imbued with absolute credibility. Not opinion - informed or otherwise."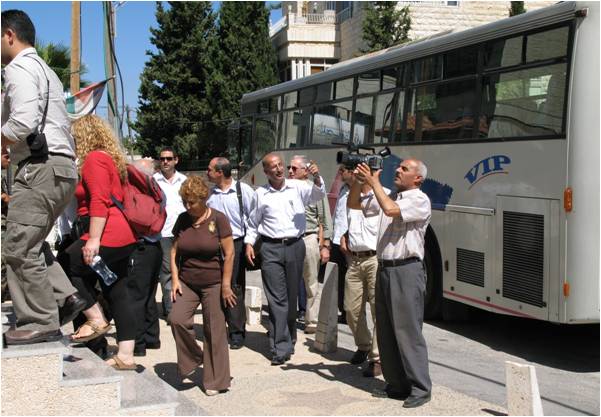 Participants enter the headquarters of Al-Ayyam newspaper in Ramallah, as The Mideast Press Club brought Israeli journalists to meet their Palestinian counterparts.
One of Felice Friedson's most pressing concerns is the proliferation of public relations and advocacy-based groups that masquerade as having some connection to journalism. It's a line she adamantly teaches interns and neophyte journalists can't be crossed with integrity.
"It's a cynical abuse of responsibility when advocates pretend to be journalists," she says. "And it's downright disheartening when legitimate journalists who chastise public figures who accept favors from interest groups show the same low standards by accepting shortcuts from sources looking to spin a story."
Looking into the future, Felice sees the present trends continuing, not abating. Therefore, she insists, more interest needs to be paid to the next generation of journalists: teaching standards and imbuing young correspondents with a sense of responsibility and mission. Felice cites this as partial motivation for her work in helping to teach and develop young Palestinian journalists.
"IF you can give a young journalist a stake in the flow of information, he or she has hope. For Palestinians, the creation of a dynamic Fourth Estate is one of the undeniable elements needed as infrastructure for the nascent state is created. Involvement there gives hope on a much larger scale than in most other situations."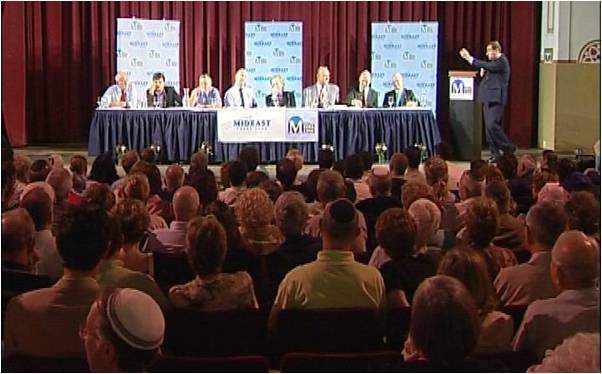 The Mideast Press Club hosted a candid, thorough retrospective of media coverage of the war in Lebanon led by leading bureau chiefs at the Jerusalem YMCA.
Felice admits there are those who question her ability to find acceptance and respect on both sides of such a volatile debate.
In fact, the American foreign policy group recently visiting asked that very question of an Arab member of Knesset. After The Mideast Press Club session, they were told, Felice was charged by Jewish Israeli members of Knesset to push ahead, creating more such opportunities for public officials to hear first-hand from the journalists who relate reality to the other side. Without hesitation, the Arab Knesset member replied, "We trust Felice. She's fair."
I experienced this when Felice interviewed me on the launch of The Jim Luce Stewardship Report for her Mideast and global listeners. The audio interview may be listened to here.
Not many people are willing to put themselves on the line to fight for fairness and accuracy in the often overheated debates that engulf the Mideast. Felice Friedson is a true thought leader in media fairness. As a global citizen and the head of The Media Line,, she does her best to make sure that all play fairly. Her voice is among the most important in the Mideast.
Popular in the Community