Actresses Felicity Huffman and Lori Loughlin are among dozens of people charged by the FBI in an elite college admission scheme, documents unsealed Tuesday in Boston revealed.
The Hollywood stars allegedly joined CEOs of private and public companies, real estate professionals and a fashion designer in paying up to $6 million in bribes to ensure that their children were accepted to schools such as Yale and Georgetown. Most of the parents paid $250,000 to $400,000 per student.
The alleged scheme, which the FBI called a "nationwide conspiracy," allowed parents to pay for their children to cheat on exams and apply to elite schools as student athletes, regardless of their actual skills. Top college coaches at the schools are also among those charged, but authorities said they are not investigating the schools themselves.
Federal prosecutors said 33 parents bribed entrance exam administrators along with varsity coaches and administrators.
The bribery ring allegedly got its start several years ago when William Rick Singer founded a for-profit college admissions company in Newport Beach, California, that masqueraded as a not-for-profit group, according to authorities. He agreed to plead guilty to charges including racketeering and money laundering conspiracy.
Singer's "sham charity" allowed him to conceal the nature of the payments made by parents, who could then "take the tax write-off at the end of the year," U.S. Attorney Andrew Lelling said at a press conference Tuesday morning.
More than 200 law enforcement officials were involved in "Operation Varsity Blues" over the course of a year, arresting over 50 people in six states on both coasts, authorities said at the press conference. Most defendants had been taken into custody as of noon Eastern time on Tuesday.
"For every student admitted through fraud, an honest, genuinely talented student was rejected."
The plot allegedly affected applications to a long list of schools including Yale, Stanford, the University of Texas, the University of Southern California, the University of California at Los Angeles, the University of San Diego and Wake Forest University.
Some parents allegedly paid for someone to pose as their child during entrance exams ― and even during classes ― with those scores submitted as part of the college application, according to court documents. Other cases involved exam administrators allegedly providing students with answers during the tests or correcting wrong answers afterward.
Lelling alleged that some parents also falsely claimed that their children had learning disabilities, requiring extra time on the exams, and that those claims were bolstered by notes from therapists.
"Everybody's doing it" seemed to be the rationale most parents accepted as they negotiated terms to cheat. "The whole world is scamming the system," an unnamed cooperating witness told one parent.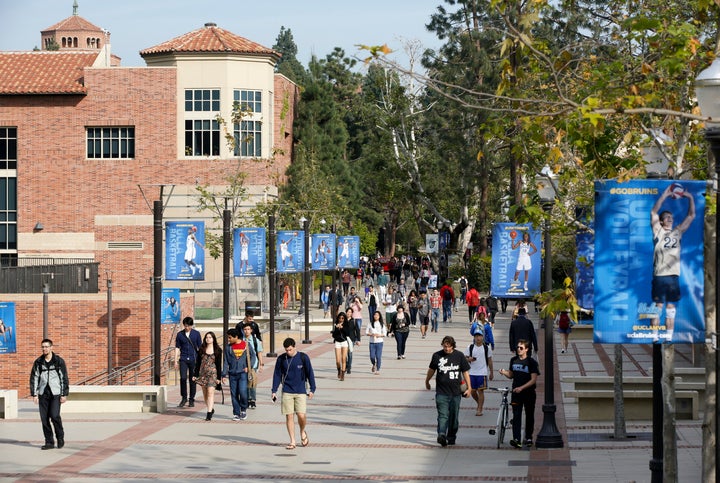 Some of the kids applying as student athletes didn't even play the sports they were recruited to play. Singer allegedly helped the parents by either staging photos to make it appear that their children played those sports or simply providing Photoshopped images of the children engaged in sports.
The daughter of former Wynn Resorts Chief Operating Officer Gamal Abdelaziz, for example, got into USC on the premise of being a valuable asset to the school's basketball team but never joined the team once in school, according to court documents. Several other cases followed the same pattern: Students were said to be crew stars and tennis champions but they never joined teams on campus.
Coaches named in the court documents included Georgetown University tennis coach Gordon Ernst, Yale soccer coach Rudy Meredith and USC water polo coach Jovan Vavic.
"For every student admitted through fraud, an honest, genuinely talented student was rejected," Lelling said.
A cooperating witness discussed with some of the parents how to plausibly deceive their children. One parent, William McGlahsan, said he'd tell his son that some of his dad's friends in the athletic department were helping him get into USC, as a supposed football kicker.
"Maybe he'll become a kicker. You never know," McGlashan told the witness, per court documents detailing a recorded phone conversation. "You could inspire him."
Another parent, Jane Buckingham, discussed how she could convince her son he was taking the SAT at home — with her as proctor — while someone else actually took the test for him at a Singer-controlled testing location.
Federal officials say they have recorded phone calls in which Huffman, who is best known for starring in the ABC hit show "Desperate Housewives," and Loughlin, who is known for her role on ABC's classic "Full House," discuss the scheme with a cooperating witness.
Both women are charged with conspiracy to commit mail fraud and honest services mail fraud in the Central District of California. Huffman surrendered in California on Tuesday.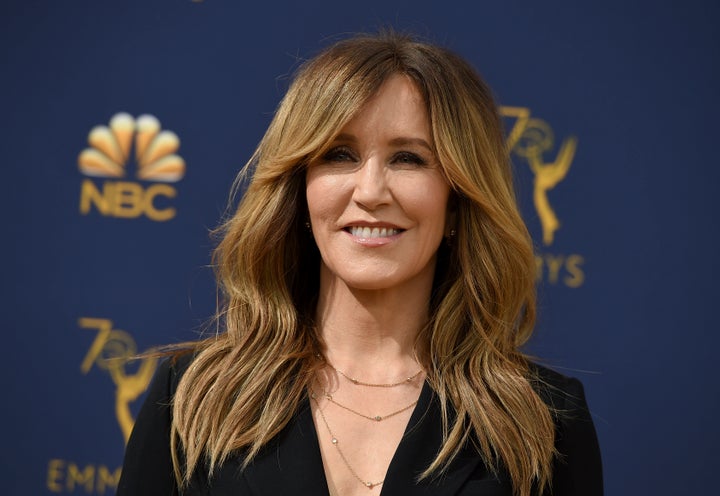 Huffman and her husband are accused of paying $15,000 to Singer's Key World Foundation, ostensibly to "provide educational and self-enrichment programs to disadvantaged youth." In reality, prosecutors say, the money helped improve the SAT score of their elder daughter. (Huffman's husband, actor Willam H. Macy, has not been charged.)
The plan hit a snag, however, after their daughter secured double the standard allotted test time. Instead of taking the test in Singer's "controlled" testing center, Huffman's daughter's school wanted to proctor her exam.
"Ruh Ro!" Huffman wrote in an email about the problem to a cooperating witness, who responded, "We will speak about it." They arranged for Huffman's daughter to take the test on a weekend at the "controlled" facility, saying they didn't want her to miss any school.
A proctor allegedly flew from Tampa, Florida, to Los Angeles to help Singer's clients' children cheat. Court documents indicate that at least some of the students were unaware their parents had arranged the cheating.
Singer claimed to control two testing locations: one in West Hollywood and another in Houston. When travel was required for students, Singer advised parents to make up a reason ― such as a bar mitzvah or family wedding ― that would justify their son or daughter needing to take the exam so far from home.
Huffman contacted Singer's organization about helping her younger daughter, but she did not follow through.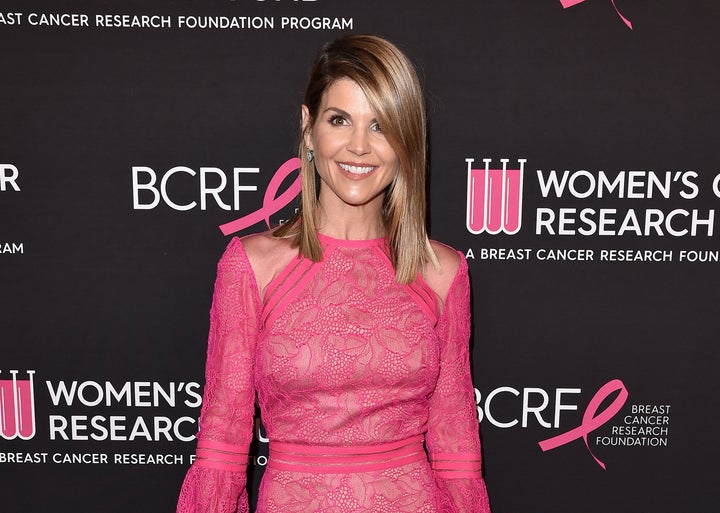 Loughlin and her husband, fashion designer Mossimo Giannulli, agreed to pay $500,000 in exchange for having their two daughters recruited to be part of the University of Southern California crew team, despite the fact that the girls didn't participate in the sport, according to court documents.
A cooperating witness told the parents that their elder daughter's academic qualifications were "at or just below the low end of admission standards."
Prosecutors say the couple submitted pictures of their daughters on stationary rowing machines to help a cooperating witness facilitate their acceptance into the school as crew recruits. They paid bribes to Singer's Key World organization along with USC's senior associate athletic director Donna Heinel ― who was named in multiple cases.
The scam flew under the radar until a high school guidance counselor suspected something was awry in 2017 and asked the younger daughter about her sister's athletic recruitment, prosecutors said. The younger daughter had already been provisionally accepted to USC as a recruited athlete, but Loughlin, appearing to worry the guidance counselor was on to them, emailed the cooperating witness for help on submitting the rest of her college applications.
"[Our younger daughter] is confused on how to do so," Loughlin allegedly wrote. "I want to make sure she gets those in as I don't want to call any attention to [her] with our little friend at [her high school]. Can you tell us how to proceed??"
The cooperating witness responded by directing an employee to submit the applications on the daughter's behalf.
This article has been updated with additional details about the allegations.
Popular in the Community