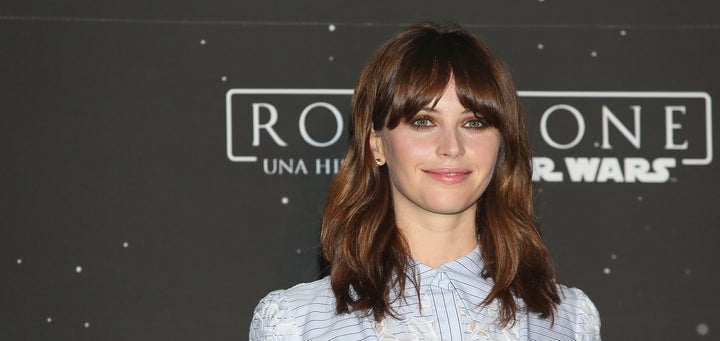 Felicity Jones is all about getting paid what she's worth. 
The 33-year-old actress recently sat down with Glamour for the magazine's January cover story to talk about equal pay, her feminist upbringing and her upcoming (and badass) role in "Rogue One: A Star Wars Story." 
"I want to be paid fairly for the work that I'm doing. That's what every single woman around the world wants," Jones said. "We want to be paid on parity with a man in a similar position. And I think it's important to talk about it." 
"It's brave of [Lawrence and Arquette] to come forward and make a point about it," Jones said. "Now younger actresses will have a confidence in those discussions with their agents and be able to say, 'Can we make sure that I'm being paid the right amount for the work that I'm doing?'"
Jones said she was excited to play the lead character, Jyn, in "Rogue One" because Jyn is a three-dimensional character who isn't there to simply be eye candy. 
"The opportunity to play someone determined, who's trying to find her skills as a leader; to be in a fantasy movie; to be able to do a leading female role in a film of that scale ― that's very, very rare," Jones told Glamour.
Jones said that from the beginning director Gareth Edwards told her, "I want guys to watch it and be like, 'I want to be Jyn!'" She added that throughout the film, viewers won't even see Jyn's arms because Edwards didn't want to sexualize the character. 
"A female friend of mine said, 'I love that Jyn looks how we look, with trousers and a long-sleeved top,'" Jones said. "We aren't in hot pants. When do women walk around wearing hot pants?"
When Glamour's Karen Valby asked if Jones' "feminist needs" were met by "Rogue One" Jones replied:
I've always been a feminist, and what I love in my work is being able to explore a full-sided woman and not patronize her. Particularly with Jyn, it's such a rare opportunity to be able to play a female who's not just thinking about [romantic] relationships.
Jyn sounds like a excellent character to play ― and watch ― to us.
Head over to Glamour to read Jones' full interview. 
Calling all HuffPost superfans!
Sign up for membership to become a founding member and help shape HuffPost's next chapter
BEFORE YOU GO
PHOTO GALLERY
Famous Women Who Know You Deserve Equal Pay