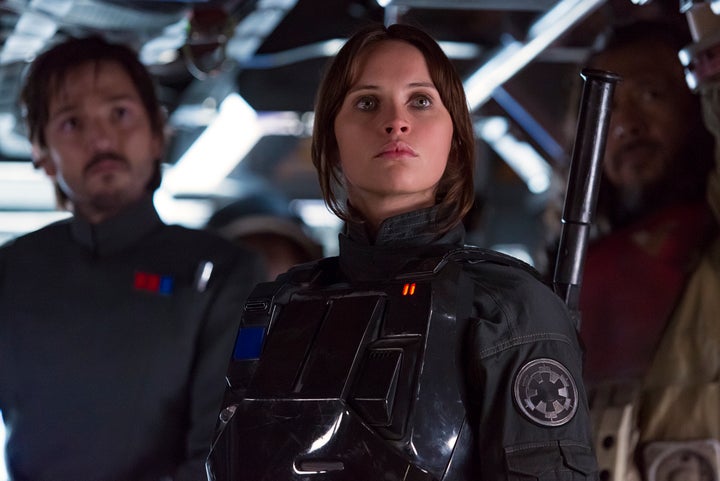 In case anyone is still on the fence, the success of "Rogue One: A Star Wars Story" confirms we need not question heroines' profitability at the box office.
After all, it was only a few months ago that misogynistic bros claimed a "Ghostbusters" reboot starring four women had ruined their childhoods. For a variety of reasons, "Ghostbusters" wasn't the runaway win Sony hoped it would be. As for our favorite galaxy far, far away, don't worry. "Rogue One," which puts Felicity Jones in the pilot's seat, earned the second-largest opening weekend for a December release in history.
What's the first? Last year's "Star Wars: Episode VII - The Force Awakens," in which newcomer Daisy Ridley had hero duties. "The Force Awakens" opened to $248 million domestically, while "Rogue One" collected a reported $155 million. (Disney always knew "Rogue One," the first stand-alone "Star Wars" movie, wouldn't perform at the same level as "The Force Awakens." The latter boasted more returning characters, and it marked the first "Star Wars" installment in a decade.)
In the aftermath of Hillary Clinton's loss to a reality TV star who bragged about grabbing women's genitalia, this is an apt moment for young moviegoers to see the likes of Jones and Ridley land roles that have traditionally gone to men. "I've never had the luxury of political opinions," Rebel Alliance radical Jyn Erso (Jones) quips in "Rogue One" amid working to steal the evil Empire's Death Star construction plans, a life-or-death political move. We always had Princess Leia, of course, but as a member of the Skywalker family adopted by Rebel chiefs Bail and Breha Organa, Leia's governmental clout was a birthright. Jyn chose to fight the Empire, which killed her mother and enslaved her father to help construct its mega-weapon.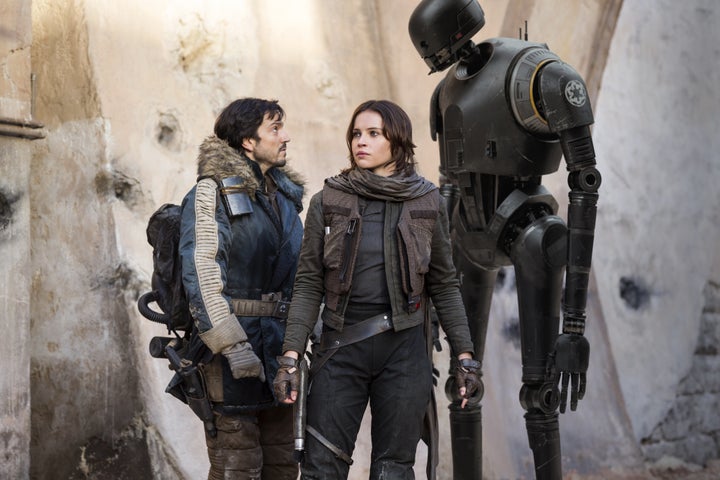 "It's perfect timing," Jones told The Huffington Post, days after Clinton's shocking loss. "It's a film that's about unity, and it's about generosity to each other and people actually coming together and working together for a common aim. And actually, it does feel quite timely that that's what we need at the moment. These characters are all vulnerable. They've all had difficult times in their lives and they're all finding strength in each other. It feels very appropriate for the times that we're in."
Jones said she and Ridley shared tea and a "good chat" about becoming the "Star Wars" franchise's new generation. Jones didn't elaborate on their discussion, but she noted that, in the wake of Brexit, the English actresses understand the importance of progressive representation on the big screen. 
"It's a wonder that the cinema can convey lives that feel invisible, and we often feel invisible when we feel disenfranchised or sad," Jones said. "Cinema can bring a mobility to people's experiences. ... The world is in a bit of a strange place at the moment, and I feel like we need to always champion great unity and empathy for each other, and not division and hatred. Those priorities should be the priorities of society, to look out for each other and not lead through division. That seems like nonsense to me."
"Rogue One: A Star Wars Story" is now in theaters. Jones also stars in "A Monster Calls," which opens Dec. 23. 
REAL LIFE. REAL NEWS. REAL VOICES.
Help us tell more of the stories that matter from voices that too often remain unheard.
BEFORE YOU GO
PHOTO GALLERY
15 Adorable Animals Dressed Up In Star Wars Costumes