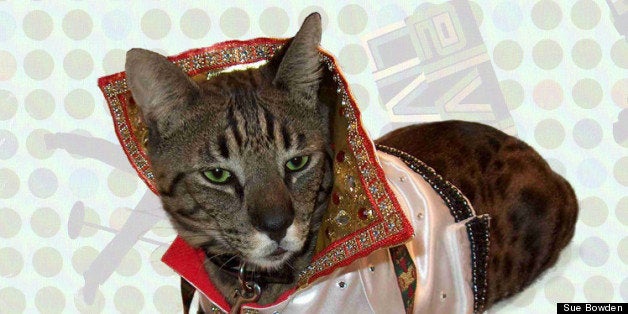 Elvis has left the building ... on all fours.
Feline Elvis -- a Savannah cat who wore Elvis Presley-styled outfits at cat shows to help raise money for cat shelters -- died this week. This 9-year-old kitty king had been suffering from a sinus cavity tumor, leaving owner, Sue Bowden of Duchess County, N.Y., all shook up.
"He went quick," Bowden told The Huffington Post, choking back the tears.
On Thursday, Bowden's other Savannah cat, "Spanky," died at the age of 17.
Feline Elvis came to Bowden at the age of 8 months already named. Bowden was such a big Presley fan that it seemed like destiny.
The kitty was a fan of Presley's music, which he heard when he appeared at cat shows decked out in leather jackets and other fashionable feline finery.
"My best memory was when they carried him through the Algonquin Hotel in a pink 'cat-illac,' while someone announced, 'Elvis has entered the building,'" she said. "He was the cat's meow."
The Algonquin Hotel hosts an annual cat fashion show, but there was another reason Elvis liked the New York landmark.
"He had a thing going with Matilda, the Algonquin cat," Bowden said. "They were an item."
In his early day, the human Presley was known as the "Hillbilly Cat," but Bowden thinks her cat and the original King had other things in common. The human Presley was known to be a very polite man who could get really wild on stage.
So too, was feline Elvis.
"He was very easy-going, but had a wild side," Bowden said, attributing it to his status as a third generation Savannah cat, a species that is created by crossing an African Serval with a domestic feline.
"He was very smart," she said. "He could open doors."
Feline Elvis and Spanky are both being cremated and their ashes will be given a place of honor in Bowden's home.
At this point, she says she'd rather live with their memories than trying to get other pets.
"I'd like to think my cats will be remembered for all the help they gave raising money for shelter cats," Bowden said.
REAL LIFE. REAL NEWS. REAL VOICES.
Help us tell more of the stories that matter from voices that too often remain unheard.
BEFORE YOU GO
PHOTO GALLERY
Animals In The News