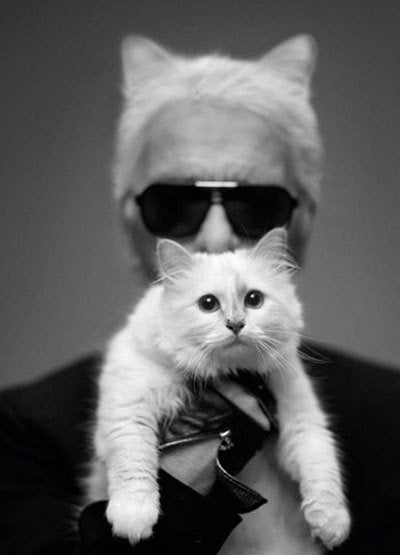 Is fashion getting cattier?
Supermodels of the world, make way for your feline competition. They're fierce, they're fabulous, and they have twice the legs. Fashion's new muses, it seems, are none other than the couture-loving cats of industry's elite.
The fall 2012 issue of V magazine features a spread starring Karl Lagerfeld's cat, Choupette. According to Vanity Fair, the blue color of Choupette's eyes inspired an entire Chanel collection. On Fashion's Night Out, Grace Coddington's sketches of her cat, Pumpkin, graced the limited-edition Balenciaga totes. Jason Wu's popular collection for Target featured a black cat with a red bow around its neck on t-shirts and tote bags.
The Miu Miu Spring 2010 collection featured cats printed on pants, dresses, blouses and shoes. Charlotte Olympia offers stylish "kitty flats," pumps and wedges. According to Fashionista, the first fashion editorial to feature a cat was Vivian Leigh by Cecil Beaton for Vogue in 1947 and the presence of felines in fashion has increased exponentially since.
And why not? Cats could certainly use the positive PR -- more often than not, they're portrayed in movies and on TV as evil. The first cat I saw in a movie was Cinderella's cat, Lucifer. The stereotype of the "cat lady" is an unstylish one; order the Halloween costume set and you'll receive a fuzzy pink bathrobe, nightcap, slippers and granny glasses.
As a volunteer for a cat rescue group, I've come across a great number of cats that fit the description of fashion diva -- particularly the longhairs. After all, cats were worshiped in ancient Egypt and given jewelry in hieroglyphics, so modeling in Vogue is probably not much of a stretch for most. V magazine's Sarah Cristobal tells Buzzfeed that cats' personalities "do match the fashion set -- they're beautiful and graceful but also kind of finicky."
Related