Just hours before Colombian President Juan Manuel Santos announced the landmark peace agreement that would end a half-century war with the FARC guerrillas, U.S. Marshals were arresting one of his most prominent critics in Florida.
Andrés Felipe Arias was convicted in Colombia on corruption charges and sentenced to 17 years in prison back in 2014. He slipped off to the United States shortly before the sentence was handed down. He entered on a tourist visa, with his wife and children, then asked for asylum. His arrest on Wednesday kicks off an extradition process that could land him in a Colombian prison cell.
The Santos administration has long asked for the U.S. to send Arias back. But the timing of his arrest has fueled allegations by Santos' critics, led by arch-conservative former President Alvaro Uribe, that the seizure amounts to retaliation for opposition to the peace deal. Uribe, now a senator, remains perhaps the country's leading right-wing politician and one of the most strident critics of the peace deal, which faces a close referendum vote on Oct. 2.
"Because of Santos' pressure to extradite him to Colombia, Andrés Arias was arrested in the United States," Uribe tweeted Wednesday.
Arias' wife, Catalina Serrano, called her husband's conviction unfounded "political persecution" and said his life would be at risk if he returned to Colombia because of his strong criticism of the FARC.
"This isn't a coincidence," Serrano told HuffPost. "This is part of a strategic plan. Precisely on the day that Juan Manuel Santos signs the peace deal with the guerrillas in Cuba, he delivers my husband's head, via extradition, to the guerrillas."  
Serrano said she doesn't harbor the same ill will toward the United States, though it was the U.S. government that carried out the arrest order on behalf of Colombia, and it's the U.S. government keeping Arias in jail.
"We freely chose to come here," Serrano said. "I have complete confidence in the authorities of this country."
The Department of Justice did not immediately respond to a request for comment.
Adam Isacson, who researches security policy at the Washington Office of Latin America, said the timing of the arrest was likely coincidental.
"I don't see the U.S. decision to comply with the extradition order now as a 'message' tied to the peace plebiscite or something like that," Isacson wrote in an email. "It has to be bureaucratic timing. But it's a blow to Uribe, and a reminder of what an outrage" Arias' corruption scandal was.
A Conservative Leader In Colombia
Arias, an economist with a doctorate from the University of California, catapulted to the Colombian cabinet at age 31, when he accepted an appointment to head the ministry of agriculture during Uribe's second term. Arias became a close associate of Uribe, a towering figure in Colombian politics.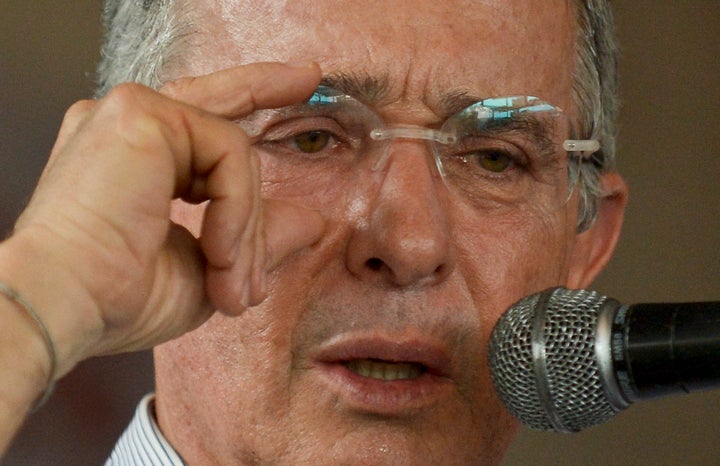 Uribe is widely credited with eviscerating the FARC and returning a modicum of security to a country plagued for decades by war, kidnappings and sky-high homicide rates. But he's also criticized for scorched-earth policies that led to human rights disasters like the "false positives" scandal, in which military officials killed civilians and then dressed them up as FARC rebels in order to inflate combat statistics.
Arias became so close to Uribe that his critics slapped him with the nickname "Uribito," Spanish for "little Uribe." As Uribe's second and final term drew to a close, Arias launched an unsuccessful presidential primary bid himself.
The young conservative's political career nosedived as quickly as it had taken off. In 2009, Colombian Sen. Jorge Robledo of the left-wing Polo Democrático Alternativo denounced Arias on the floor of the Senate for taking state subsidies intended for small farmers and instead handing them over to wealthy landowners and agribusiness leaders.
"They took the very few resources we had for the agricultural sector," Robledo said on the Senate floor, "and they distributed in an extremely concentrated manner to a few very powerful people. ... It's an absolutely disastrous policy."
The scandal led to Arias's prosecution. First he was stripped of his ability to hold office for 18 years, then sentenced to the 17-year prison term after fleeing the country.  
Despite the severity of the charges, his wife said Arias only faced criminal charges because he sided with Uribe against President Santos' attempts to negotiate an end to the war with the FARC. Officials who led the ministry of agriculture and other government agencies carried out their contracts as Arias had, she argued.
"He did exactly what ministers did before him," Serrano said. "But none of them were convicted."
Hoping For Asylum
Until Wednesday, Arias had been optimistic about his case for asylum, his lawyer said. Skeptical judges often send what they suspect are frivolous asylum claims straight into deportation proceedings, making them difficult to win and opening the possibility of immigrant detention. But Arias and his wife were given work authorization and were allowed to renew it. Arias also is trying to press his case before the United Nations Human Rights Council in Geneva.
Arias' lawyer, Hans Burgos, asked a federal judge on Friday to free his client on bail while the asylum case winds its way through the courts.
"We think this extradition process is premature, since the asylum process hasn't finished yet," Burgos told HuffPost before making the request, adding that the timing "adds political subtleties" to the extradition process.
But a U.S. magistrate judge denied the release. Having fled Colombia ahead of his sentence two years ago, the judge argued that releasing Arias would pose a flight risk. A hearing for his extradition case has been set for Oct. 24, according to Colombian news magazine Semana. 
This story was updated with news that Arias' request to be released on bail was denied.
Calling all HuffPost superfans!
Sign up for membership to become a founding member and help shape HuffPost's next chapter
BEFORE YOU GO