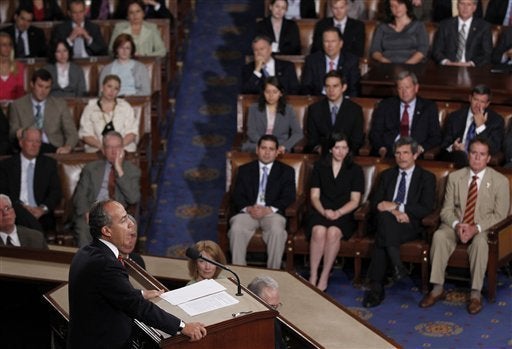 Mexican President Felipe Calderon spoke before a joint session of Congress Thursday and received resounding applause after condemning Arizona's controversial immigration law.
"I am convinced that a comprehensive immigration reform is also crucial to securing our common border. However, I strongly disagree with the recently adopted law in Arizona," Calderon said.
Applause then broke out for around 15 seconds, while Democratic members of Congress, Attorney General Eric Holder, Director of Homeland Security Janet Napolitano and Vice President Joe Biden joined in the standing ovation. It appeared that most lawmakers on the Republican side of the aisle remained seated.
As the Associated Press reports:
Calderon's state visit comes at a time of renewed furor over the flawed immigration system from Mexico into the United States. From border security troubles to questions about how to deal with the millions of illegal migrants living in the U.S., the immigration debate remains politically vexing, frustrating and volatile.

Obama is lobbying lawmakers to get moving on legislation that would seek to deal with the security, employment and citizenship issues all at once. But he concedes he doesn't yet have the Republican support he would need to get such a complex deal done. Whether any progress will happen this year is unclear.
During a press conference on Wednesday, Presidents Obama and Calderon spoke critically of the Arizona law. Both presidents warned that the newly drafted law could lead to harmful discrimination.
Popular in the Community