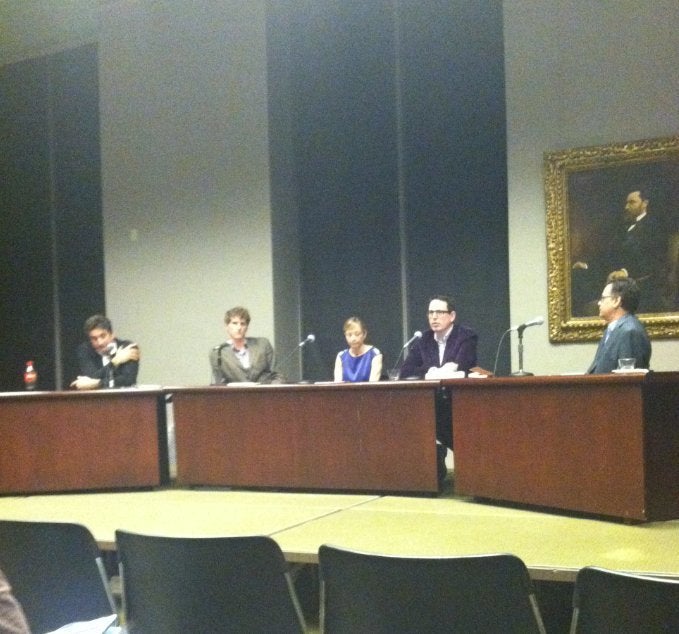 Some business reporters have a message for critics who say they did not try hard enough to expose banks' misdeeds before the financial crisis: Don't blame us.
"Much more broadly, I think much more importantly, the public simply didn't care," Salmon said of the financial instruments that almost blew up the financial system.
"There's a reason why these things only come out after crashes," Salmon said. "There's a reason why the journalism comes out after, you know, the 2000 stock market crash, after the 2008 financial crisis -- because at that point we want someone to blame. If you do the journalism beforehand, nobody cares."
Business journalists could write about the lead-up to the financial crisis only after it had happened, Salmon said.
"It's only when you've got something meaty, and you have a narrative with the rise and fall of this thing that it suddenly becomes a story," Salmon said.
He added that no one reads business journalism anyway.
"If you want public-interest journalism, if you want to interest the public, you don't want to put it in the business section," Salmon said. "The business section is the first section that they throw away."
"I feel that's wrong," said Dean Starkman, an editor at the Columbia Journalism Review. "The press can actually be quite potent, and I think that needs to be at least acknowledged."
Salmon wrote in a 2009 blog post that before the financial crisis, business journalists had focused too narrowly on specific issues at the expense of writing about "big-picture systemic risks."
Larry Ingrassia, business editor of The New York Times, said at the panel that he does not think that business journalism has been particularly lacking.
"I actually think that business journalism is much better today, and there is much more accountability journalism in the business press in the past decade than there was three decades ago," he said. Accountability journalism is crucial because "in the end, the public has a hard time protecting itself," he added.
Diana Henriques, a longtime business reporter at The New York Times who was in the audience, said that Starkman should be criticizing the press as a whole -- not just the business press -- for missing the lead-up to the financial crisis. "It concerns me that we have so ghettoized business journalism and given these vast responsibilities" to business journalists, she said.
Starkman countered that business journalists "are the ones that are in the best position to translate and explain those peculiar and complicated, opaque, secretive, and often nasty institutions to [people]. And basically no one else."
You can watch the full video of the panel discussion here:
Popular in the Community