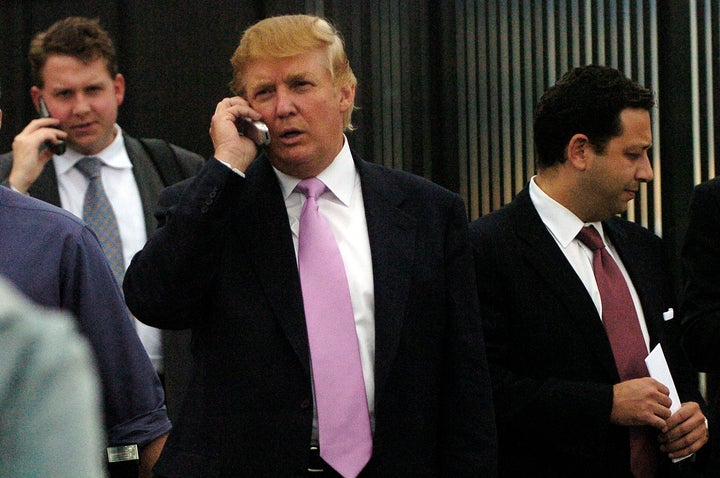 WASHINGTON ― The originator of the idea of giving Vladimir Putin a free $50 million penthouse in a proposed Trump Tower in Moscow said Monday he has no idea if the plan was ever presented to the Russian ruler or his associates.
Felix Sater, who at the time was a "senior adviser" to then-presidential candidate Donald Trump, also downplayed its significance, calling it a mere marketing concept in an early stage of the project.
"This was a marketing conversation. No more, no less," he told HuffPost, describing his late 2015 meeting with Trump lawyer Michael Cohen. "The whole thing was a very preliminary idea."
Sater said the possibility of giving Putin a free apartment was among a number of marketing ideas he and Cohen discussed in the meeting. Others included putting bidets in every bathroom and getting either U2 or Sting to perform at the building's grand opening.
Sater said that he did not know if Cohen or anyone else in Trump's orbit presented the idea to Putin's government but that he personally never discussed it with anyone other than Cohen at that one meeting.
Cohen did not respond to multiple queries Monday. Nor did Rudy Giuliani, Trump's private lawyer and the former mayor of New York City.
Sater's confirmation of the plan to give Putin a $50 million penthouse was first reported by BuzzFeed News last week. It has since generated a flurry of speculation that Trump and his closely held family business, the Trump Organization, could be liable under the Foreign Corrupt Practices Act, which prohibits bribing foreign officials in the pursuit of business deals.
Giuliani last week denied even the existence of an offer. "There was no offer," he told HuffPost. "Pure garbage."
Cohen pleaded guilty to lying to Congress last week regarding Trump's 2015 and 2016 efforts to build a high-rise residential tower in Moscow. He had told congressional intelligence and oversight committees that the proposal had fallen apart before the first votes were cast in the Iowa caucus in February 2016.
But the court filing accompanying his plea states that the "Moscow Project" continued through June 2016, until just before Trump formally accepted the GOP nomination. In fact, Cohen had been in contact with Russians about visiting Moscow and even arranging a visit by Trump after he became the nominee. What's more, the filing states that Cohen kept both Trump and Trump family members apprised of the project.
The 11-page filing does not, however, discuss whether Cohen had presented the penthouse idea to anyone close to Putin or whether Trump had been informed about it.
Norm Eisen, a White House ethics lawyer under former President Barack Obama and now a co-chairman of the Citizens for Responsibility and Ethics in Washington watchdog group, said there is a legal distinction between Trump's company knowing about the penthouse offer and Trump personally knowing.
"It's hard to believe that he didn't know about it," Eisen said, pointing back to the late 1980s when Spy Magazine tricked Trump into cashing ever-smaller "rebate" checks, eventually getting him to cash one for 13 cents. "The president is one of the most notoriously cheap men in America, and $50 million is a lot more than 13 cents. Mr. Cohen would have been in a lot of trouble with Mr. Trump if he sprang the $50 million offer after the fact."
Trump falsely denied having any business dealings with Russia throughout the 2016 presidential campaign.
In fact, Cohen, who was an executive with the Trump Organization as well as Trump's personal lawyer, began pursuing the Moscow Project in earnest in the fall of 2015, according to court documents filed last week.
As part of those efforts, Cohen and Sater discussed ways of marketing the building to prospective buyers. Giving Putin the penthouse that they could value at $50 million would make it easier to attract other oligarchs who would want to live in Putin's building, which could end up as a net benefit of $200 million in higher sales prices. That, Sater said, was the point of giving Putin a free apartment, rather than offering it in hopes of easing the financing and approval.
"It wasn't about making permitting easier; it was about raising prices," Sater said.
Eisen said that with Democrats taking control of the House next January and special counsel Robert Mueller and federal prosecutors from the Southern District of New York continuing their investigations, the question of how far Cohen took the penthouse offer would be a priority.
"We will find out soon enough," he said.
Cohen previously pleaded guilty to a number of charges involving illegal payments to a porn actress and a Playboy model to buy their silence about affairs they said they had had with Trump.
Cohen is among three dozen individuals charged or convicted by Mueller in his year-and-a-half-old probe of contacts between Trump's campaign and Russians who helped deliver him the presidency ― an investigation that began in the months prior to Trump's election.
Trump openly praised the country's authoritarian ruler throughout his campaign, and Putin's spy agencies actively worked to elect Trump by stealing emails from Democrats and releasing them through an ally, WikiLeaks. Trump repeatedly praised WikiLeaks and pointed to the stolen emails as proof that Democratic nominee Hillary Clinton was corrupt.
Calling all HuffPost superfans!
Sign up for membership to become a founding member and help shape HuffPost's next chapter