The discovery of fellatio in the shortnosed fruit bat (Cynopterus sphinx) by Chinese investigators has become a bit of a web sensation, because who would have thought that animals actually enjoy sex and do their darnedest to stretch out the pleasure? For every second of penis licking by the female, a bat pair gains 6 seconds of copulation time, perhaps increasing their fertilization chances.
Now, don't think that bats know about fertilization. Not even humans are good at taking this into account, which is why we have the morning-after-pill. Animals are not worried about reproduction. Pleasure, however, is something they understand.
I am not sure that all animals have pleasure during sex, but in bonobos (which are our closest primate relatives together with chimpanzees) oral sex is common as is masturbation. For anyone doubting that animals feel anything during sex, this is always my question: "Why masturbate in the absence of pleasure?"
Masturbation is done in equal measure by bonobo females and males. If you have ever seen the wide grins on the faces of females engaged in this activity, there can be little doubt that they experience something akin to orgasm.
Bonobos are also great kissers. In fact, I know a caretaker at a zoo who used to work with chimps, which are rather platonic kissers. When he had to take care of the bonobos one day, and accepted a kiss from one of them, the man was taken aback feeling a whole tongue in his mouth.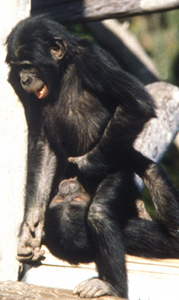 What are they doing? Two juvenile male bonobos.
Lots of jokes and comments usually follow any discussion of animal sex lives, but in my mind this merely serves to mask human discomfort. When we downplay or laugh away animal sexuality, we're applying our own moral standards to them. And scientists are not immune. Talking about bonobos, for example, they sometimes call them "very affectionate," whereas what they mean is that they engage in genital contacts at the drop of a hat. In another example, a prominent American anthropologist once claimed that sex was not all that common in bonobos, until it was found that he had counted only heterosexual sex between adults. In bonobos, this is only a small portion of sexual encounters, which often involve same-sex partners and juveniles.
There are remarkable few studies of animal sex unconfounded by Puritanism. The fellatio story on bats is a bright spot in an otherwise miserable record that denies animals the pleasure principle, homosexuality, and other forms of non-reproductive sex. Now that we finally have a science of human sexuality -- and remember what a struggle this has been for sexology pioneers, such as Alfred Kinsey and Masters & Johnson -- we need a similar science for the rest of the animal kingdom.
Related