Though judges, other contestants and even fans questioned Derrick Barry's versatility beyond impersonating Britney Spears, she gained one major fan on RuPaul's Drag Race. According to series alumna Chad Michaels, despite finishing in fifth place, the Season 8 contestant "already won."
"Derrick will be working long after any of these girls' Alka Seltzer fizzles out, bitch!" declared the winner of RuPaul's All-Stars Drag Race.


On the most recent episode of the LOGO reality series, judges and contestants again questioned Barry's ability to adapt to the competition beyond "being Britney." During a heated workroom exchange, others (namely fellow finalist Naomi Smalls) compared her -- in rather unflattering fashion -- to past favorite Michaels, known as the world's premiere Cher impersonator.
However, the legendary performer empathizes with Barry. Michaels echoed something the Season 8 finalist noted on the broadcast. Unlike her contemporary, Michaels was performing for years before becoming so closely associated with her trademark character.
"I was a drag queen and did all kinds of things before doing Cher," said Michaels. "I've been a queen. I've been in the trenches. I know what it's like to be creative and come up with numbers and looks and different make up and hairstyles. He doesn't have that language."
Listen: 'Party Foul Radio' with Chad Michaels, Bob the Drag Queen & More.

Michaels reflected on first meeting Barry backstage at her West Hollywood show, The Dreamgirls Revue. Despite being very raw in terms of drag, the veteran immediately recognized the young performer's potential. When friends in Vegas called looking for a Britney impersonator, she referred the future star.
"Derrick went straight from being a cute little gay boy to being Britney Spears," Michaels shared with Party Foul Radio cohost Pearl Teese and me.
"Literally, career-wise it was overnight. He went directly to Las Vegas," she continued. "He's been working in Vegas [since], and that's not a bad thing; that's a fucking good thing!"
"Girl, he's already been touring. He's been to every nook and cranny, ass-crack country to do Britney Spears already, before he ever put in a tape for Drag Race," Michaels declared, before questioning people's negativity.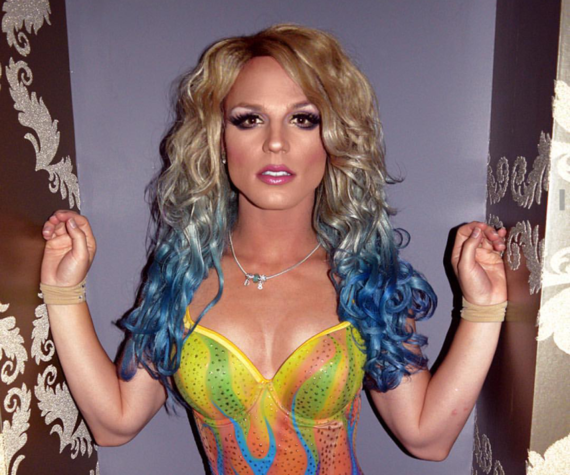 Chad Michaels Predicts Huge Success for Derrick Barry (Above)

"And people are coming for him for being Britney. Why?" she asked. " You love Britney! He comes to your city and gives you Britney, and you go and you squeal and pee your pants, but you all want to read him on TV? It's just not fair."
That wasn't the end of Michaels' thoughts on Barry, who she continued to passionately defend. Despite being eliminated from contention for "America's Next Drag Superstar," Michaels predicts a bright future.
"Derrick is still going to be on the road and come to your club and entertain," she asserted. "That's just the guy he is. He loves to entertain, and he found his niche. I don't see why anybody can be mad at him for that."
As for her friction with other contestants, Michaels is certain Barry will have the last laugh.
"Any of those girls who sat around and read Derrick for whatever reason is still going to go to Vegas and pay $99.99 to see him," Michaels concluded. "That's the simple fact of the matter!"
Future episodes of 'Party Foul Radio' will feature interviews with Ts Madison, Trixie Mattel, Coco Peru, Varla Jean Merman, porn stars Boomer Banks and Jimmy Durano and more. Follow Podomatic's No. 1 Ranked LGBT Podcast on Twitter.

Calling all HuffPost superfans!
Sign up for membership to become a founding member and help shape HuffPost's next chapter