WASHINGTON -- Over 40,000 people with past felony convictions who are on probation or parole will have their voting rights restored if a veto override attempt is successful in Maryland legislature next week.
In Maryland, someone with a past felony conviction is barred from voting until he or she finishes their probation or parole. Legislation sent to Republican Gov. Larry Hogan's desk last spring would have changed that, by allowing people to vote once they've left prison. Hogan, who is immensely popular in the state, vetoed the legislation, setting up a fight with Democrats, who control both legislative chambers.
On Wednesday, the Democrats' leadership signaled that they would vote to override Hogan's veto next Tuesday or Wednesday. If the veto override succeeds, Maryland will join the 13 states, plus the District of Columbia, that allow all people with felony convictions who have left prison to vote in elections. Three states -- Kentucky, Iowa and Florida -- permanently revoke voting rights for all people convicted of a felony, while two states -- Maine and Vermont -- never strip felons of their voting rights, so Maryland would remain in the middle of the felon disenfranchisement continuum.
Last spring, Hogan justified his veto by arguing that people with felony convictions should finish their sentences before they regain all of their rights. In a letter to the state's legislative leaders, Hogan said the current law that makes felons wait to vote until they have completed all aspects of their sentence "achieves the proper balance between repayment of obligations to society for a felony conviction and the restoration of the various restricted rights."
But voting rights and racial justice advocates say that restoring voting rights for people with felony convictions helps them reintegrate into society.
"Democracy means every person deserves a voice," said Maryland Working Families Director Charly Carter. "In some neighborhoods, thousands of people have had their vote stripped away from them. It is simply wrong to exclude people who have served their time from having a say in the direction of their community, their state and their nation."
Perry Hopkins, a 54-year-old community organizer with Communities United, a Maryland grassroots group that has fought for the rights restoration legislation, told The Huffington Post that it's frustrating for people with convictions, released from prison, to pay taxes without the corresponding political representation. He doesn't believe it's an accident that felon disenfranchisement laws disproportionately affect African-Americans living in Maryland, like him. African-Americans make up 30 percent of Maryland's population but represent nearly three-quarters of its prison population and 65 percent of those disenfranchised by a felony conviction.
"You really feel disenfranchised, you feel ostracized, you feel alienated, you feel victimized," he said. "I'm expected to do the same thing as everyone else, without the same rights. It's that impact that makes a lot of people recidivate, because you start feeling helpless."
Voting rights advocates say enfranchising ex-offenders upon their release would make the voting process easier for them to understand and would be simpler for election officials to administer. Hopkins, for instance, didn't know he was eligible to vote -- even though he had completed his probation and parole for his most recent conviction -- until he began working with Communities United.
"This is gonna light a fire and bring some new voters into the election process," Hopkins said.
In December, Hogan ordered a review of state rules and regulations that make it more difficult for ex-offenders to re-enter society and find employment. Jane Henderson, the executive director of Communities United, sees some hypocrisy in Hogan's veto of the voting rights restoration legislation, at the same time that he's expressing concern about barriers to re-entry.
"When it comes to increasing the voting electorate, we see a pattern of Republicans opposing that," she said. "This is as important to re-entry as any other measure you could put in place."
The American Probation and Parole Association agrees, testifying during debate over the legislation last year that "civic participation is integral to successful rehabilitation and reintegration."
Activists like Hopkins and Henderson have been urging the legislature to override the veto for months. Their effort gained momentum when the Baltimore City Council urged a veto override earlier this week. Maryland Del. Cory McCray (D), who sponsored the voting rights restoration legislation, told The Huffington Post that the veto override is likely to succeed. McCray represents Baltimore, which has the state's highest concentration of ex-felons, in the lower chamber of the legislature.
"People know that the politicians pay attention to votes, that's ultimately what they look to," he said. "Elections are decided by very close margins. How are you leaving 40,000 people out of the conversation?"
He answered his own question. "It's just about folks trying to keep power in their hands."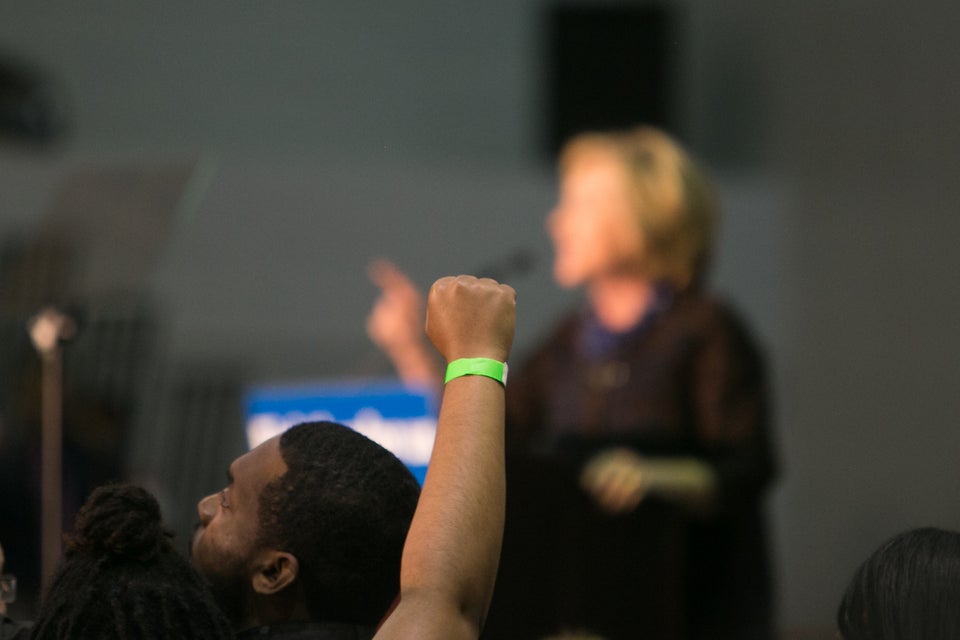 11 Things Black Activists Accomplished In 2015
Popular in the Community