The government agency tasked with guiding relief and recovery efforts after catastrophic natural disasters has decided not to take climate change into account as it plans ahead for the future.
On Thursday, the Federal Emergency Management Agency released its 2018-2022 "Strategic Plan," a document it describes as setting FEMA's "overall vision" with the aim of readying the nation for catastrophic disasters.
While it concedes disasters will become more devastating and more costly in the next five years, FEMA has stripped all mention of climate change from the 38-page document, despite it being a significant cause of exactly the type of damaging storms they're preparing for.
Instead of acknowledging the risks posed by climate change, FEMA said "rising natural hazard risk, decaying critical infrastructure, and economic pressures that limit investments in risk resilience" are primarily to blame.
Weather and climate-related disasters cost the U.S. $306 billion in 2017, making it the costliest, most damaging year on record. That figure ― and the damage behind it ― will increase as the temperature rises.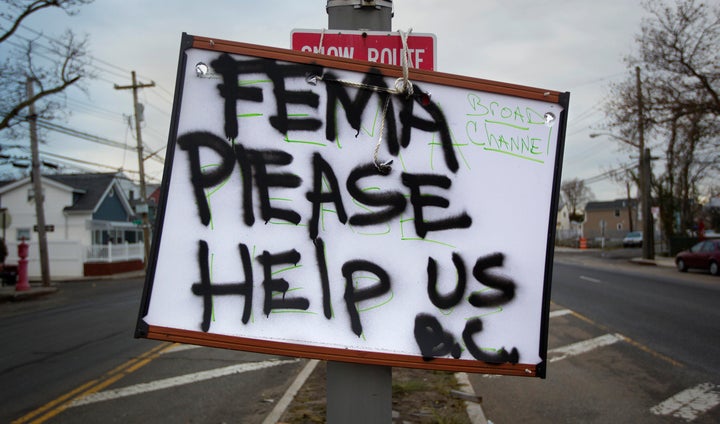 "Natural disasters have caused a record-setting amount of damage in the U.S.," said Sen. Dick Durbin (D-Ill.) in response to the 2017 figures when they were released in January. "There's no denying that climate change will cost the U.S. trillions more in the next decade and that we have a financial and national security reason to act."
FEMA Public Affairs director William Booher defended the puzzling exclusion in an email to NPR, emphasizing the agency focuses less on causes and more on mitigating their effects.
"It is evident that this strategic plan fully incorporates future risks from all hazards regardless of cause," Booher wrote. "Building upon the foundation established by FEMA's previous two Strategic Plans, this plan commits the agency, and the nation, to taking proactive steps to increasing pre-disaster investments in preparedness and mitigation." 
In contrast, FEMA's 2014-2018 Strategic Plan named climate change as a prime contributor to increasing disaster risk ― and it urged we take action.
"Scientific evidence indicates that the climate is changing and significant economic, social, and environmental consequences can be expected as a result," the previous document warned. "A changing climate is already resulting in quantifiable changes to the risks communities face, showing that future risks are not the same as those faced in the past. The emergency management community will need to adapt appropriately to these changing risks as they strengthen their risk management programs."
Calling all HuffPost superfans!
Sign up for membership to become a founding member and help shape HuffPost's next chapter
BEFORE YOU GO