The Federal Emergency Management Agency kept a close eye on "civil unrest" in Ferguson, Missouri, in the days immediately following the Aug. 9 shooting of 18-year-old Michael Brown, according to records obtained by The Huffington Post.
FEMA's regional watch center compiled near-daily reports from open sources like news accounts, social media and, in one case, a map created by a user of the popular website Reddit. They demonstrate federal authorities' intense interest in the Ferguson protests despite the lack of local requests for FEMA assistance.
Reflecting the news accounts they were based on, the reports from the Kansas City, Missouri, watch center stressed the Molotov cocktails, rocks and bullets flying in "violent protests." The bulletins do not suggest that FEMA attempted to collect intelligence or conduct surveillance in the St. Louis area itself.
They began almost immediately after protests engulfed Ferguson. An "incident report" for Aug. 10, the day following Brown's death, states that "over the past couple of days large, emotionally charged crowds have gathered at the scene of the incident."
It continues, "Reports of vandalism, looting and unruly crowds have since been reported. Law Enforcement has responded with additional assistance and Tactical teams in riot gear."
Eight more reports mentioning Ferguson followed in August, according to records released to HuffPost under the Freedom of Information Act. Those reports repeatedly note that state and local authorities made no requests for FEMA assistance.
Rafael Lemaitre, FEMA's director of public affairs, told HuffPost that the "situation reports are regular, routine summaries prepared as part of FEMA's work to maintain situational awareness of all incidents -- large or small, natural or man-made."
Lemaitre said such "routine summaries" are "vital" in preparing FEMA if and when state officials do ask for federal assistance.
As the documents show, FEMA aid has been requested in the wake of civil disorder in the past. Officials in the Kansas City office wrote in emails that FEMA had provided post-disaster financial assistance after the Boston Marathon bombing in 2013 and the Los Angeles riots in 1992.
But Missouri's emergency management agency, one report states, had "reiterated … that this [the August protests in Ferguson] is being considered as a local law enforcement issue."
FEMA kept scanning the news. Watch center officers highlighted evidence of "rabble rousers" and looting, as well as interest in the protests from groups like the NAACP and Al Sharpton's National Action Network. Even the cancellation of back-to-school events was detailed in an Aug. 17 report.
Civil liberties advocates have previously criticized federal agencies, including the Department of Homeland Security and the FBI, for monitoring political protests like Occupy Wall Street.
According to a FEMA fact sheet, its watch centers serve as intelligence collection and analysis outfits as well as centers for coordination with state emergency management agencies, state and local "fusion centers," and other federal components like the FBI.
The final FEMA report from Aug. 22 states, "To date there has not been any requests for FEMA assistance and there is not likely to be any in the near future." For the next few months, protests in the St. Louis area would remain relatively muted.
In a separate program, FEMA also administers the Homeland Security grants that local law enforcement agencies have used to purchase military-style equipment. Senators peppered Assistant FEMA Administrator Brian Kamoie with questions about police militarization in a September hearing.
"Policing in America's communities post-Ferguson is clearly under scrutiny," Kamoie said in written testimony at the time.
"This discussion will require that all of us, including the law enforcement community, address questions of police tactics and equipment, and by extension the civil rights and liberties of our citizens and the parameters surrounding assemblies, protests, and demonstrations by those citizens," he said.
Before You Go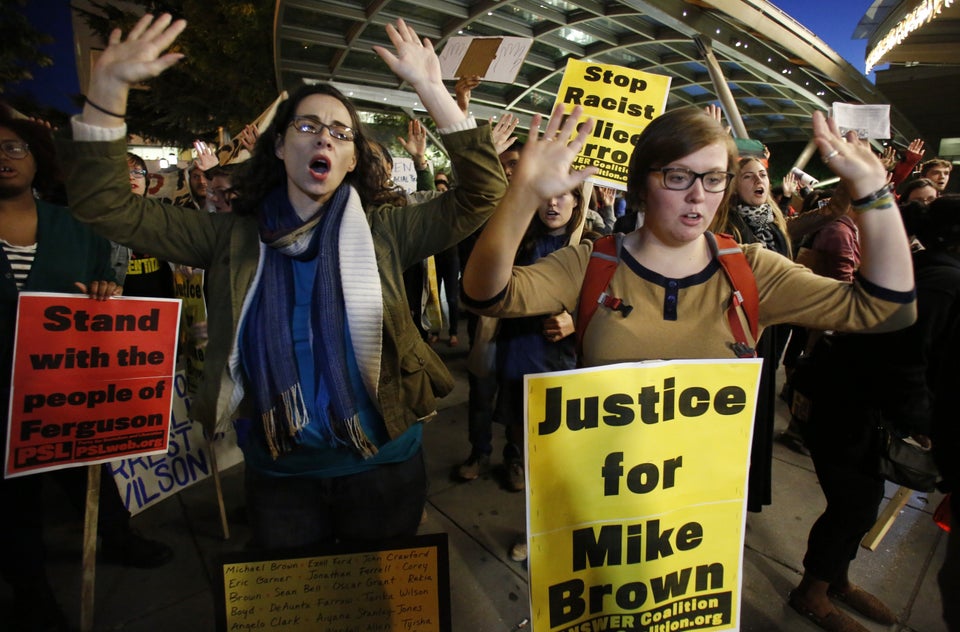 Ferguson
Popular in the Community